Glorious food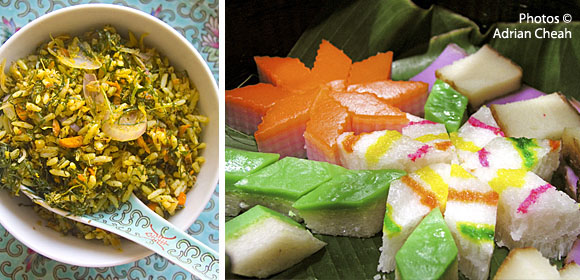 Having a reputation as a food paradise, be it haute cuisine, or cuisine bourgeoise (hawker fare), Penang offers a heady and exotic mix of delicious cuisine to choose from.
In a word, Penang food is both famous and fabulous. When people mention Penang food, they are more often than not referring to hawker food and coffee shop dining. It is true that some of the hype is overblown but it cannot be denied that Penang is home to many uniquely delicious chow. Ironically, hawkers in other states or towns have been known to pull the crowd by simply advertising their food as hailing from Penang, regardless of its authenticity or quality. Then there are the Penang hawkers who advertise their cuisine as specialties from another state, like Johor bak kut teh, Ipoh chicken and bean sprouts or laksa Kedah. In short, an infinite variety of dishes are yours to savour – all you need do is pick and choose.
---
---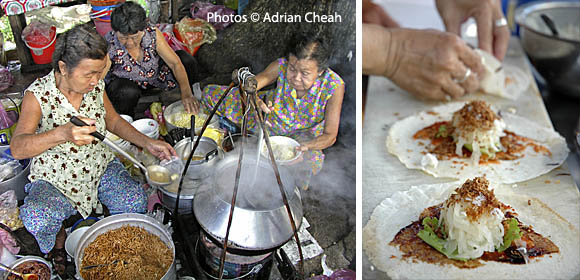 Penang hawker food can be broken down roughly into several varieties, with each being attributable to Penang's multi-cultural character: Nyonya, Chinese, vegetarian, Indian, Malay, Hakka-styled Western, seafood and desserts. Hybrids are also known to exist, and some famous examples are Malay style chicken rice and char koay teow, and Chinese satay and nasi lemak. Prices are cheap and reasonable.
With fishing being a major economic activity on the island, Penang is naturally a haven for seafood, and a handful of restaurants have already achieved legendary status among locals and foreigners. Tucked away in remote corners, these eateries are not easy to find without local guidance but are definitely worth the extra effort seeking out.
Desserts play a major role in Penang gastronomy. There are as many varieties as there are races in Penang! To mention a few would do injustice to the rest, so you would just have to let your nose and eyes be your guide. A word of warning though – most local desserts tend to be sweet and rich, as coconut milk, flour and sugar are main ingredients.
Thanks to early Chinese migrants, Chinese cuisine ranges from Cantonese to Teochew to Hokkien to Hainanese to Szechuan cooking. There's also Penang Nyonya food, which is a combination of Chinese, Malay and some Thai. The Penang variety of Nyonya food, apparently, is different from the Malaccan or even Singaporean versions. For a touch of luxury, try a five or ten-course Chinese meal at one of the restaurants or hotels in town.
Indian cuisine goes by two names generally – banana leaf rice and nasi kandar. Both are hot and savoury with rice being the main staple, and a menu from north Indian tandoori and nan bread, to South Indian rice and capati.
Nasi kandar is famously popular with Penangites, and many restaurants selling it are well known not only to those on the island but those in other states as well. It is quite common to find people from other states detouring to Penang just to stop for a meal of nasi kandar before continuing on their journey elsewhere...
Indulge! Savour!
---------------------------------------------------------
Written and photographed by Adrian Cheah © All rights reserved
Updated: 6 March 2019
---