Spongy Kuih Bahulu recipe
Kuih Bahulu (also known as Kuih Baulu or Kuih Bolu) is a perennial favourite among Malaysians of all ages. In Hokkien, it is called Kay Nui Koh. It is a mini light and fluffy sponge cake made from eggs, flour and sugar. It has a slightly crusty outer layer with a soft and fluffy inside, quite similar in taste and texture to a French Madeleine. However, when compared to many western cakes, Kuih Bahulu is much lighter in texture and has a subtle sweetness.
This eggy sponge cake is ideal for tea time and best enjoyed with local black coffee. It comes in various shapes and sizes but the popular ones include the goldfish and the button flower designs. These dainty fluffy kuihs are common items served during festive celebrations such as the Chinese Lunar New Year and Hari Raya Aidilfitri.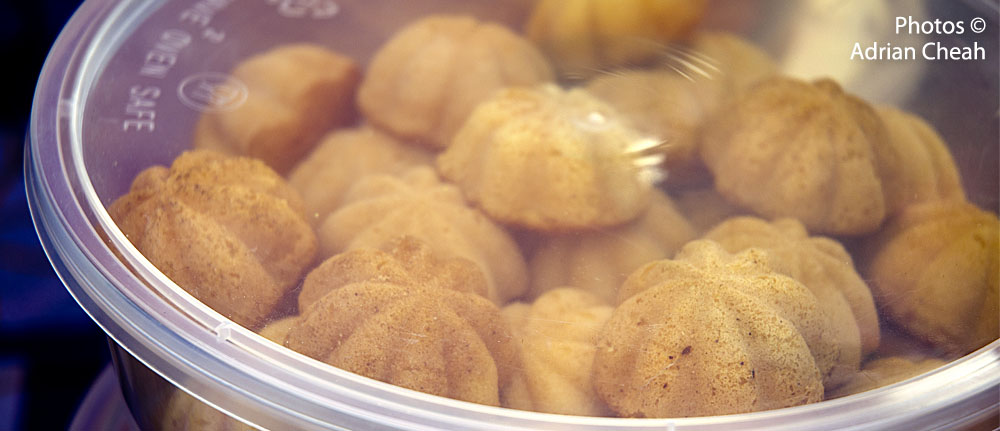 Kuih Bahulu is easily available at the month-long Pasar Ramadhan throughout Penang. They are also sold at some food courts, market areas and supermarkets.
When making a fresh batch at home, it is recommended to first sun, bake or "dry fry" the flour to reduce its moisture content (as in making Kuih Bangkit). To dry-fry the flour, pour it into a clean and dry pan. Using the lowest heat, carefully toss the flour for about 15-20 minutes. Sieve the flour 2-3 times and allow it to cool before using it.
Ingredients
3 egg yolks
4 egg whites
100 g sugar
1/2 tsp vanilla essence
100 g plain flour
1 tbsp tapioca flour
1/4 tsp baking powder
a pinch of salt
Method
Sieve the plain flour and tapioca flour together with baking powder.
Whisk the egg whites and sugar until stiff. Add in egg yolks, one at a time and whisk.
Add in vanilla essence and salt.
Gently fold the sifted flour into the egg batter.
Preheat the oven to 220° C. Lightly grease the mould (to prevent the kuih from sticking) and heat up the mould for 5 minutes. Spoon the batter into a heated mould until three-quarter full, allowing room for it to rise.
Bake the kuih for about 8-10 minutes, or until it is golden brown.
Note:
If you have only one mould, do not mix in the flour all at once. Divide the batter and flour into quarters, mix a batch and use it immediately.
Clean the mould if there is any debris of the kuih and brush it with more oil before adding the batter. Once the mould is seasoned, the kuih should dislodge easily.
Alternatively, you can bake Kuih Bahulu the traditional way with a charcoal stove. You have to place the hot coals on top of the cover as well. This method will enhance the smoky flavour of the kuih.
Kuih Bahulu keeps quite well in an airtight container, but will harden with time. It is best enjoyed freshly baked from the oven.
---------------------------------------------------------
Written and photographed by Adrian Cheah
© All rights reserved
Updated: 25 April 2022