Indulging at the award-winning Chin's Cuisine
Chin's Cuisine represents owner Dave Chin's unique interpretation on Chinese cuisine, primarily inspired by Sichuan and Hunan flavours. Dave and his team of chefs draw inspiration from the vast treasure trove of Chinese cuisine, a culinary tradition that has evolved over thousands of years.
At Chin's, flavours and style coalesce in a captivating culinary fusion, featuring nouveau dishes ranging from Qianlong cabbage to Mala soft shell crab and from French foie gras with laurel blossoms to the signature Chin's aromatic crispy duck.
To start our meal, we had a serving of Qianlong cabbage (Qianlong Baicai), a well-known dish from Beijing, named after Emperor Qianlong. This refreshing cold appetiser, a crunchy salad, was a delightful new experience for me.
This dish comes with a captivating tale. It is entwined with the fascinating era of Emperor Qianlong, who reigned for an impressive 60 years from 1735 to 1796. The name Qianlong Baicai finds its roots in a story involving Duyichu, one of Beijing's old restaurants. Legend has it that during a journey back to Beijing, Emperor Qianlong discovered that only a humble eatery in Tongzhou remained open during the Lunar New Year's Eve. Impressed by the simple cabbage salad, he named the restaurant Duyichu (meaning "the only place in the capital") since it did not have a name back then. This event led to the restaurant's instant fame and enduring legacy to this very day.
From the hot appetiser selection on the menu, we opted for abalone mushroom coated with a rich salted egg yolk sauce. Salted duck eggs, with its origin dating back millennia in China, have today fuelled numerous salted egg yolk dishes, snacks and even beverages. While the novelty may have faded for some or become commonplace in cooking, I am still enamoured by its flavour, especially in this dish.
For our main course, we had the "crab" and yolk served in a hot stone bowl. Despite its name, this dish contained no actual crab meat, although it had the delightful taste of crab. This innovative Chinese mock crab delicacy was prepared with egg whites, minced cod fish and prawns to replicate the texture and taste of genuine crab meat. The artistry did not stop there – a single egg yolk topped the dish (to simulate the crab yolk) that cooked when mixed in the sizzling hot stone bowl. The result was a dish I relished wholeheartedly.
What added to the allure of this mock crab (known as "sai pang xie") recipe is the historical legend that surrounds it. It is believed to have been invented for the Empress Dowager Cixi. Since sourcing fresh crabs in Beijing was no simple feat then, the imperial chefs crafted a dish that could rival the flavours of crab. Astonishingly, Empress Dowager Cixi found herself enchanted by this creation, giving it her imperial blessing. Thus, it ascended to become a cherished and enduring masterpiece of the Qing Dynasty and its legacy was passed down through generations to the present day.
The highlight of the meal was undoubtedly Chin's aromatic crispy duck. The crispy duck, shredded tableside, was served with accompaniments for wrapping – paper-thin pancakes, Chin's signature sauce, scallions and cucumber strips. To enjoy it, we assembled the ingredients into a parcel and tugged in. The freshness of the vegetables provided a balance to the crispy skin and tender meat, complemented by the sweet and salty sauce. For some extra heat, I added a little chilli padi into the parcel as well. This recipe has remained faithful since the time was first introduced at Chin's in London.
Do you know that the crispy aromatic duck is, in fact, a relatively recent creation, emerging in the UK during the 20th century to cater to local tastes? Today, it is common dish in Chinese restaurants in London. The crispy aromatic duck bears similarities to a dish known as "xiang su ya", enjoyed in Sichuan, Jiangsu, and Hunan. In these regions, the duck is chopped into pieces and served either on its own or sometimes with steamed buns. In contrast, in Britain, the crispy aromatic duck is served with pancakes, scallions, cucumber strips and hoisin sauce – accompaniments typically associated with Peking duck.
Another delightful dish I savored at Chin's was the Hunan-style steamed wild-caught patin, smothered with two spicy "duo jiao" varieties, seasoned with fermented black beans. "Duo jiao" is a specific variety of chillies that are very roughly chopped and pickled in a brine solution. It has a salty and slightly pickled/tangy taste that is full of flavour. Despite their fiery appearance, the duo jiao chillies packed onto this dish by the spoonful were not as spicy as they may appear. This traditional Chinese dish is a must-try for seafood enthusiasts.
One of the most beautifully presented dishes of the day was the chrysanthemum tofu soup. The intricately cut tofu, shaped into an elaborate yet elegant chrysanthemum bloom, stands as a testament to the chef's artful knife work. The soothing, comforting and delicate clear chicken consommé was full-bodied. While searching online, I came across a cutting tool that could replicate the pattern, albeit with less intricacy.
Another heart-warming soup we had was the light, opaque mushroom soup, which captivated our taste buds with its comforting flavours.
To conclude our delightful culinary journey at Chin's, we could not resist indulging in the sweet delight of toffee-coated fruits. Traditionally, toffee in Britain is often made by mixing sugar or molasses with butter and some of salt. The mixture is then heated until it caramelises, resulting in toffee with its light golden-brown hue and a smoky, rich flavour. However at Chin's, the caramelised coating is prepared sans any butter. Various slices of bananas, pears and apples were battered and deep-fried till golden before coating them with the toffee glaze. It was a brilliant dessert – a simple yet perfect ending to our British-Chinese feast.
We savoured this satisfying meal at the restaurant's inviting dining hall, softly illuminated and decorated with contemporary furnishings, enhanced by three lavish faux cherry blossom trees in full bloom. The chic table setting is graced with gorgeous hand-painted dining plates (which are for sale exclusively at Chin's). It was a pleasure catching up with Dave, as charming as ever, exchanging stories and laughter.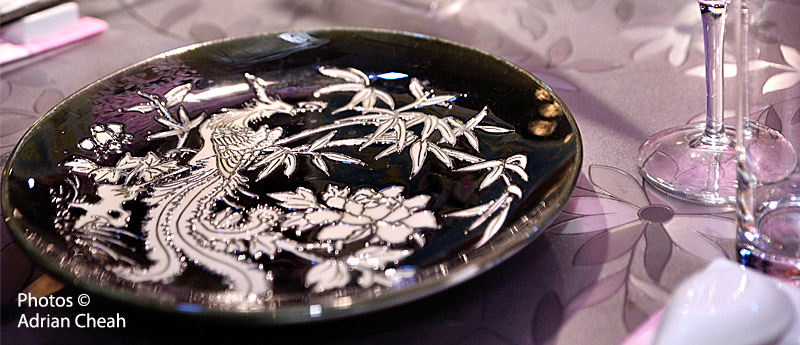 In addition to the à la carte menu, four tasting menus (minimum 2 pax) are offered, with prices ranging from RM 128+ per person to RM 288+ per person. There is also a special menu available for kids.
-------------------------------------
Written and photographed by Adrian Cheah
© All rights reserved
27 October 2023
-------------------------------------
Chin's Cuisine
5 & 5A Weld Quay, Penang
Open: 6 pm – 12 am
T: +6016-606 3211
Dave Chin first established Chin's Chinese Restaurant in Fulham, London in 1987. His visionary establishment quickly made a lasting impact on the English culinary scene, earning him two prestigious awards ("Best Restaurant of The Year" by What's On in London Magazine and "The Best Chinese Restaurant in UK" by Stores Magazine, USA). Over the span of more than two decades, he delighted the discerning palates of Londoners with their signature of delectable Chinese cuisine.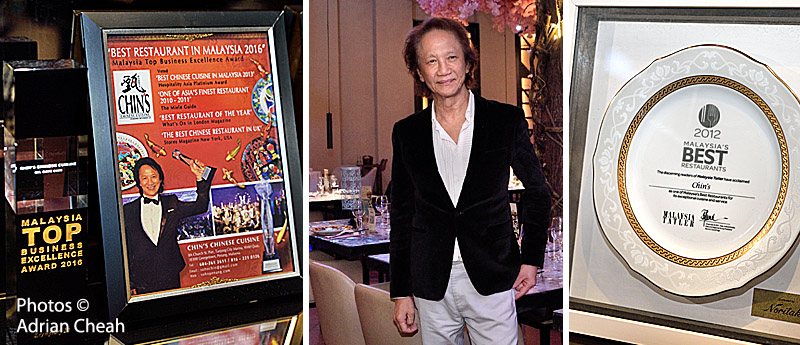 After 22 year of running Chin's in London, Dave decided to return to his beloved hometown of Penang. In 2010, he introduced Chin's Cuisine, a restaurant that first graced the picturesque Church Street Pier at Weld Quay. Here in Penang, fame and accolades follow suit with the restaurant receiving a string of awards including "Malaysia's Best Chinese Cuisine Restaurant 2010-2012" and "HAPA Restaurant Of The Year 2013-2015". In 2023, it found a new home just across the road, continuing to serve Chin's award-winning Chinese offerings with a touch of British flair.