The spirit of Italian cuisine at Bottega Penang
Like the unmistakable local Nyonya cuisine, one of the success secrets to Italian food is also the ability to borrow, adapt and invent some of the distinct yet sublime dishes we love today.
Do you know that the tomatoes, heavily used in Italian cuisine, are originally from the lower Andes, cultivated by the Aztecs? A tomato-based sauce – the spirit of Italian dishes – is key in pastas, pizzas, salads and side dishes of every kind. Italians also learnt to appreciate coffee from the Turks. Today, world-renowned espresso and cappuccino are proud Italian inventions enjoyed by all. Furthermore, vegetables from the Americas have inspired recipes using potatoes, zucchini, squash, peppers, corn and beans; we are gifted dishes such as potato gnocchi, Italian baked zucchini and polenta.
From history, we learn that the spirit of Italian cuisine celebrates life's finest gastronomically influences. Italy had conquering empires that left an enduring legacy on its cuisine including the Romans, Visigoths, Arabs, Normans, Huns and Byzantines. The Mediterranean islands have also influenced Italian cuisine.
Enjoying the rich culinary flavours of authentic Italian cuisine here in the heart of George Town is possible at Bottega Penang. More than just an Italian café offering a tempting Italian menu, the unpretentious Bottega Penang is also a pizzeria and grocer all rolled into one.
Here is a selection of items on the menu that I enjoy at Bottega Penang. It is also good to note that when it comes to seasoning, chef Mark William Colk and his team do not go too far in either direction. With just enough seasoning, the natural flavours of the ingredients in dishes offered are beautifully accentuated.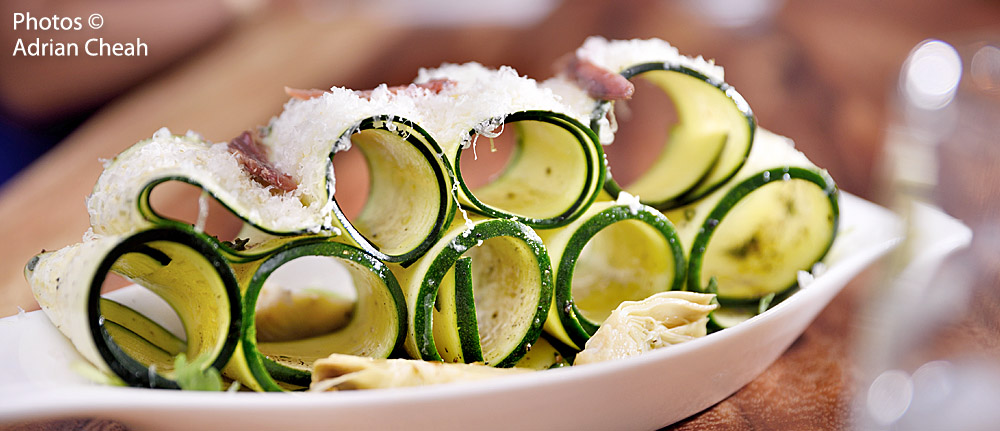 I love the light and zesty zucchini salad. Fresh crispy rolls of zucchini ribbons, seasoned with lemon and thyme, are topped with tender artichoke hearts, Cantabrian anchovies and generous shavings of Italian "drunken cheese". ("Drunken cheese" or Ubriaco cheese is traditionally aged for about 18 months with its last six months soaked in a barrel of local wine.) The combination of flavours in the salad is lovely, especially coupled with the saltiness of the anchovies and cheese.
Like any other, Italian food is all about quality ingredients. Using the freshest produce available is crucial in offering delectable dishes. The Cozze dish – fresh tender black mussels sautéed with garlic, white wine and parsley – is cooked perfectly. This dish is served with two slices of toasted baguette, ideal for soaking up the light, umami gravy; good for sharing if you are among friends.
Another dish excellent for sharing is O' Cannello' – baked handmade cannelloni filled with porchetta, ricotta and spinach, topped with a house-made tomato sauce.
Keeping true to Italian flavours, I appreciate that Bottega's unadulterated dishes shy away from fusion methods. One such dish is the authentic homemade spinach agnolotti filled with pork mortadella and ricotta, smothered with a rich lemon zest butter sauce. I enjoyed the aromatic crispy sage leaves that topped the dish as well.
The pork shoulder, rolled with bacon and provola cheese then cooked in a thick, textured tomato sauce, is scrumptious. The flavourful tender meat melts in every mouthful.
Tasting almost similar to the pork shoulder is the succulent braised pork ribs cooked with celery, carrots, onions, bacon, porcini mushrooms, shallots, red wine and herbs. The chef must have slowly braised the ribs for hours because the dish is packed with deep flavours and the tender meat falls off the bone easily.
Piadizza is made with a crispy thin crust folded over into halves, encasing fresh rocket leaves, buffalo mozzarella, parmigiano-reggiano, thick slices of juicy tomatoes and delicious Parma ham. The "pizza" is cut into four and each truly delicious slice is at the same time, hearty. I cannot recommend this pizza enough as it has all my favourite ingredients including the dry-cured ham.
The Parma ham, imported from the province of Parma in the northern Italian region of Emilia-Romagna, is simply the crème de la crème of its kind. Curing is done with only pure sea salt for at least a year (by law), although some may take as long as three years, resulting in a bold, concentrated flavour. The delectable Parma ham is so good I had to buy a few slices to top my home-cooked scrambled eggs, cantaloupe salad and sandwiches.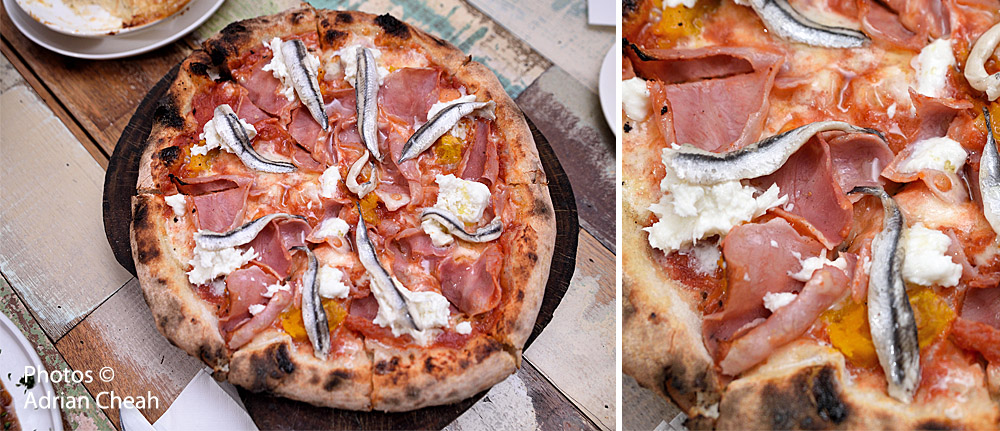 Another pizza to consider is Pecaminosa pizza, one of Bottega's signature pizzas. It has a crispy thin crust layered with a spread of house-made tomato sauce, topped with buffalo mozzarella, pancetta, pumpkin and sardines. The sweetness of the pumpkin is well balanced with the saltiness of the pancetta and cured sardines. This combination of toppings is the first for me and has captured my heart.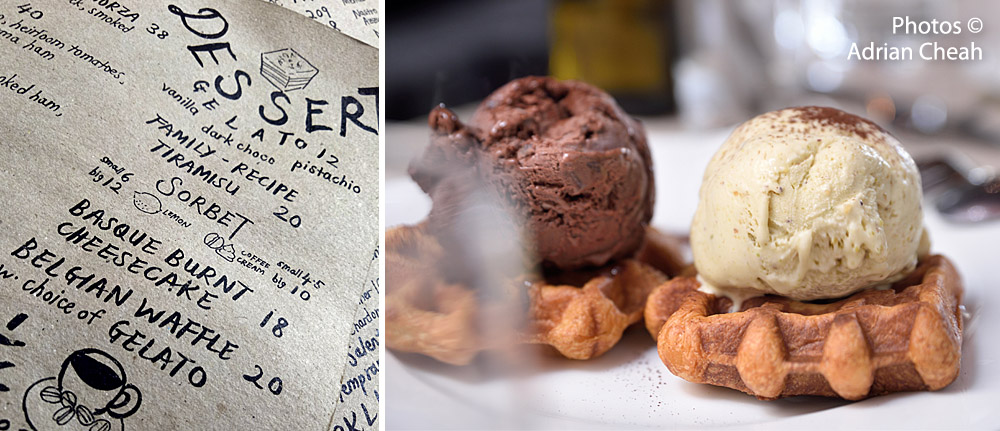 Chocolate is another influence on Italian cuisine from the Americas. One can attribute many chocolate dishes to Italians. Some say that Neapolitans were among the first to combine chocolate and coffee for cakes and drinks.
To conclude the meal, try the dark chocolate gelato. Two other flavours, vanilla and pistachio, are equally heavenly! Warm mini Belgian waffles (two in a serving), each topped with a scoop of gelato, is a perfect ending for one to leave Bottega with a huge smile.
Established in Kuala Lumpur in August 2011, the Riccardo Ferraroti family-owned business first started supplying a wide range of imported groceries like delicatessen items, flour, various sauces, coffee, wine and other cooking ingredients to restaurants and hospitality brands in Malaysia. Thus its name "Bottega", Italian for "shop", is apt. Opening up a café and pizzeria was the next logical step. Today, the café also doubles up as a delishop, continuing to sell various imported groceries from Italy, France and Spain.
From Kuala Lumpur, Bottega expanded its business north to Penang, opening its doors to the public in April 2022. Bottega Penang operates in a double-storey heritage shophouse in Lebuh Muntri. The delishop is located at the entrance and a theatre-style kitchen, full of action that draws you in, is at the airwell. Because of its architectural layout, this long shophouse has an airwell designed to allow light in to illuminate the spacious high-ceiling interior. Either sit along the bar-like counter facing the kitchen to see first-hand how your meal is being prepared or at other dining tables for a more private affair. The upper floor, with a bigger sitting capacity caters for functions and gatherings of up to 40 pax.
Two floor-to-ceiling murals adorn the walls of Bottega Penang, one on each floor, providing good photo opportunities. Service is excellent and the cheerful team is always at hand to make dining a pleasurable experience.
If you are planning to have a meal at Bottega, do make reservations in advance. Come in comfortable casual attire to enjoy good Italian food among family and friends.
Bottega Penang
76, Jalan Muntri, 10200, George Town, 10200 Penang
Open: 11 am to 11 pm daily except Mondays
T: +6011-1227 6701
-------------------------------------
Written and photographed by Adrian Cheah
© All rights reserved
13 May 2023