Hainanese Delights serves up nostalgic cuisine of the colonial British era
In the 1920s, the Hainanese were among the last Chinese immigrants to arrive in Penang. Since other dialect groups had already established control over most trades, the late comers ended up as cooks and houseboys (domestic helpers) in British homes and establishments. The Hainanese cooks were taught on-the-job how to prepare British dishes and were also introduced to local ingredients and spices. They eventually evolved their cooking repertoire, infusing their creations with local flavours to suit the taste buds of Penangites and the colonial British. Thus, Hainanese cuisine in Penang, and at large, in Malaysia and Singapore, is unique in its own way and cannot be found elsewhere, not even in Hainan Island.
When I was young (in the 1970s), one of my fond memories of good Hainanese food was at Coliseum Cafe in Kuala Lumpur. Uncle Ah Ling, my late Dad's younger brother, would take us there and we would have such a grand feast. Even until today, I can vividly recall the scrumptious flavours, especially the dessert – crispy golden deep-fried bananas wrapped with popiah skin, served with a scoop of vanilla ice cream. In Penang along Jalan Burmah, the authentic Hainanese chicken chop at Hai Onn Restaurant served with mustard and Worcestershire sauce, is best enjoyed with an order of toast. All these years even until today (more than half a century later), the quality and taste of the chicken chop have been consistently delicious.
To enjoy some good Hainanese cuisine in Penang, I would head down to Hainanese Delights. The Hainanese-style soups, pies and stews are items to look out for besides the quintessential chicken rice.
For appetisers, you have an option of Hainanese spring rolls (choon phneah), lor bak or chicken satay served with a spicy peanut dipping sauce. A must for me is the house-made Hainanese spring rolls, packed with julienned bang kuang (jicama), carrot, minced pork and crabmeat. They are served with a Worcestershire dipping sauce. The thin pastry sheets that wrap the spring rolls are prepared in-house and are not the commercial popiah skins. This is because a good casing is necessary to prevent oil from seeping into the filling when deep frying.
If you run down the menu, some items would stand out as Nyonya dishes – loh bak, inche kabin, jiu hu char, assam heh, kari kapitan, asam pedas and sambal kangkung. Well, some Hainanese cong phor (cooks) back then must have been employed by wealthy Nyonya families and they must have picked up these recipes. Thus, it is not surprising that they are also masters of Nyonya food.
I am sure the Nyonyas must have learnt some recipes from them as well. My Mum not only cooks fabulous Nyonya food, she also makes mouth-watering pork cutlets, pies, jam tarts and cakes; her sugee cake is phenomenally good! Her "stuffing" for roast chicken is an abbreviation of the Hainanese Min Chee (or Bin Chee). The dish is made up of diced potato and carrot cubes, mushrooms, onions, chicken, green peas, chicken liver and gizzards. The original version is served with mashed potatoes and an egg.
Back to Hainanese Delights, there are three soup items to consider including the Hainanese-style mushroom soup. San any cream, this signature soup is flavoured with taucheo (fermented soy beans), containing mushrooms, chicken cubes and tung hoon (mung bean noodles).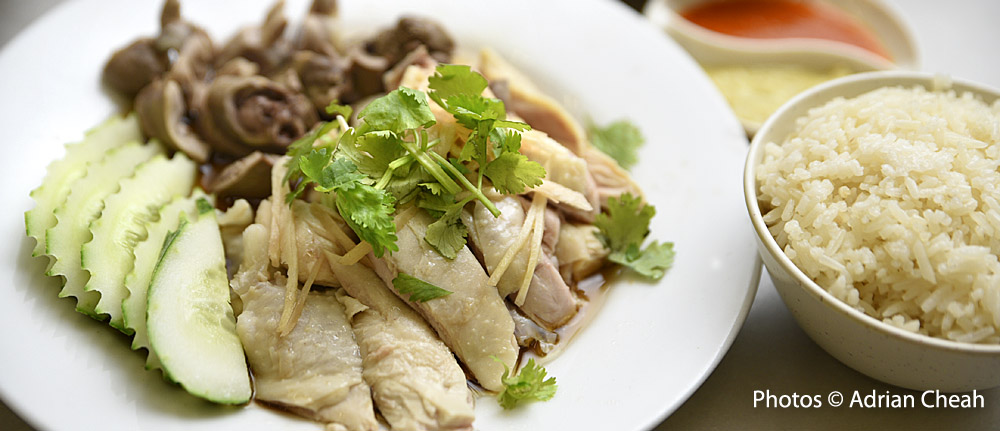 Let us take a look at one of my favourite dishes – Hainanese chicken rice – tender poached chicken served with slices of chicken liver and gizzards, ginger scented rice, house-made chilli and ginger dipping sauces. The dipping sauces harmonise with the flavours of the chicken rice, adding the necessary spicy and tangy elements to the mix. If you are ordering a quarter chicken, opt for the chicken thigh – the meat is fattier and juicier.
If you love fried chicken, order the aromatic inche kabin, topped with prawn crackers and served with a Worcestershire dipping sauce. The well-marinated chicken pieces are crispy on the outside and moist and tender inside. It is best to enjoy them piping hot as the texture would alter when left to cool.
My Mum makes a splendid kari kapitan and I am glad I have mastered the recipe. Thus, I seldom order this dish when eating out. Having said that, there are many versions of kari kapitan, a medium-dry coconut-base chicken curry. The recipe at Hainanese Delights is a faithful tribute to Edgecliff's original rendition. The three Wong brothers running the restaurant were born at Edgecliff manor on Penang Hill where their parents worked (Mr Wong Seng Hye was the chief cook and Ms Tan Heng Mooi was the housekeeper).
Under the mains, you have stewed duck with yam, succulent assam prawns, prawn fritters and assam curry fish. The spicy and sour curry is made with a special assam curry blend, served with ladies fingers. Fish options include white/black pomfret, siakap and garoupa.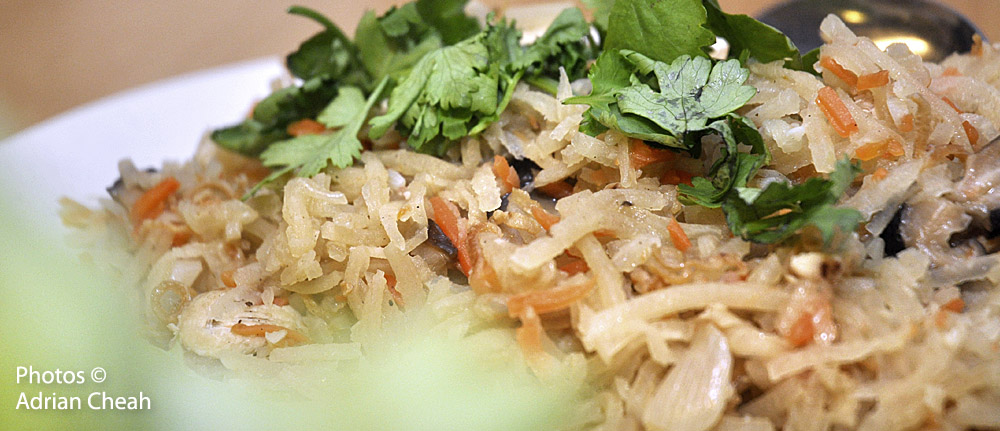 For vegetables, try the jiu hu char, stir-fried bang kuang with shredded cuttlefish and pork belly slices. Other items on the menu include stir-fried bean sprouts with salted fish, stir-fried mixed vegetables, Hainanese mixed vegetables with glass noodles, bitter gourd with either salted egg or soy bean paste and sambal kangkong (water spinach). Opt for sambal kangkong if you enjoy the fiery heat. Foo yong crab and claypot tofu are ideal for those who shy away from spicy food.
On the western front, you have Hainanese chicken chop (pork chop option available), fish and chips, chicken pie and macaroni pie. The chicken pie consists of boneless chicken cubes, button mushrooms, carrots, onions in creamy sauce, topped with puff pastry. The macaroni pie, on the other hand, is made with boneless chicken cubes, button mushrooms, carrots, onions and macaroni in creamy sauce, covered with a baked egg-white meringue topping.
Local specialties include Hailam mee (stir-fried yellow noodles with chicken, seafood and vegetables), Hailam bee hoon (stir-fried vermicelli with chicken, seafood and vegetables), fried hor fun (dry or with gravy), fried rice with salted fish and char koay teow (stir-fried flat rice noodles with shrimp, Chinese lap cheong (sausage), eggs, bean sprouts, garlic, lard).
Hainanese Delights first opened its doors to the public in late 2009 by Wong Jong Peng (JP Wong) and his partners at Hotel 1926 along Jalan Burmah. In 2021, it relocated to 42 Lebuh King. Today, brothers George and Charles join JP to manage the restaurant. They learnt the culinary skills from their father, Seng Hye, the long-time chief cook of Edgecliff. Seng Hye and his wife emigrated from Hainan Island to Singapore shortly before World War II. It was in Singapore that he honed his culinary skills under the tutelage of his brother-in-law. After the war, they relocated to Penang and took up the jobs at Edgecliff manor.
Hainanese food is delightful! According to Ong Jin Teong, author of Penang Heritage Food, "Many of the Hainanese moved on to run kopi tiam (coffee shops), cafes, restaurants and bakeries. At one time, the Hainanese owned about ninety percent of the kopi tiam in Penang...". The wonderfully intricate fabric of Penang's food heritage is woven by many generations of master cooks and among them, the Hainanese.
------------------------------------
Hainanese Delights
42, Lebuh King, 10020 George Town, Penang.
Tel: +6012-424 6681
Open: 11.30 am- 2.30pm, 6 pm-9.30 pm daily except Tuesdays
Menu on http://www.hainanesedelights.com/
Do call and make reservations especially on weekends and public holidays. If you have a big group, the restaurant can house 40 pax comfortably.
Hainanese Delights won the Georgetown World Heritage Incorporated Award for Restoration and Conservation Award 2020.
------------------------------------
Photographed and written by Adrian Cheah
© All rights reserved
24 March 2023