Viet Garden offers an extensive pork-free Vietnamese menu
Penang is lucky to have a string of good Vietnamese restaurants offering scrumptious signature dishes. Vietnamese cooking draws on the influences of Chinese, Thai, Indian and French cuisines to create irresistible combinations of delicate flavours, fresh ingredients and fabulous textures. Viet Garden, located at Kimberley Street, is one such destination in Penang to enjoy authentic Vietnamese delights.
In Vietnam, coffee is more than just a beverage; it is an integral way of life. Do you know that Vietnam is the second largest producer of coffee in the world after Brazil? Vietnam is also the No. 1 producer of robusta beans in the world.
Robusta has a higher percentage of caffeine per bean (around 2.2 to 2.7%) compared to arabica (around 1.2 to 1.5%). Compared to arabica, robusta beans do not have many natural sugars or lipids. Thus, robusta coffee has a stronger bitter taste with earthier notes like chocolate and nuts. These characteristics are synonymous with the signature taste of Vietnamese coffee. To tame the bitter and strong flavours, condensed milk is often used when enjoying Vietnamese coffee.
During a visit to Viet Garden for lunch, I started with the order of a coconut coffee – thick coconut milk blended with ice to produce a smooth snow-like texture, infused with strong Vietnamese coffee and topped with toasted coconut flakes. It was such a surprising treat!
Other items on the beverage list include Vietnamese black coffee, Vietnamese green tea, smoothies, ice blended concoctions, juices and beer.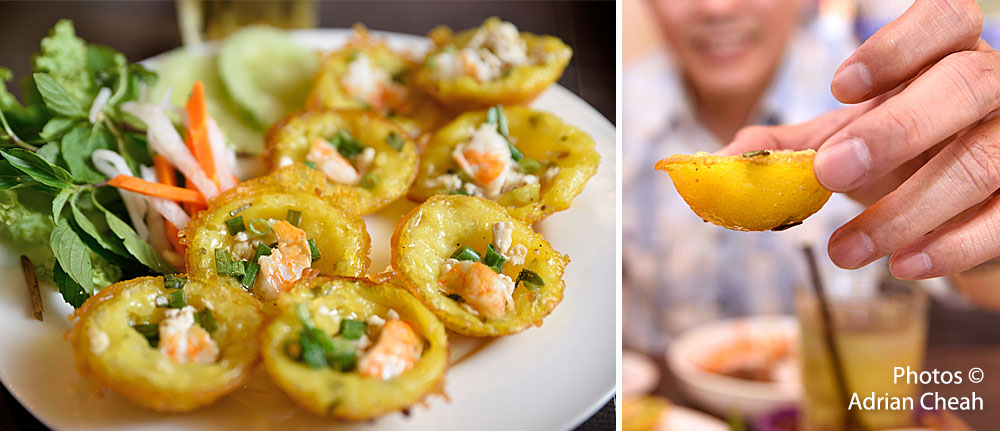 For appetisers, we had the Vietnamese crispy and savoury mini shrimp crepes (bánh khọt) topped with scallions, served with fresh herbs, cucumber slices and pickled daikon and carrot strips. A traditional dipping sauce accompanied the dish. Each petite little parcel was very crispy at the bottom while rich and creamy in the centre. I enjoyed this dish very much.
In the menu, there is a long list of Vietnamese appetisers on offer. We also had the popular fresh spring roll (gỏi cuốn) – rice paper rolls wrapped with rice noodles, vegetables, herbs and shrimps. These refreshing spring rolls were served with a creamy peanut dipping sauce. Each mouthful had an explosion of flavour from the herbs, crispy greens and succulent prawns. I appreciated that the spring rolls were cut into halves, making them easier to eat.
My friend had the vermicelli cakes (bánh hỏi) with chicken brochettes on lemongrass, served on the side with some greens, pineapple slices, pickled daikon and carrots as well as a dipping sauce. One interesting aspect of Vietnamese cooking is that it is light, subtle and elegant with a fresh, clean taste, balancing delicate flavours of spicy, sweet and salty, often fragrant with tropical aromas. All these were present in the offering above, beautifully plated on a platter lined with a banana leaf.
My daughter opted for the rare beef noodle soup (phở bò tái). This version of the classic phở is served with thinly sliced raw beef that is cooked straight in the bowl. The clear soup is light, yet packed a voluptuous full-bodied flavour of beef and aromatic spices, served with satiny smooth koay teow. The table had condiments for one to fine-tune the gravy to suit one's palate.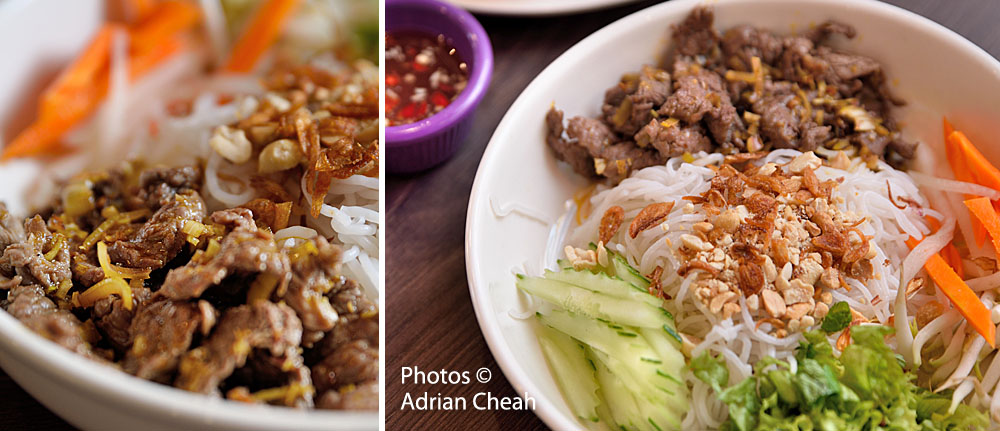 I ordered the vermicelli with stir-fried lemongrass beef, served with bean sprouts, cucumber, herbs and greens, topped with crushed peanuts. The spicy sauce was served on the side, enabling one to control the heat in the dish. The dish, packed with flavours and textures, was a wonderful offering to savour.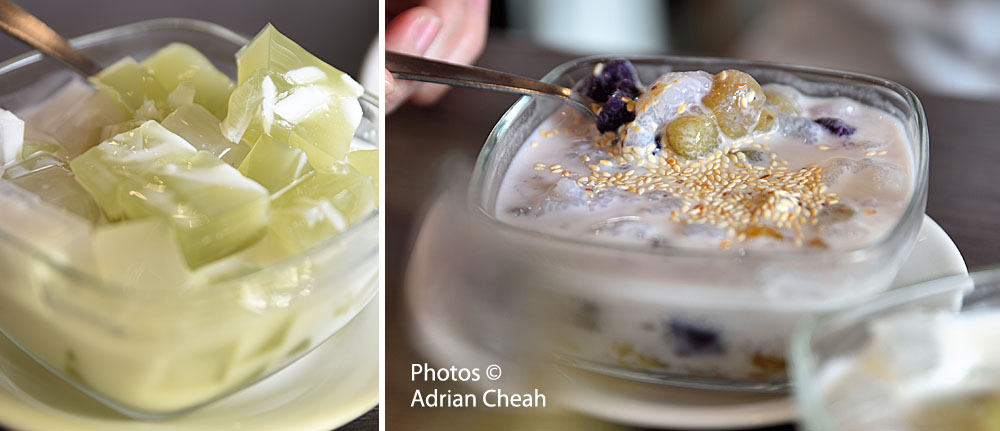 To conclude the meal, we opted for two desserts – one, a mixture of sweet potato balls in a thick coconut milk sauce (chè khoai dẻo) and the other, young coconut jelly cubes smothered with fresh coconut milk (chè dừa non). Both were a fitting end to a satisfying Vietnamese counter.
The restaurant has a few tables on the ground floor for small groups, larger tables on the first floor for bigger parties and an al fresco dining area, beautifully lit with strings of light bulbs during the evenings.
Viet Garden was established in October 2022 by Mr John Chen and Ms Ruby Yen. They take great care in offering and presenting authentic pork-free Vietnamese dishes. To maintain quality and taste, some significant ingredients are imported from Vietnam. I will definitely return to sample more, especially a variety of Vietnamese dishes that will pair well with steamed white rice. 
-------------------------------------
Viet Garden
257, Lebuh Kimberley, 10100 George Town, Penang
Open: 11 am to 10 pm except on alternate Wednesdays.
Whatapp John Chen: +6019-590 7857
-------------------------------------
Written and photographed by Adrian Cheah
© All rights reserved
17 February 2023