My unforgettable birthday dinner at The Tamarra
I turned 55 this year, travelled 55 times around the sun, clocking a distance of 8,228 million kilometres. Although moving at breakneck speed of 1,670 kilometres per hour through space, my precious life on earth seems to crawl at a much slower pace.
I look up at the night starry sky and marvel at the millions of miles I have travelled across the universe. I close my eyes and look within and marvel as well at more than half a century of wisdom and experience I have encountered. I am truly blessed!
To celebrate life and my birthday, I organised a dinner at The Tamarra to mark the occasion. My guests and I arrived at a beautiful table setting, laden with pastel floral arrangements, golden lacy table mats, royal blue glassware and warm glowing candles.
Our culinary journey began with a parade of three eye-candy appetisers. First, bamboo stands held up wild betel leaf shaped cones filled with smoked salmon and a summery fresh mango salsa. Although this item was not on the menu, the chef was willing to recreate these titillating parcels, a dish I had sampled before at The Tamarra.
Next was the Prawn Cocktail Tamarra, served in a shooter glass. In each glass, a skewered grilled prawn was served with a savoury peanut sauce, topped with finely diced onions and cucumber as well as a petite rice cake cube. Although the flavours were identical to satay gravy, serving the dish with a succulent smoky prawn was brilliant. It was such an enjoyable starter to whet the appetite.
The final starter in the medley was the creamy Crab Sanggul Tamarra – cheesy stuffed crabs topped with micro greens and sesame seed breadsticks, served on the side with oriental dipping sauce. All the three lovely starters had us very excited, anticipating more delightful surprises along our culinary voyage.
Shad Kamarulzaman (the owner of Tamarra and a close friend of mine), the Chef and I curated a spread of delectable dishes to feast. Prior planning was needed to source for some of the ingredients, especially the king prawns and the jumbo squid. I truly appreciate all the effort in presenting such a scrumptious spread.
Kerabu Ulam Raja & Mangga – a mango salad with local herbs (including ulam raja – cosmos caudatus, calqued as "King's salad") and spices was presented beautifully in a coconut shell. It had just the right balance of flavours – sweet, sour, salty and a touch of mild spiciness.
To spice things up further, a fiery Sambal Mangga – hand-pounded chilli paste with mangoes, shrimp paste, garlic, ginger and shallots – was served. This sambal packed a punch and ignited a burst of flavours, drawing our attention that the sambal was no ordinary kind. Growing up in a Pearanakan household, I understand how important a good sambal is at the dinner table. The Sambal Mangga is highly recommended for all sambal lovers and is a winner in my books.
A dish that stood out was the Sotong Jumbo Sumbat – a stuffed jumbo squid served with a special homemade sambal kantan (torched ginger flower chilli). The tender squid encased a turmeric flavoured filling that had a distinct aroma, resembling flavours of otak-otak (Nyonya fish egg custard) but with a more robust texture. I enjoyed this dish immensely and was thrilled by the inventiveness of the chef. I have eaten so many squid dishes and this definitely takes the cake.
Size can at times impress and the king-size butter prawns put a huge smile on my face. They were obscenely huge and lovely! The plump and sweet flesh needed very little work to draw out its natural flavours. Perfumed with aromatic curry leaves and creamy richness of butter, this was such a delightful offering. The creamy, cheesy and butter sauce that accompanied the dish complimented the prawns beautifully. Truly a match made in heaven!
The Bakar Signature Tamarra, a classic charcoal grilled fish, was served with two sauces on the side. The whole fish was marinated generously with a local spice paste before being grilled to perfection. I requested that the banana leaf that protected the delicate flesh be removed prior to serving as it would make a more appetising photo op. Two thumbs up for this savoury dish.
Another dish that was a winner was the Ayam Bakar Rendang Kelapa Parut – charcoal grilled chicken smothered with a rich gravy spiced with local herbs and thickened with the goodness of fresh coconut milk. The chicken was tender as only the leg was used. The smoky flavour lifted the dish to a whole new level. Kudos to the chef for taking such tender loving care to prepare the chicken.
For green, we had the Asparagus Goreng Belacan – stir-fried asparagus with shrimp paste. This was another creative dish with a wonderful combination of flavours.
To accompany the stellar dishes above, I requested for Nasi Hujan Panas that was not on the menu. The fragrant colourful rice had a celebratory appeal, cooked with long grained basmati rice and flavoured with ghee. It celebrated the colours of the rainbow.
For drinks, we opted for Tamarra's signature concoctions. We had the mango margarita, complete with a salted rimmed glass and topped with a decorative slice of mango. We also ordered the Telang Pujangga consisting of blue lagoon, a passion fruit base and sprite. Of course being a halal restaurant, the refreshing drinks were alcohol free.
I was extremely bowled over by the dinner at The Tamarra and the skill of the chef and his team for preparing such fine masterpieces for the palate. The epic culinary journey was highly memorable, filling my 55th birthday with such sweet moments.
My unique birthday cake was created by Nely from Passion Heart. It was a pistachio swiss roll packed with fruits including strawberries and mango. Perfumed with rose cream, the gorgeous cake was decorated with more fruits and crushed pistachio. I left it up to Nely to invent something extraordinary and she did! Nely's divine cakes are always packed with ingredients and flavour because of the quality ingredients she uses. Although I insisted on paying for the birthday cake, Nely declined. Her generosity and friendship made this birthday even more unforgettable.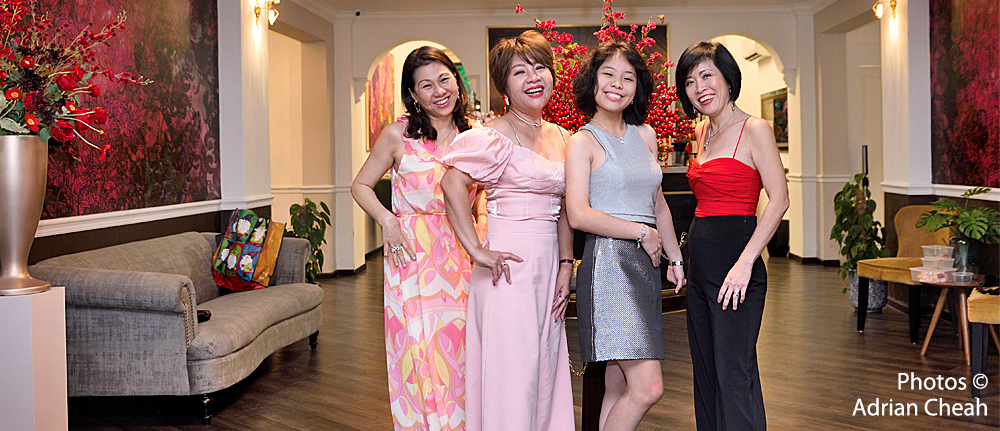 Shad also refused to accept payment for the dinner. He was happy that he could prepare such a grand feast for me and my guests. I am truly blessed to be surrounded by such wonderful people filling my life with cherished moments and lasting friendships.
PS: Many thanks to Shad and Nely for their generosity. Also many thanks Cindy and Dorothy for joining the birthday celebration and the exclusive wines.
-------------------------------------
Written and photographed by Adrian Cheah
© All rights reserved
8 January 2023
-------------------------------------
The Tamarra by Irama Dining
36A, Jalan Sultan Ahmad Shah, 10500 George Town, Penang
T: +6011-1248 7582
The Tamarra is located along the Millionaire's Row in Penang at Jalan Sultan Ahmad Shah (formerly Northam Road), beside the Menara KWPS building. The stunning bungalow has an extensive beachfront lawn that houses the marquee tent to cater for the al fresco dining experience under the stars. Enjoy the cool sea breeze and a glorious sunset as you savour scrumptious delights.