Negaraku, a national anthem for the rakyat
Negaraku
Tanah tumpahnya darahku
Rakyat hidup, bersatu dan maju
Rahmat bahgia, Tuhan kurniakan
Raja kita selamat bertakhta
Rahmat bahgia, Tuhan kurniakan
Raja kita selamat bertakhta
How many of us have stopped to ponder upon the lyrics of our national anthem – Negaraku. Let us take a closer look at these seven lines of text and how it was conjured up at the birth of a new nation.
Negaraku
The grandeur with heavy drums at the beginning is followed by a single word – Negaraku (my country/my homeland), each syllable stretches out with a solemn long note.
Indeed, this is my country and I know no other. I was born in Penang and both my parents were born in Malaysia as were my grandparents. This means I am at least a third generation Malaysian.
Tanah tumpahnya darahku
"The land where my blood is spilled" might be too literal a translation. Perhaps it should be translated into context as "these shores with blood I shall defend". For the unsung heroes of the land who have fallen, their patriotic fervour resonates true in this sentence, not just as a sacrifice but as a beacon of valiant reminder to fellow Malaysians.
Rakyat hidup, bersatu dan maju
"The people living united and progressive" – to some, this might be viewed as a clarion call of hope, even a prayer. To others, this is reality, experienced in their daily way of life. Without a doubt, we are now living in the most convenient time ever with almost everything reachable at our fingertips. Thus, are Malaysians living a united and progressive life? I would certainly say that this is so for me, being among my family and circle of friends, as well as within the community of Penangites and many Malaysians at large.
Rahmat Bahagia, Tuhan kurniakan
"May God bestow His grace and blessings." Well, He certainly has as this land of abundance, rich in natural resources has developed into an industrialised nation.
Raja Kita, Selamat Bertakhta
"May our King reign safely." Our national anthem concludes by paying homage to the Yang di-Pertuan Agong, the constitutional monarch and head of state of Malaysia.
The last two sentences are repeated twice in the national anthem. Tunku Abdul Rahman, the first prime minister of Malaya insisted that it was to be sung this way.
This is Malaysia's national anthem. Malaysians would stand up and sing with pride when we hear the national anthem being played, regardless of race, religion or political allegiance.
Although there are just seven lines in the song, do you know that on the eve of 31 August 1957 at the Padang Kelab Selangor (now known as Dataran Merdeka), Negaraku made its first debut without the lyrics? On the historic Declaration of Independence, as the Flag of the Federation of Malaya was being hoisted up a 40-foot flag pole replacing the Union Jack, Negaraku was performed, also as an instrumental version. The band of the Royal Federation of Malaya Police played the national anthem again, after Tunku's famed independence rallying cry "Merdeka!" which he repeated seven times.
Tunku had set up a committee (headed by himself) to be responsible for the lyrics of the song. Tunku invited Indonesian-born Saiful Bahri (top left), a musician extraordinaire he admired to pen the words (as told by Mohammad Hashim in an interview with Shazlin A. Hamzah on 8 October 2018). Saiful had to adhere to linguistic appropriateness, suitability with adat (customs), culture, religion, the monarch and the constitution. He submitted the following:
Title: Negaraku
Lyrics rearrangement: Saiful Bahri
Negaraku
Tanah tumpahnya darahku
Rakyat hidup
Bersatu dan maju
Rahmat bahgia, Tuhan kurniakan
Raja kita selamat bertakhta
Raja kita selamat bertakhta
O my homeland
These shores with blood I shall defend
We shall live
As one and we proudly stand
God bless this land forever and again
Long live the king
Pray glory all your days
(Saiful Bahri 1957)
These lyrics appeared two weeks after Independence Day, in a magazine on 16 September 1957.
Top left: Ahmad Merican (standing) with Tunku at the TV Malaysia launch in 1963.
With the approved lyrics, the recording of the song was handled by Ahmad Merican and Dol Ramli from Radio Malaya. Tony Fonseka was appointed as the choir master. Three months before Merdeka, Tony formed a multicultural Merdeka Choir, over 40 strong vocalists from school and church choirs around Kuala Lumpur. Filipino-descent Alfonso Soliano who was a brilliant composer played the piano. Their voices accompanied by piano echoed across the radio and at official functions nationwide.
Click on the above clip to watch, Getaran Pertama, a retelling of the Merdeka Choir showcased in 2019 by Celcom and Axiata.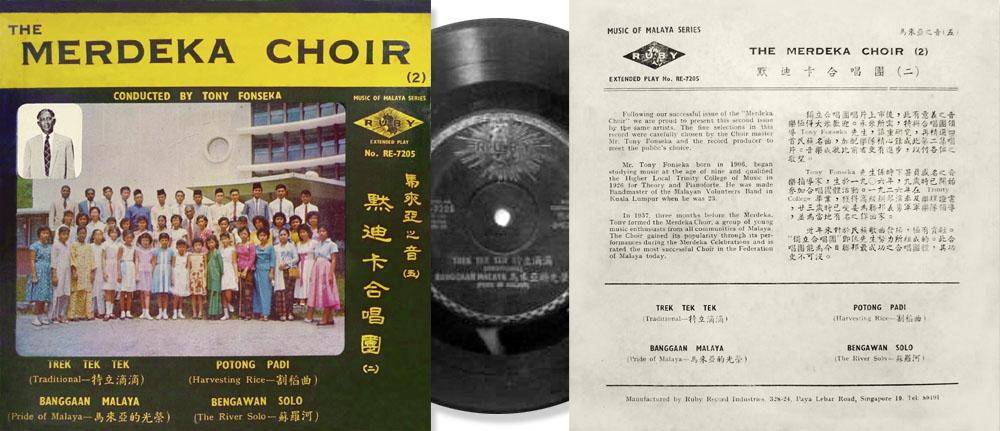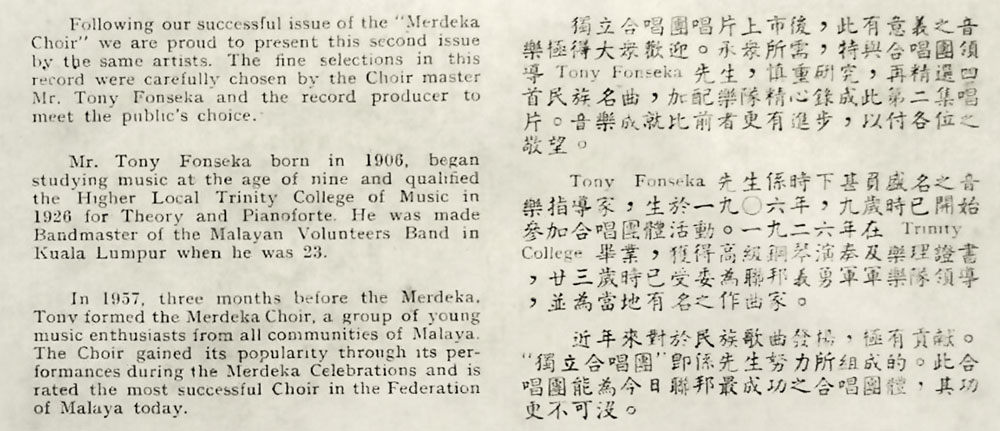 This is only half the story. The journey of the Negaraku to where the Merdeka Choir sang the song for the first time was a much more arduous task. Although Tunku had his hands full, he saw to the best of his ability that the "new" nation would inherit a national anthem that would be a patriotic vessel of great pride for its rakyat.
In the time leading up to independence, Tunku organised and presided over a committee for the purpose of choosing a suitable national anthem. Upon his suggestion, a worldwide competition was launched by Radio Malaya with a winning prize set at 5,000 Malayan dollars (8 March 1956, The New York Times). However on 5 January 1957, The Malay Mail reported the prize at $13,000. Entries from known composers (including Sir William Walton and Bejamin Britten) and amateurs from 19 countries poured in, 514 in total, and through rigorous screening, a handful were shortlisted. By June 1957, the committee decided none was deemed suitable. Some had the striking resemblance of God Save the Queen or a variation of Auld Lang Syne. Do you know that even celebrated P. Ramlee as well as Saiful himself entered the competition but were rejected?
On 27 June, the Department of Information, Federation of Malaya sent an invitation to Zubir Said, a well-known Singaporean composer to create the anthem. Zubir enthusiastically re-arranged not one but three proposals – Seri Mersing, Damak and Mas Merah. They were all rejected as well.
The committee also reached out to the great English composer Benjamin Britten to write the anthem. His final version that arrived weeks before the 31 August independence day celebration was rejected as well.
By August 1957, with a pressing deadline, Tunku ultimately decided that the committee revisited the Perak anthem.
Now, how the Perak anthem came into being is an interesting tale to tell. That deserves a separate story all by itself. However, the melody can be traced to Pierre-Jean de Béranger (1780-1857), a prolific French poet and chansonnier (songwriter), whose tune 'La Rosalie' was popular in the Seychelles during the late 19th century. 
By the 1900s, the melody was so popular that it had been used time and again by Malay bangsawan performances in the Nusantara region (1900s), a Cantonese version (1920s), the soundtrack for Terang Boelan (1937), Mamula Moon by Danny Vaughn (1930s), I Shall Return by Anne Shelton (1940s), Marai no Tora (The Tiger of Malaya) film (1943) and Malayan Moon by Paul Lombard & His Orchestra (1950s).
I learnt about this while attending the Echoes, Shadows & Footprints symposium organised by Penang House of Music, Penang Institute and George Town Festival on 30 June 2022. Prof. Dr. Tan Sooi Beng (top, left) of Universiti Sains Malaysia highlighted this intriguing fact. Could this have somehow contributed to firming up Tunku's decision to revisit the Perak anthem, a popular melody loved by many?
We now know that the melody for Negaraku has travelled halfway across the globe, lyrics penned by a brilliant Indonesian-born musician, first sung by multi-racial vocalists from school and church choirs under the guidance of a dedicated choir master, accompanied by a Filipino-descend pianist.
Changes to Negaraku were attempted twice – in 1992, it was rearranged to an upbeat tempo (deemed unpopular, only to return to its original form in 2003) and in 2003, to renaming it to Malaysiaku, ensued a public outcry of dismay!
Coming up with a song that represents a nation is no easy feat. Syabas to Tunku and all involved for putting together our brilliant national anthem in such a pressing timeline. I cannot imagine Negaraku sounding or being sung any other way!
---------------------------------------------------------
PS: Many thanks Paul Augustin for your valued input and Shazlin A. Hamzah for sharing her insightful and well-researched paper – "Negaraku: The national anthem binding Malaysians in integration", 2018.
---------------------------------------------------------
Note:
1. At the end of Getaran Pertama (by Celcom and Axiata, 2019), the narration stated that the Merdeka Choir sang on 31 August with a photo of them at "Dataran Merdeka" (top left). However, the photo on the right shows how the stage was set on the field on Merdeka Day in 1957. Given the fact as stated in the above photo, this could not have come to pass. The photo in Getaran Pertama must be from a later date. Negaraku played on Merdeka eve and at the Declaration of Independence on 31 August 1957 was only an instrumental version.
2. There are many reports that the prize for the national anthem competition was $50,000. I choose to disagree as a The New York Times article on 8 March 1956 listed the prize money at 5,000 Malayan dollars and on 5 January 1957, The Malay Mail reported it at $13,000.
---------------------------------------------------------
Written by Adrian Cheah
Photographs courtesy of Paul Augustin, Penang House of Music and open sources © All rights reserved
18 August 2022