The delicious 4-course set lunch at Le Venue
My friends and I had a wonderful birthday celebration for Dorothy Wang at Le Venue. The hearty four courses in the set lunch were all elegantly plated, rendering a visual feast whetting the appetite. As always, Chef Petr Fehér's creations using quality ingredients were truly scrumptious. Let us take a closer look at each course.
1st Course: A generous amount of crispy romaine lettuce was tossed with an in-house Caesar dressing, topped with croutons and shaved parmesan cheese. Anchovies were added to the dressing to provide a more umami flavour to the salad. This was an appetising and refreshing dish to start the luncheon.
(Options: add shrimps – RM15 or Pata Negra (cured ham) – RM25)
2nd Course: A petite serving of capellini tossed with truffle oil and topped with a dollop of black caviar. Capellini noodles – a variety of pasta – are shaped like spaghetti strands, very thin, measuring less than 1 mm in diameter. The truffle oil added a distinct aroma to the dish while the salty and briny caviar accentuated the flavours, reminding me of raw oysters.
(Options: add foie gras – RM40 or scallops – RM25)
3rd Course: For the main course, there were two options. First, a Spanish pork collar (presented in tender cuts) topping a bed of creamy mashed potatoes. These cuts were served with mushrooms and green peas. The savoury gravy and some sweet berry reduction harmonised the flavours of this dish beautifully.
(Option: supplement pork chop – RM 45)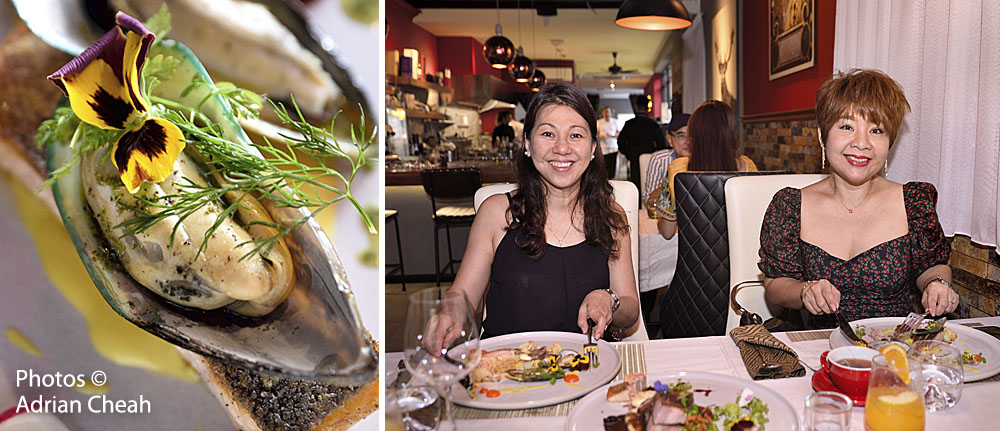 The second option was a cut of Atlantic salmon with crispy skin and tender flesh, drizzled with signature sauces. Two pieces of mussels and some roasted cauliflower accompanied this delectable seafood offering.
(Option: supplement cod loin – RM 60)
4th Course: To conclude the satisfying meal, the dessert of the day – panna cotta topped with chocolate curls, diced strawberries and toasted almond flakes – was served.
This 4-course set lunch for two at Le Venue was priced at RM160++, including either a cup of coffee, tea or a glass of fruit punch each.
Dorothy, may your days be filled with magical thoughts and beautiful moments. Happy Birthday!
Le Venue
80, Lebuh Tye Sin, 10300 George Town, Penang, Malaysia.
T: +604 251 9833
HP: +6012 400 2072
-------------------------------------
Written and photographed by Adrian Cheah
© All rights reserved
14 July 2022