Scrumptiously healthy breakfast offerings at EMILY Darling Cafe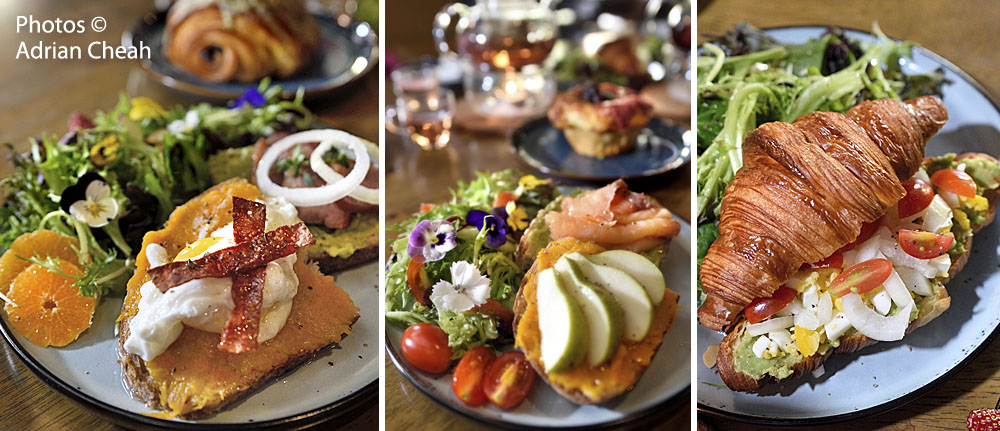 EMILY Darling Cafe starts operations at 8:00 am. It was only a natural progression that the cafe added some breakfast options to its list of tempting pastries and cakes. I was there that Saturday morning, 21 May 2022, the first morning that three breakfast offerings were made available. Staying at E&O Hotel that weekend, I had a pleasant stroll along Penang Road to the cafe.
Here are the three lovely breakfast options to consider at the cafe.
The first comprises two slices of freshly baked sourdough bread, one spread with an avocado puree and the other with mashed pumpkin. The slices are topped with a few cuts of smoked duck breast and a poached egg, then dusted with freshly crushed black pepper. Garden greens and some seasonal fruits are served on the side.
The cafe bakes its own artisan sourdough bread. In a nutshell, sourdough is slow-fermented bread. Instead of using commercial yeast, sourdough bread is made with a live fermented culture (a sourdough starter) which acts as a natural leavening agent. Do you know that this slowly fermented bread-making technique dates back to 3000 BC in ancient Egypt? From there, it spread gradually to Europe, throughout ancient Greece and the Roman Empire; it is still practised to this present day.
Fresh from the oven, the sourdough bread has a tangy flavour, chewy texture and crisp, crackly crust. With today's healthy-eating food culture, sourdough bread is gaining popularity as it is packed with nutrients, healthy carbohydrates, proteins, fibres and vitamins like folate and iron. I am glad that the cafe uses this healthy option instead of commercial white loaves.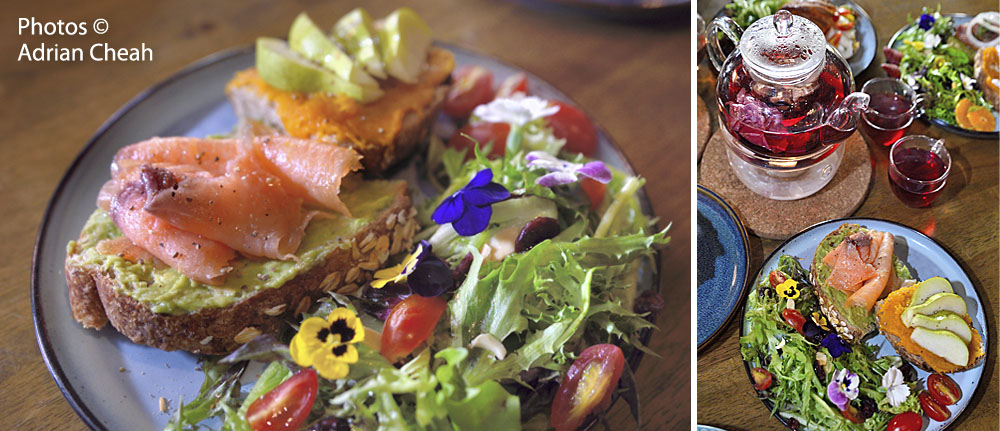 Another breakfast option is topped with pear slices and smoked salmon over two slices of homemade sourdough bread. The slices are smothered with a generous amount of avocado and pumpkin puree. Fresh greens and some seasonal fruits are also served on the side. The slightly salty smoked salmon harmonises beautifully with the refreshing crunchiness of the sweet pears. This elegantly plated breakfast decorated with organic edible flowers is a visual feast.
My favourite breakfast item of the three is the crispy croissant, buttered with an avocado spread and packed to the brim with crushed hard-boiled eggs, greens and cherry tomatoes. The aromatic crushed black pepper adds a touch of heat. A side of fresh healthy greens makes it even more palatable. The cafe bakes daily fresh buttery croissants that are truly scrumptious.
Besides these breakfast items (available all day long), the glass counter showcase is laden with a variety of mouth-watering pastries and brownies to tempt you. Select your favourite cup of coffee or pot of tea to accompany your breakfast.
The cafe's intriguing decor is charmingly decorated with an eclectic mix of objets d'art providing great photo opportunities. The friendly service makes the dining experience even sweeter.
EMILY Darling is located along Penang Road right in the heart of George Town. Its prominent maroon facade faces the junction of Kampung Malabar.
If you are within the range of its delivery service, you could also have fresh pastries delivered right to your doorstep.
From 5:00 pm to 6:00 pm, enjoy special discounts of up to 50% on all pastries (except plain croissants). This ensures the pastries sold at EMILY Darling are always fresh.
-------------------------------------
Emily Darling Cafe
186 and 188, Jalan Penang, 10000 George Town, Penang
Open daily from 8:00 am to 6:00 pm except Tuesdays.
T: +6012 406 8847
-------------------------------------
Written and photographed by Adrian Cheah
© All rights reserved
8 July 2022