The Tamarra takes off this Ramadhan
The Tamarra is the latest addition to Shad Kamarulzaman's string of restaurants which include Irama Dining, Sutera and Lagenda Cafe. Not resting on his laurels, he brings yet another inspiring dining destination to Penang, this time serving modern Malay gastronomy. However, for the month of Ramadhan, The Tamarra is proud to present "Senandung Rasa by the Sea".
The launch of The Tamarra holds great potential with a winning menu, scrumptious offerings and eye-arresting presentations, synonymous with Irama Dining that has won the hearts of many.
Highlights from the extensive buffet spread included Kambing Golek (spit roast whole lamb), live action stalls and a spread of over 100 dishes, not to mention durians with pulut (glutinous rice) or ice kacang.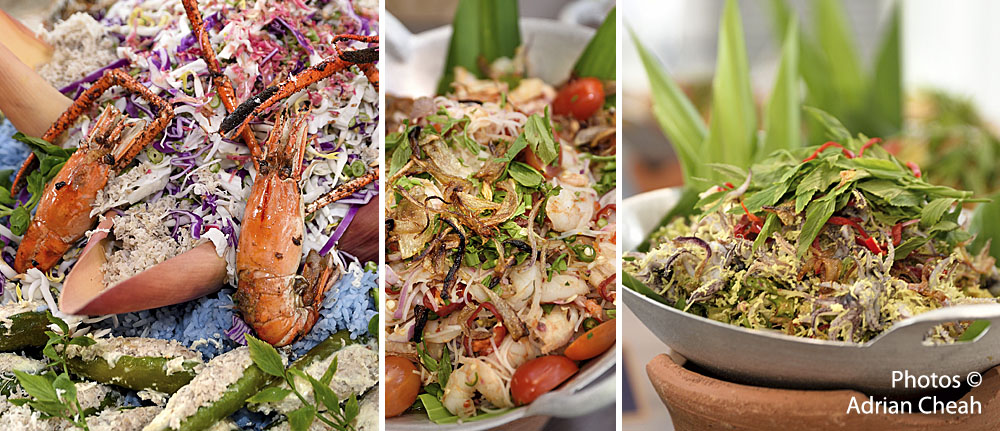 Let us take a closer look at the buffet spread. Appetising kerabu (salads) spiced with local herbs and spices included Kerabu Jantung Pisang (rhinocerote salad), Kerabu Kacang Botol Sotong (winged bean salad with squid), Kerabu Mangga (mango salad), Kerabu Daging (beef salad), Kerabu Suhun (glass noodles salad) and Kerabu Taugeh (bean sprout salad).
To enjoy Ulam-ulaman Kampung (local greens), a variety of chilli sauces was at hand – Sambal Belacan, Sambal Hijau Petai, Sambal Kicap, Sambal Goreng, Sambal Tempoyak and Sambal Macang.
To add the crispy element to the meal, crackers including Keropok Ikan, Keropok Udang, Keropok Bawang and Keropok Papadam were served. Other condiments included fried salt fish, salted eggs, Acar Sayur, Cincaluk, Budu, Gado-gado and Rojak Buah.
A satisfying Malay feast is often served with rice accompanied with savoury curries and dishes, fresh ulam, sambal and kerabu. The buffet spread at the launch had two special rice dishes – Nasi Kerabu and Nasi Briani Kambing (mutton briyani). The Nasi Kerabu was beautifully presented with blue-coloured rice, topped with heaps of shredded vegetables and herbs, fringed with solok lada (stuffed green chillies) and salted egg halves. Giant freshwater prawns were added to decorate the dish further. It was such an impressive eye candy. The mutton briyani was fragrant and colourful, topped with tender lamb shanks.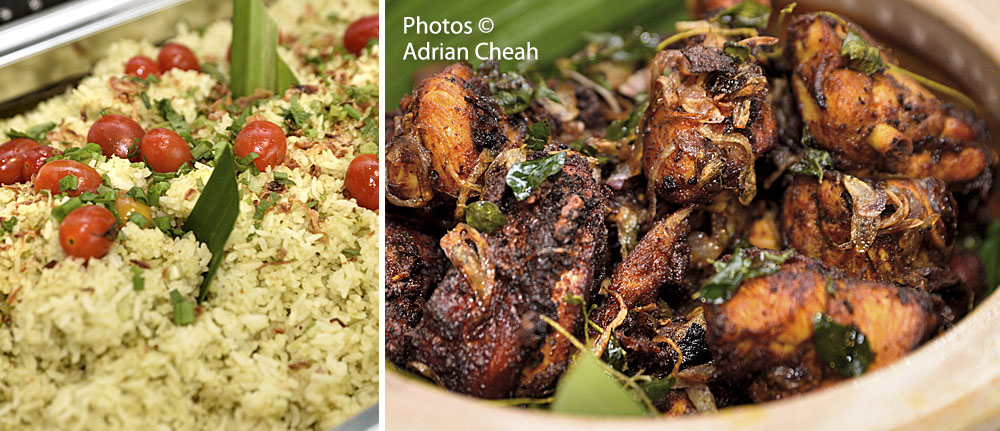 Besides steamed white rice, Nasi Beringin was also available. Nasi Beringin is a type of aromatic rice, flavoured with lemongrass and pandan leaves. In the late 1890s, it was a popular dish served at royal banquets in Johor. Since then, it has spread all over the land, enjoyed by many, often with a variety of dishes.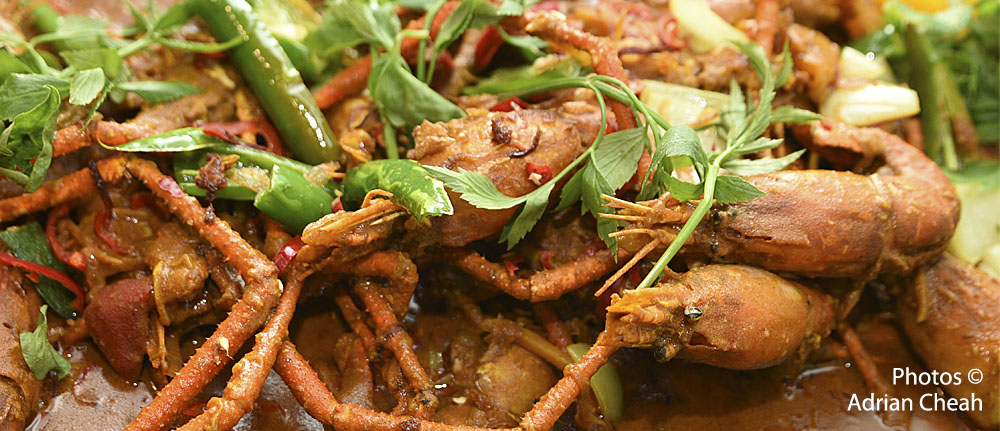 Mouth-watering dishes served that evening included Ayam Goreng Berempah (spiced fried chicken), Udang Galah Gulai Nenas (giant freshwater prawn curry with pineapple), Itik Salai Masak Lemak Cili Api & Belimbing (smoked duck in a spicy coconut curry), Daging Kuzi (beef curry), Ikan Pari Asam Pedas (stingray curry), Ketam Masak Karipoole (flower crab curry), Ikan Talang Masak Lemak Nenas (carangids coconut curry with pineapple), Dalcha Sayur Penang and Sayur Campur (stir-fried mixed vegetables).
Ketupat and Nasi Kunyit were also prepared, scrumptious especially with some curry dishes listed above. Authentic Mee Goreng Mamak was also available.
At a noodle station, Sup Ekor Berempah served with beehoon (vermicelli), koay teow (flat rice noodles) or Bengali bread. In the case of Penang laksa, you could order a freshly prepared bowl with all your favourite ingredients.
Sizzling, hot off the flaming grill, I had the Kambing Golek and satay which were truly delicious. Grilled prawns on skewers, grilled fish and chicken were also on offer. At the next action stall, I helped myself to some lip-smacking fish head curry. Available at the next stop were deep-fried Cucur Isi Ketam and Taukua Rendang.
The marquee tent, erected at the beachfront lawn, was decorated with strings of twinkling fairy lights that provided a festive dining atmosphere. On stage, a live band serenaded guests with ongoing classic Malay songs. This is an ideal dining set-up to mark an enjoyable evening with good food and great entertainment this Ramadhan.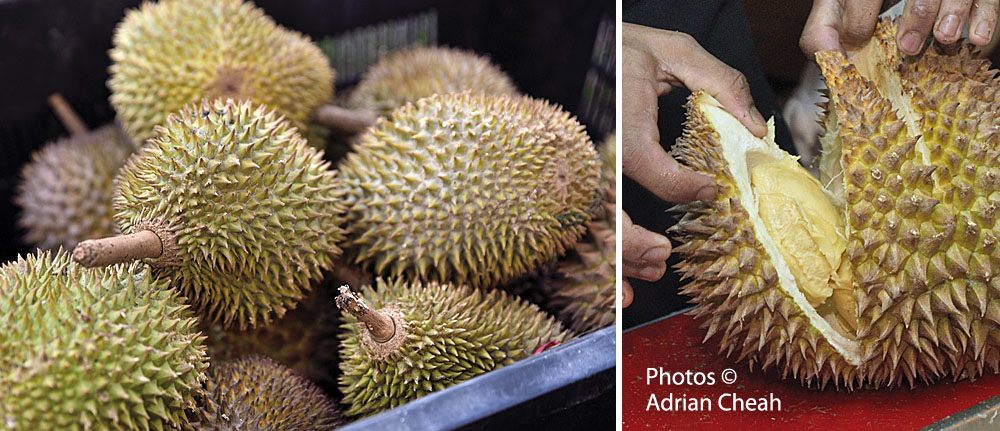 To conclude the meal, the dessert table was laden with trays and trays of colourful cakes and sweets including an assortment of fruit jellies, sliced local kuihs, cakes, cupcakes, puddings and fruits. Buah Kurma, Bubur Lambuk, Pengat Pisang, Pengat Durian, Bubur Durian were also available. With choices aplenty, dessert lovers could indulge till their hearts' content.
There was so much to sample and enjoy, thus I had to deliberate over the choices I was making. Although sampling a little of each, I was stuffed to the gills by the end of the evening. The quality of the curries and dishes was outstanding and the team members from Irama Dining once again have outdone themselves. It has been a long time since I last had such a grand feast, especially one filled with so many local favourites.
On our way out, each guest was presented with a beautiful glass candy jar filled with chocolate coated dates. The sweet content was befitting to the delightful memories I had at the launch of The Tamarra.
The Tamarra is located along the Millionaire's Row in Penang at Jalan Sultan Ahmad Shah (formerly Northam Road), beside the Menara KWPS building. The stunning bungalow has an extensive beachfront lawn that now houses the marquee tent to cater for the month-long al fresco dining experience under the stars. Enjoy the cool sea breeze, a glorious sun set and some classic tunes as you savour scrumptious Ramadhan delights. On weekends, a live band will keep you entertained with great music.
-------------------------------------
Written and photographed by Adrian Cheah
© All rights reserved
1 April 2022
-------------------------------------
The Tamarra by Irama Dining
36A, Jalan Sultan Ahmad Shah, 10500 George Town, Penang.
Ramadhan buffet: 6 pm – 10 pm
T: +6011-1248 7582
-------------------------------------
Senandung Rasa by the Sea
Enjoy Buka Puasa with family and friends this Ramadhan with an delectable buffet at The Tamarra. It is available from 7 April – 1 May 2022.
Exclusive early bird offer: RM 88.00 nett/pax for adults. Children (50%/pax aged 6-12); payment before 7 April 2022. (Normal price is RM98 nett/pax for adults.)
For bookings and reservations, call +6011-1248 7582