Delightful bowl-shaped appam at Singgah Sebentar
The appam (also known as palappam) or apom (in Penang) is an Indian pancake made with a fermented rice flour and coconut milk batter. The contrast of textures in this dish is alluring. The pancake - with a crispy fringe and is with a spongy, soft fluffy rice cake centre – exudes a distinct yeasty aroma. The crispy fringe reminds me of kuih kapit.
This hearty and comforting breakfast treat to start the day is easily available in Penang, especially within the Little India enclave and at some Indian restaurants throughout the state.
One of my favourite appam destinations is Restoran Singgah Sebentar at Jalan Makloom. Mr Shaik Saffarudin Bin Mohamed Yahaya established Singgah Sebentar in 2008. Here, the freshly-made appam is served with a coconut chutney and savoury fish curry on the side.
According to Mr Shaik Saffarudin, the appam batter has to be prepared one day ahead. The ingredients for the batter include rice flour, santan (coconut milk) sugar and salt along with yeast as a leavening agent. A well-fermented batter will have many tiny air-pockets, necessary in obtaining a moist and fluffy centre. The batter is then spooned into a hot 7-inch mini wok and swirled around to coat the sides. It is covered with a lid to steam-cook the appam on medium heat, ready in a matter of minutes.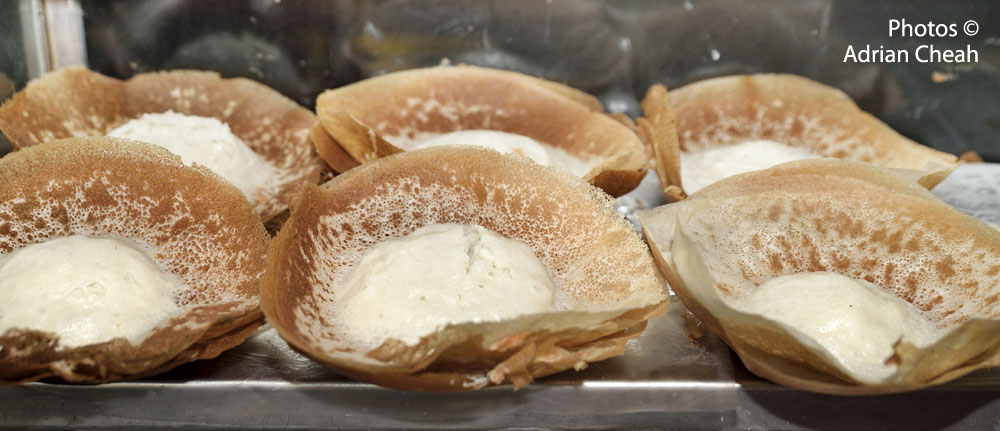 At Singgah Sebentar, business starts at 6:30 am and the appam is one of the most popular items for breakfast. Mr Meeranajmudeen mans the appam station, juggling six pans at one go. When business is brisk, it is entertaining to watch him in action churning out steamy fresh appam. I like the sound the lids and little woks make, like the gentle clapping of cymbals in a mini orchestra. He has to be vigilant at all times as a few seconds can make the difference between a beautifully cooked appam or a burnt disaster.
One can also opt for an egg appam, another popular variation. Here, an egg is cracked into the centre of the steaming mixture resulting in a more nutritious offering. You can also top the appam with cheese or even with an egg and cheese. During the month of Ramadhan, Singgah Sebentar offers another version called appam kuning puasa; it is coloured yellow with turmeric powder and topped with chopped spring onions and some diced red chillies.
The original appam, without any topping, looks like a basket with golden brown walls encircling a white mount in the centre. The appam is not only healthy but also a perfect vegan-friendly and gluten-free dish.
The appam is a traditional South Indian-style dish from the state of Kerala. It is also called vellayappam or palappam in the same region. An interesting fact is that traditional appam batter was fermented using toddy (palm wine) harvested from the coconut palm flower. Nowadays, for convenience and availability, yeast or baking soda replaces toddy. However, I am sure that there are some flavour differences between the appam made with toddy versus those made with yeast.
Fresh toddy is sweet and has a short shelf life of about 24 hours, which can be extended if refrigerated. In Penang, huat kuih (Chinese steamed rice flour cake) uses toddy as a fermenting agent. On every 1st and 15th day of the lunar calendar, the Chinese community in Penang prepares offerings to the gods and bright pink huat kuih is among the items sought after. I enjoy the spongy texture of huat kuih, especially when eaten with freshly grated coconut. Although I have yet to relish appam made with toddy, I would assume the aroma would be close to huat kuih.
The pairing of appam with savoury fish curry and coconut chutney is brilliant. A good coconut chutney goes well not only with appam but is delicious with dosa (tosai), idli and vada. The coconut chutney is made from blending grated coconut, chilli, salt, chickpea (kacang kuda) and roasted gram dhall (pottukadalai). Toasted shallots, dried chillies and curry leaves are added to fragrant the coconut chutney. Some chefs will go a step further and add cumin, garlic, ginger and mustard seeds for a more complex flavour. Remember to enjoy appam with some tantalising coconut chutney.
The Chinese Peranakan has a dessert called apom bokwa. The similarity of the taste in appam and apom bokwa is uncanny, except that the latter is smaller in size sans the crispy edges and served with a thick, palm sugar sauce. Some Nyonyas would cook the sauce with slices of ripened banana. Sharing the same basic ingredients, I wonder if the Nyonya apom bokwa could have been influenced by the Indian appam.
Despite appam broad appeal throughout South and Southeast Asia, its exact origin remains a mystery; however, India and Sri Lanka are worthy contenders. The word appam is said to be derived from the Sanskrit word apupa for "rice cake", which is mentioned in the oldest Sanskrit book, the Rig Veda.
The appam has stood the test of time and has remained unchanged for thousands of years. However, like the wide variety of toppings available at some ban chean kuih stalls in Penang, could this influence soon spread to the appam? There is an endless array of possible toppings one could add to appam, turning it from a savoury to a sweet treat. Imagine the appam topped with kaya (coconut jam), Nutella, peanut butter, inti (grated coconut cooked with palm sugar), dark chocolate sauce, cempedak or even creamy durian flesh. Who knows what the future holds and will we witness for the first time the evolution of the centuries-old appam?
Mr Shaik Saffarudin is extremely hardworking. He can be seen manning the roti canai and dosa station. The brilliant cook who whips up the aromatic curries is his wife, Mdm Mahbobah SP Kassaly. Their culinary prowess is rooted in the family. In the 1970s, Mdm Mahbobah's father, Mr SP Kassaly ran Selamat Restaurant at No. 85 Bishop Street. In 1984, he relocated and established the popular Taj Restaurant at No. 166 Campbell Street, serving delicious food for 22 years.
When business declined because of the road change at Campbell Street, Shaik Saffarudin started anew and established Singgah Sebentar.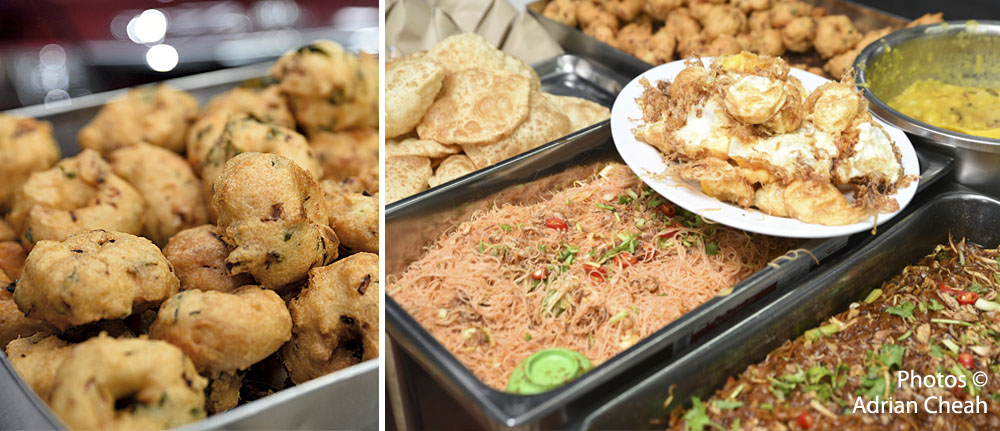 Besides the appam, his restaurant has a wide variety of breakfast goodies including roti canai, masala dosa, idli, puri, upma, nasi lemak, murtabak, fried noodles, Bihun Longgok (fried bee hoon), vadai and a host of cakes. For lunch, nasi tomato, nasi briyani and a handsome spread of mouth-watering dishes are available including aromatic curry chicken, crispy fried fish and chicken, tender beef rendang, savoury fish curry with ladies' fingers and stir-fried vegetables. On Sunday, look out for the chicken briyani putu mayam, one of my favourite offerings to savour.
------------------------------------
Restoran Singgah Sebentar
A-G-2,Taman Nusantara, Jalan Makloom, 10150 George Town, Penang
Open daily from 6:30 am – 6:30 pm (appams are only available during breakfast)
T: +6010 382 7860
https://www.facebook.com/singgahsebentarofficial/
------------------------------------
Written and photographed by Adrian Cheah
© All rights reserved
21 March 2022