EMILY Darling Cafe bakes delectable pastries and indulgent desserts
A fortunate stroke of serendipity can lead one down an unfamiliar path to new beginnings. Little did Danny Yeong, aformer optician and Marcus Tan, a graphic designer, realise that by joining a sourdough baking class in March 2021 by Old Man Teh in Kuala Lumpur would lead them to the opening of EMILY Darling Cafe three months later.
Although both the owners of the cafe initially knew little about crafting fine pastries, the fabulous offerings they create today beg to differ. Fuelled with passion, creativity and heart, both Yeong and Tan illustrate that with a driving desire, knowledge can be acquired and skills sharpened. Defining their roles clearly, Yeong takes charge of the pastry section while Tan creates cakes and cookies. Yeong starts preparation at 4:00 am and an hour later, Tan joins him in the kitchen. By 9:00 am when the cafe opens, there would be freshly baked items ready for sale.
When it comes to Yeong and Tan, the proof is indeed in the pudding. Although everyday is a learning exercise, it did not take them 10,000 hours of intensive practice to achieve mastery in baking. The 10,000 hour rule was popularised by Malcolm Gladwell's bestselling book "Outliers".
From left: Marcus Tan and Danny Yeong with Adrian Cheah.
I believe that people with great passion can make the impossible happen and turn dreams into a reality. This is because when you identify your passion and align it with whatever you are doing, a synergistic energy effortlessly carries you to rarefied heights. The joyful work at hand becomes pleasurable and hours fly by.
Let us take a look at the cafe's delectable offerings which include various types of pastries, decadent brownies with a lava core, two types of sourdough loaves and an assortment of cookies.
EMILY Darling has two offerings of pain au chocolat – a classic version and another topped with almond slices and drizzled with some vanilla glaze. The golden flaky, buttery pastry encases a chocolate core that is simply delicious.
Peachy Emily is a beautiful pastry to add to your list of must-try items. The crispy pastry base is topped with a half peach dome, encircled with a ring of crushed pistachios. It is best enjoyed with a cup of freshly brewed coffee or tea.
Other pastries on offer include Pomme Star (with stewed apples spiced with cinnamon and star anise), Bleuet Danish (with blueberries), Swét Cheery (with cherries), Konign Emily (a personal take on kouign amann), Flaky Croque Monsieur (with turkey ham and cheddar cheese on flaky pastry) and Sultress Emily (with cream cheese and salted egg yolk).
Besides the plain croissant, you can opt for Croissant et Coco (pandan flavoured croissant filled with "inti" – sweet grated coconut filling) or Death by Chocolate (chocolate croissant topped with Milo cream cheese and dark chocolate curls). Select what tickles your fancy and indulge.
During festive seasons, creative offerings are on sale. Two such examples during this Chinese New Year season are the Golden Tangerine (puff pastry topped with a baby tangerine) and Golden Bounty (a red velvet cake topped with kumquats and a gooseberry). Artisan desserts such as these make it a joy to return to EMILY Darling with the anticipation of having something new waiting for you in the display counter.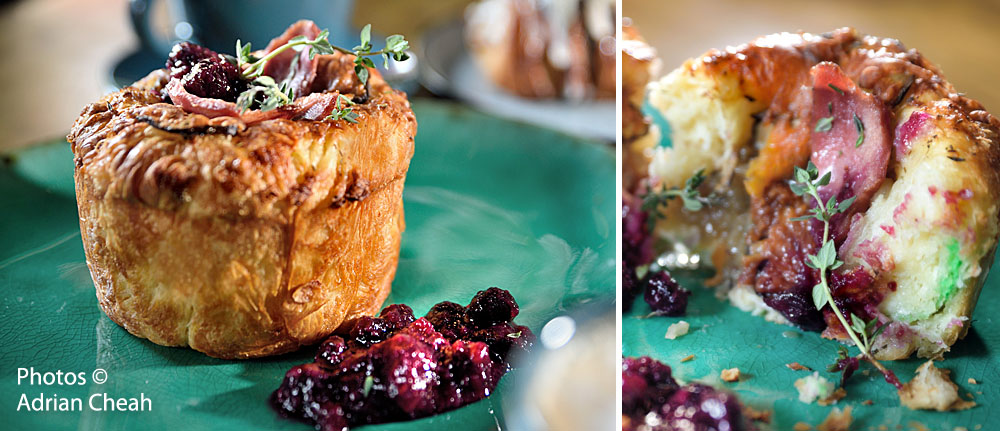 Quiche Emily, one of their signature items, is made of puff pastry with a hollowed core filled with caramelised onions and topped with slices of smoked duck, a mixed berry sauce and a sprig of fresh thyme. More of the delicious homemade mixed berry sauce is served on the side as well.
I love the scrumptious pastry although it was not what I was expecting because of the word "quiche". I always have the impression that a quiche is a pie made primarily of eggs and cream in a pastry crust, with the option to add anything one fancies to the filling. According to Merriam-Webster, a quiche is "an unsweetened custard pie usually having a savoury filling (such as spinach, mushrooms, or ham)".
There is also another vegetarian version available sans the smoked duck.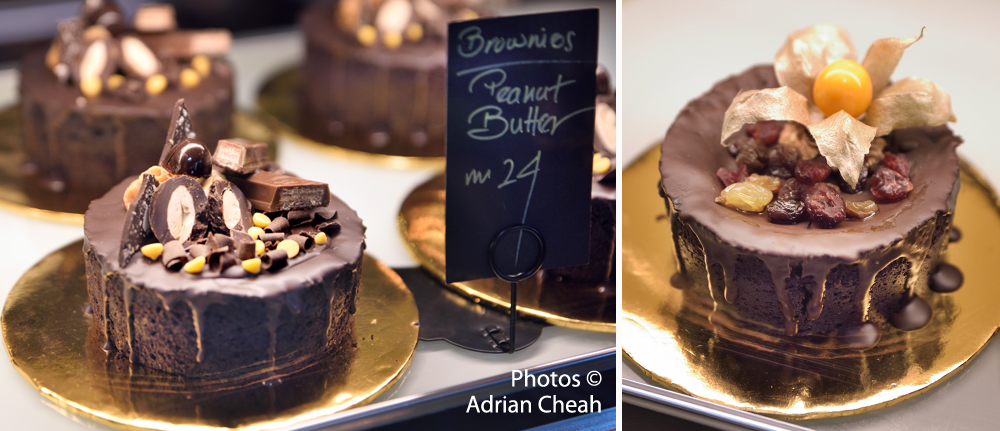 If you have a sweet tooth and love chocolate, Emily's brownies are must-try desserts. Flavours include Peanut Butter Muddy Brownie, Intoxicant Muddy Brownie and Nutella Cream Muddy Brownie. The beautifully presented 4-inch diameter circular brownies are recommended for sharing. Consuming an entire brownie by yourself would be nuts and could send you into a sugar-induced coma!
The Intoxicant Muddy Brownie is topped with plump raisins that are soaked in rum. For those who miss the boozy flavours of rum and raisins, this is the cake to order.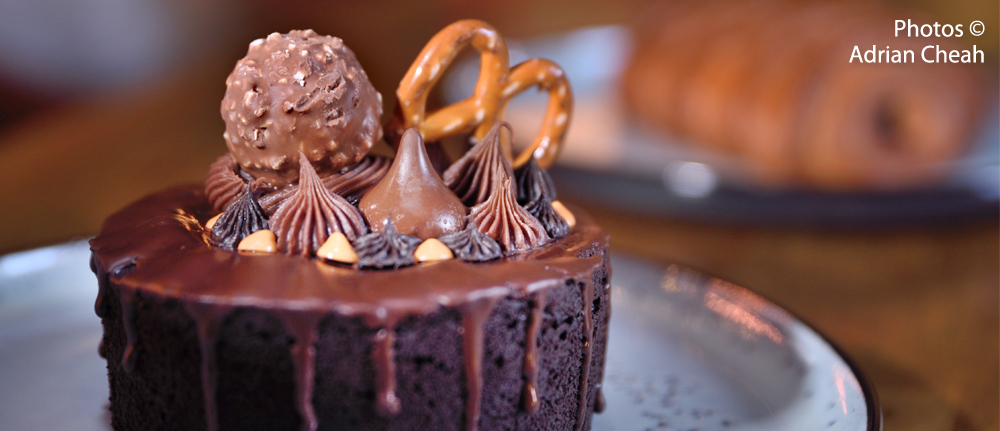 My daughter and I shared a Nutella Cream Muddy Brownie topped with a Ferrero Roche and a mini pretzel biscuit. The texture of the brownie is moist yet firm and rich with a strong chocolate flavour. The sweet, creamy, soft lava centre of melting chocolate is an obscene indulgent affair.
We quickly ordered a plain croissant, applied a generous amount of the lava sauce on it and tugged in gleefully. If you are planning to do this as well, skip the pain au chocolat as you would have enough chocolate sauce to spread onto the plain croissant.
After the sourdough baking classes, Yeong and Tan returned to Penang with a prized possession – a sourdough starter of wild yeast that they have carefully cared for up to this very day. The flavour and texture from breads made with wild yeast are more complex and interesting (the texture is sturdier and more enjoyable to chew).
EMILY Darling offers two types of sourdough bread. Take a way a loaf or two and enjoy them in the comfort of your own home. There are so many ways to enjoy sourdough bread besides smearing butter on a thick warm slice. Have it with soup, in a salad, with scrambled eggs, in a stew, as a sandwich or topped it with poached eggs and a tangy hollandaise sauce. The possibilities are endless.
You would notice that there are a few items in the cafe with the name Emily. Thus, who is Emily? Tan loves the name Emily but to get the company registration approved, he had to creatively came up with an acronym for EMILY – "Every Minute I Love You".
The origin of names fascinates me. The name Emily, for example, is derived from a prominent and powerful family in ancient Rome called Aemilius. "Aemulus" in Latin meaning "rival," or the Greek term "aimylos" meaning "wily" or "persuasive". It is a beautiful name that carries a triumphant quality to excel. Coincidentally, my maternal grandmother is also named Emily.
Tan and I have quite a few things in common. To begin with, both of us have been in the graphic design industries for ages, even before the era of desktop publishing. Tan has worked on countless projects including Flavours, one of Malaysia's top food magazines. Tan loves exploring flavours and textures and has spent most of his life in the kitchen. Having a Chinese Peranakan parentage, this is indeed a clear trait that is imprinted in his DNA. I enjoy cooking as well and having grown up in a Chinese Peranakan home, I have learnt to appreciate good food from young. Like Tan, cooking comes second nature to me.
Looking at the creative offerings and well-balanced flavours at EMILY Darling, I can confidently add that the creative prowess of both Tan and Yeong will win the hearts of many. Starting a cafe in the midst of a pandemic takes more determination and perseverance than ever. With all these fine qualities, EMILY Darling is poised for great success.
EMILY Darling is located along Penang Road right in the heart of George Town. Its prominent maroon facade faces the junction of Kampung Malabar. The charming interior and friendly faces will make your dining experience a joy as you relish an array of freshly baked pastries, brownies and cookies.
If you are within the range of their delivery service, you could also have fresh pastries delivered right to your doorstep.
---------------------------------------------------------
Emily Darling Cafe
186 and 188, Jalan Penang, 10000 George Town, Penang
Open daily from 9:00 am to 6:00 pm except Tuesdays.
T: +6012 406 8847
-------------------------------------
Written and photographed by Adrian Cheah
© All rights reserved
21 January 2022