A memorable 9-course vegetarian dinner at Happy Realm
Being a food paradise, Penang offers many avenues for full-fledged vegetarians to obtain scrumptious meals. From Indian vegetarian restaurants to Chinese outlets, there is a wider range of food available. During the Jade Emperor Festival (first to the ninth of the ninth month of the lunar calendar), more stalls mushroom all over Penang selling vegetarian delights from rice dishes to stir-fried noodles and from Chinese cakes to Italian pizzas. Furthermore with the creation of faux meats, some dishes are unbelievably "uncanny".
Faux meats have long been a part of the culinary scene in China for centuries, a tradition originating from Buddhist monasteries. They were originally created for those in transition to vegetarianism. Today, they have become a common part of the Chinese vegetarian cuisine in Penang.
On my 48th birthday, a few of my friends and I experienced a memorable 9-course vegetarian dinner at Happy Realm Vegetarian Food Centre.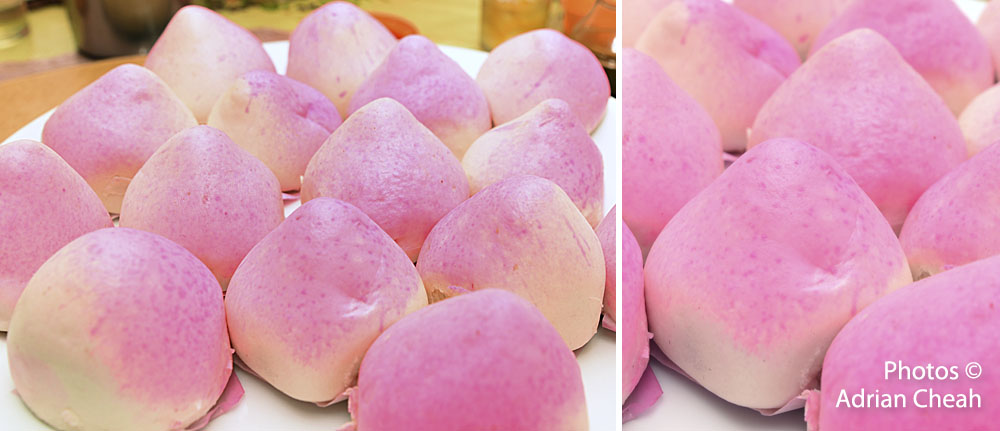 Dinner commenced with a symbolic offering of pillow-soft steamed peach-shaped buns encased with a sweet lotus seed paste. These buns, also known as longevity peach buns, have been synonymous with the Chinese culture for centuries.
Do you know that the longevity peach buns are a representation of the Peaches of Immortality? One interesting story linking peaches and longevity comes from a Taoist tradition. Xi Wang Mu (also known as Queen Mother of the West) is married to the Jade Emperor. She grows the Peaches of Immortality in her garden on the mythical Kunlun mountains, bearing fruit once every 3,000 years. The ripened fruits grant immortality to mortals when consumed.
Therefore representing immortality, longevity peach buns are often served at birthday dinners of the elderly to symbolise a long and healthy life ahead. Although I was only celebrating my 48th birthday, it was a great offering ensuring the celebration of many more birthdays to come.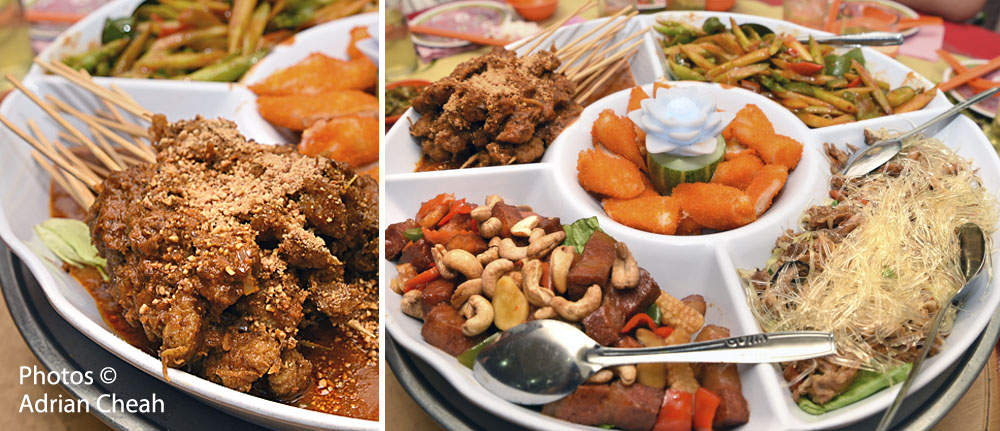 Everything served that evening was made only using vegetarian produce sans milk and eggs. Mr Lim Hong Joo, the creative chef of Happy Realm, managed to conjure up dishes that were delightful and intriguing.
The appetiser was a serving of five scrumptious items – satay with peanut sauce, breaded "crab claws", stir-fried "meat" with cashew nuts, spicy asparagus with sambal and faux sharks' fin with "chicken". It was quite difficult to believe what we were actually enjoying. The texture and taste were like real meat.
Next was a thick and rich Szechuan soup, packed with lots of ingredients. The flavours of the soup were well balanced, set with just the right amount of spiciness and sourness. If I had not known better, I would have sworn there were slices of abalone in the soup. The savoury soup was simply delightful.
After the soup was a typical vegetarian dish – bok choy stir-fried with shitake mushrooms, "chicken" and chestnuts. The chestnuts, which added more flavour and texture to the dish, were a welcome surprise. This is a dish I would happily add to my cooking repertoire.
When Hong Joo unwrapped the foil of the next dish, the aroma of mouth-watering "mutton" curry filled the room. It was surprising to bite into a piece of the "meat" that had a fibre-like texture. It was almost like savouring the real thing – that was simply mind-boggling! The curry had chunks of potatoes in it and it was enjoyed with golden mantou buns that were served on the side.
The yam ring is one of my favourite Cantonese-style dishes. The deep-fried ring made from mashed taro was crispy on the outside and soft inside. It was filled with a host of stir-fried ingredients. Skirting the ring were crispy crackers – a much better option than the common crispy mung bean noodles. This dish is also popular during Chinese New Year, symbolising bountiful prosperity.
Let us take a detour and look at the origin story of this offering. The inventor of the yam ring dish, chef Hooi Kok Wai hails from Singapore. Entwined with love, this courtship dish was created to win the heart of Miss Leong Ah Lin and more importantly, her guardian who was a Buddhist nun. Kok Wai presented a deep-fried crispy yam ring (shaped like a nun's alms bowl), within which was nestled a variety of stir-fried vegetables. This appealed to the nun who was a vegetarian. In 1962, at 23, Kok Wai married his 21-year-old sweetheart. A year later, they founded the Dragon Phoenix Restaurant in Singapore, popular to this very day.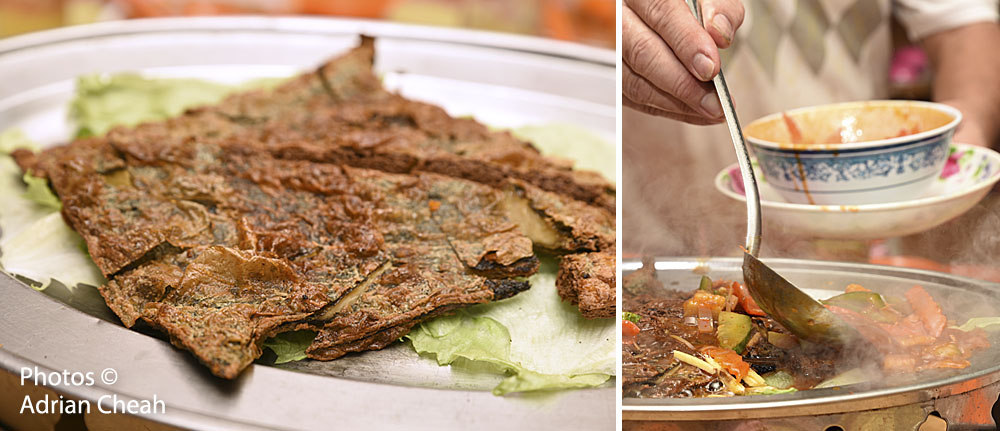 Back to the dinner with a "fish" dish. Shaped like a black pomfret, the crispy deep-fried look-alike fish pieces had layers of seaweed sheets within, infusing the flavours of the ocean. Hong Joo ladled a sweet and sour sauce over the "fish", filled with slices of cucumber, carrots and bell peppers.
We were already quite full by the time the eighth course was served. Instead of the traditional Chinese birthday noodles (lam mee), the chef prepared a flavourful serving of stir-fried yee fu mee with an assortment of vegetables. The smoky taste of the noodles was lovely to savour enhanced with a dollop of sambal infused with calamansi lime juice.
We concluded our vegetarian feast with a warm dessert. An entire melon was hollowed out then packed with dried longan, lotus seeds, red dates, melon balls and liquid before steaming on a slow fire. This provided ample time for all the sweetness and flavours to infuse into a heart-warming offering. So much care was given to this dish, reflecting the skilful culinary prowess of Hong Joo. I truly appreciated all his effort in making this dinner exceptionally memorable.
Dato' Seri Tan Gin Soon and Hong Joo started Happy Realm in 1979. Hong Joo was passionate in mastering traditional methods of preparing faux meats and vegetarian cuisine. He polished his culinary skills with hands-on experiences in the kitchen of the Buddhist Triple Wisdom Hall, shadowed by monks and nuns. With their guidance, Hong Joo learnt how to make everything from scratch.
Unlike commercially produced foods that are abundantly available, frozen faux meats are unable to compare with those freshly prepared in-house. This is why the above vegetarian-course meal prepared by Hong Joo in January 2016 was far more delicious, truly packed with superior winning flavours.
Sadly, Hong Joo passed away in March 2020, right before Malaysia went into its first lockdown to combat the Covid-19 pandemic.
Hong Joo's legacy lives on at Happy Realm. With over 40 years under his tutelage, his staff remembers his traditional methods well. Many of the faux meats are still prepared in-house to control the quality and taste.
Happy Realm has relocated its new premises at Jalan Mandalay, a stone's throw away from its former location. Reservations should be made as certain dishes like the yam ring needs to be prepared beforehand. Happy Realm also caters for functions and events.
-------------------------------------
Happy Realm Vegetarian Food Centre
20, Jalan Mandalay, 10400 George Town, Penang
T: +604 226 1918
-------------------------------------
Written and photographed by Adrian Cheah
© All rights reserved
Birthday dinner: January 2016
Updated 16 September 2021