The versatile French toast that is easy to make
When my seven siblings and I were young, my late Dad would cook up a storm for breakfast, having many hungry mouths to feed. French toast was one of his popular breakfast dishes.
Dad kept things simple without adding any milk or vanilla essence to the beaten eggs, only a little dusting of white pepper powder and a pinch of salt. He used fresh white Hailam sandwich loaf (easily purchased then from a nearby bakery), slices cut thicker with skins off. Quickly coated the slices with egg, he deep-fried them in a hot wok filled with plenty of cooking oil. Everything was done in a flash and the golden slices took only a minute or two to cook. Dad would then cut the slices of bread toasts diagonally into halves, serving them with fine granulated sugar.
When one examined the cross section of a slice, one would notice that the beaten egg only coated a thin layer of the toast, preserving the pristine light and fluffy white core. Only with lightning speed could one prevent the egg from absorbing the entire slice of bread. Furthermore, cooking them on high heat helped. Today, enjoying French toasts the way Dad made them, with kopi-o (black coffee) brewed from locally roasted coffee beans, takes me back to such happy childhood memories.
French toast is a simple dish that is popular all over the world. It is also known as Bombay toast, eggy bread, gypsy toast, German toast or poor knights of Windsor. French toast can be cut into long pieces served as a sweet finger food with a dusting of powdered sugar or as a sandwich filled with ricotta cheese or sausages. The topping of the dish can be easily customised, pairing well with fresh fruits, caramelised fruits, compotes or fruit syrups, ice cream, chocolate and caramel sauces, nuts or even sausages and crispy bacon. Although there are endless possibilities, among my favourites is simply with warm maple syrup and a little knob of salted butter.
Although its origins (both the food and name) are somewhat uncertain, it is evident that similar basic recipes of bread being dipped into an egg mixture exist all around the globe (e.g., torrija in Spain and rabanadas in Portugal).
Do you know that in France, French toast is known as pain perdu (lost bread)? This is quite apt since the often-used stale bread could then be saved and transformed into a lovely offering.
The above photograph is from the Apicius de re Coquinaria manuscript (circa 850 AD to 900 AD) of the Fulda monastery in Germany. (Source: https://en.wikipedia.org/wiki/Apicius)
Let us take a step into the past and look at a recipe that resembles modern French toast. One such recipe is listed in Apicius de re Coquinaria, one of the earliest surviving cookbooks in the west, thought to have been compiled in the 1st century AD. The oldest surviving copy of this cookbook comes from the end of the Roman Empire, sometime in the 5th century. In the book, a dish described as "aliter dulcia" (Latin for "another sweet dish"), lists the following ingredients and method for making a dish that is close to the French toasts.
If the French call this dish "lost bread", how did the name French toast come about? History tells us that at the court of Henri V (1386 – 1422), "lost bread" was quite popular. It was not until the 17th century that the term "French toast" appeared in England (listed in a 1660 book entitled The Accomplisht Cook, according to the Oxford English Dictionary).
In Old Irish, the verb "to French" means "to slice". This would be in line with one of the theories developed about French fries (sliced fries) and French toast (sliced toast), rather than referring to the designated country of origin.
The theory I like best is explained by Stephen Block, editor-in-chief of the Kitchen Project, a site specialising in the study of the origins of recipes. Block explained, "traditionally in the United States, we have an admiration for French cuisine, which we consider to be elaborate and gastronomic. And that's probably why this dish was named that way. It's just marketing. The name sounds good and the French adjective gives it a high-quality connotation. There's no chance that 'lost bread' could have worked. And since the dish was successful and the recipe was easy, the name spread".
I have made French toasts countless times since it is easy to whip up a batch in a jiffy. The kind of French toast I prepare comes down to the kind of bread I have in my panty. If I have a fresh loaf of Hailam bread, I would prepare a batch like Dad's. If I have some stale crusty loaf, I would allow the egg and milk mixture to soak right through the slices before pan-frying them on slow fire with butter. Buttery brioche makes lovely French toasts as well. Sourdough bread is one of my least favourite options to use. Whatever bread you decide to use will determine the outcome of the dish. Remember to opt for one that you like and use thicker slices.
Try this simple recipe as a guide and adjust it to suit your palate. Whisk 2 eggs, ½ cup milk, a pinch of cinnamon and ½ a tsp vanilla essence. Dip the bread in the mixture and pan-fry in butter for 2 minutes each side until golden.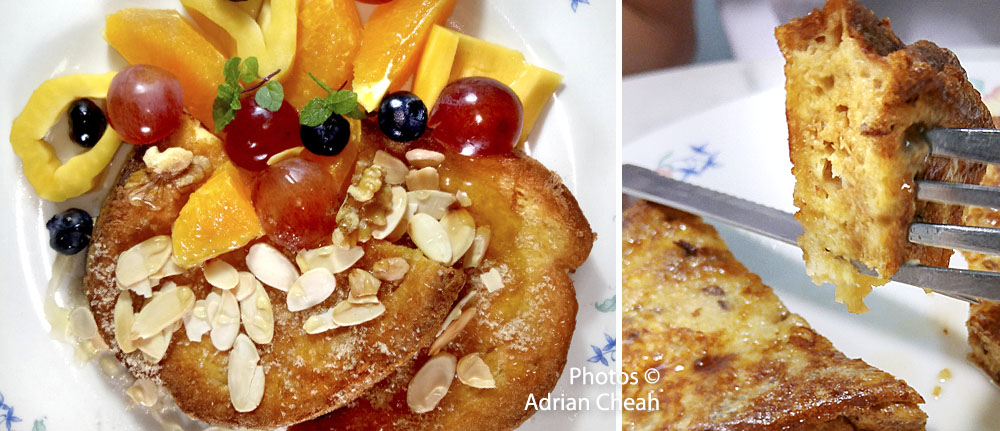 Serve with your favourite toppings. You do not have to pay an arm and a leg at fine dining establishments to enjoy French toasts with roasted apples, candied cinnamon hazelnuts or fresh mixed berries. Arm yourself with all these ingredients and you can easily top up your homemade creation with them. Go crazy and enjoy a total shameless indulgence.
You could also booze up the dish by adding certain spirits to the egg mixture or drizzle them over the French toasts. This is a truly versatile breakfast dish, crossing boundaries from a light dessert to a full hearty meal!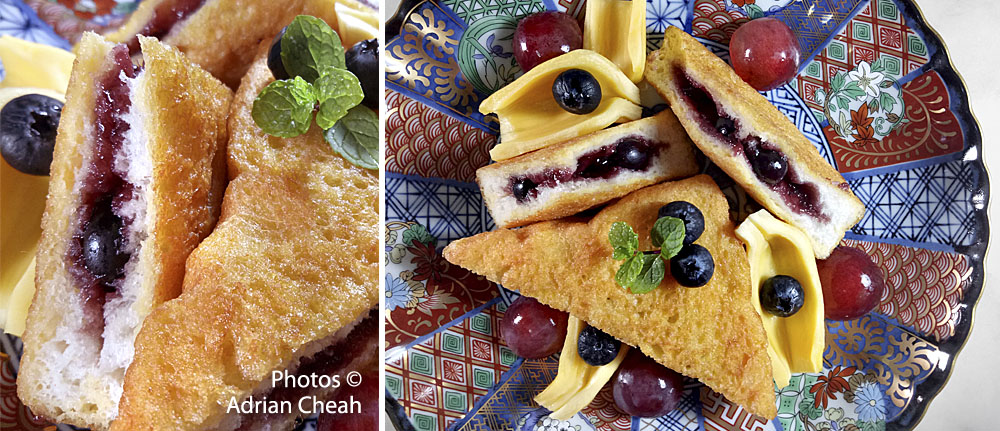 Have you tried a French toast sandwich with kaya (coconut jam) or blueberry jam? It tastes truly scrumptious especially with Nyonya kaya, perfumed with the sweet fragrance of daun pandan (screw pine leaves) and enriched with the goodness of santan (coconut milk). What sets the Nyonya kaya apart from the rest is its granulated bead-like texture. This is a fabulous option to replace syrup or sugar to sweeten the toast. I am not reinventing the wheel here as there is a similar version already made popular for decades at Lan Fong Yuen in Hong Kong.
Do you know that there is even a National Day for French toast? It falls annually on 28 November, a call to celebrate all things French toasts.
Written and photographed by Adrian Cheah
© All rights reserved
5 September 2021