Tips on making really good Seri Muka
Seri Muka (literally means "radiant face" in Malay) or Kuih Salat is a dainty sweet cake that consists of two layers. The base is made from glutinous rice which is topped with a green custard layer, scented and coloured with pandan juice. Santan (coconut milk) is a key ingredient as it imparts the "lemak" (rich) taste to the glutinous rice as well as the custard layer.
The firm base of Seri Muka can be tinted blue (with butterfly pea flower) or left pristine white. Although the blue marbled hues enhance the visual appeal of the kuih, it, however, does not add any flavour or aroma to it.
The compacted glutinous rice, tinted with sploshes of blue, also forms another type of Nyonya kuih called Pulut Tai Tai. This is enjoyed with kaya (coconut jam).
Incidentally, the three main ingredients of kaya and the custard layer of Seri Muka are santan, eggs and sugar. The only difference is that the custard layer contains some flour and pandan juice. The eggy, coconut-rich tastes are almost similar although the colours and textures are different.
In 2009, the Malaysian Department of National Heritage included Seri Muka as one of the 100 Malaysian heritage foods and drinks. I am sure many Malaysian love this kuih as much as I do. There are a few variations of Seri Muka. Some cooks infuse the top layer with purple sweet potatoes, pumpkin and even durian, colouring them purple, orangery yellow and light egg yellow respectively. Some cooks might even skip the pandan juice altogether and leave the top layer in its pastel shade of yellow ochre. In spite of all these offerings, the green version remains an all-time favourite.
This dainty, delightful and absolutely delicious kuih is easy to make. If you come from a large family like mine (my parents have eight children), making Seri Muka at home is of course ideal. I loved Mum's Seri Muka, although she has not made it in ages since everyone has left home. I can vividly remember that when I was young, the excruciating wait for the cake to cool down before we could cut it was unbearable. The two to three hours of waiting seemed like eternity. If you are alone or have only three in the family (like me), it is so much more convenient to buy it from your favourite Nyonya kuih vendors. Mum used a great number of eggs for the custard layer and very little flour. The taste was rich and decadent, very different from what is sold today. Sadly, too much flour is being added.
Seri Muka is available at most food courts and wet markets in Penang including:
Ayer Itam Market: mornings
Batu Lanchang Market Food Court: 3:30 pm – 6:00 pm
Cecil Street Market: 2:00 – 5:00 pm
Moh Teng Pheow Nyonya Kuih, Jalan Masjid (off Chulia Street): 10:30 am – 5:00 pm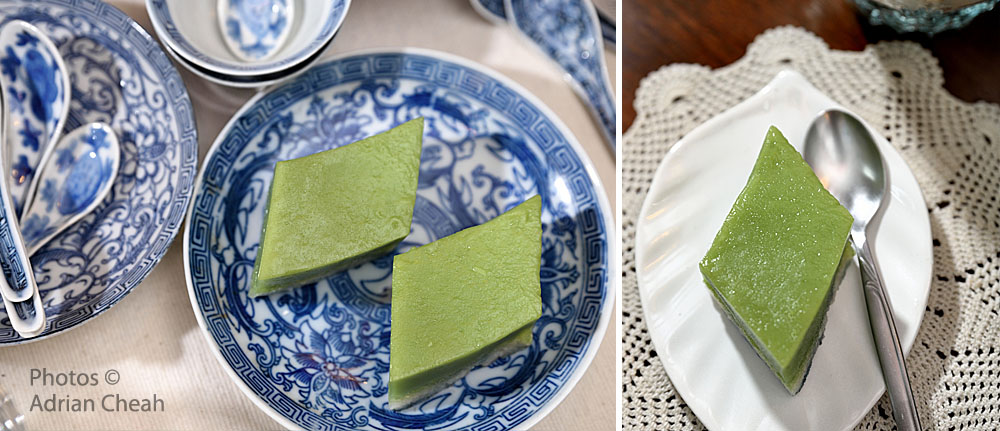 Before you start making Seri Muka, do read these important tips to avoid a disaster in the kitchen.
First tip: Compact the glutinous rice well
Apply a good amount of pressure when you compact the glutinous rice to prevent it from falling apart when you cut the kuih later. Pour the top layer only when the rice is "kejab" (a colloquial Nyonya term for "firm").
Second tip: How to create a smooth pandan surface
When you pour in the top layer, it is very important to tap the pan a few times so that the batter is spread evenly across while releasing any air bubbles. Always steam the kuih on low heat to avoid a bubbly topside. Also, cover the pan with aluminum foil to avoid condensation that would cause blemishes on its "radiant" surface. Remember not to completely seal the tray with the foil. Provide ample room for the kuih to breathe and remove access vapour.
Third tip: Do not open the lid frequently when steaming
Put your pan into the steamer once the water starts boiling. Since it is on low heat, you want to allow the cake to cook slowly. Check when the time is up. Having said that, not all steamers are the same. Understanding your cookware is very important and use the time provided as a guide.
Fourth tip: Allow to cool to room temperature before cutting
Use a clean plastic knife to obtain a smooth cut. The kuih can be kept in a cool place for up to a day but the glutinous rice will harden when left exposed. Cover the tray with cling wrap or transfer it to an air-tight container when storing. It can be kept refrigerated in an airtight container or wrapped in cling wrap for 3 to 5 days.
With these tips in mind, have fun and happy cooking!


Here is an easy-to-make recipe for really good Seri Muka.
Ingredient for the base layer
2 cups glutinous rice (rinse and soak overnight; half to soak separately with a small handful of dehydrated butterfly pea flowers)
1

½

 cups fresh santan
4 pandan leaves
¾ tsp salt
Ingredients for the top layer
15 big pandan leaves (cut into small pieces for blending)
¾ cup water
A pinch of cinnamon powder (optional)
(Blend the above three ingredients and strain. Top up with water to form 1 cup of pandan juice)


2 cups fresh santan
1 tsp lye/alkaline water
1 cup sugar
6 grade A eggs (keep a little egg white for brushing on the compacted glutinous rice before pouring the top layer)
4 tbsp all-purpose flour
1 tsp tapioca flour
½ tsp salt
Method

Preparing the base layer
Drain and place the white and blue glutinous rice side by side on a steaming tray lined with banana leaf. Top with pandan leaves and steam on high heat for 20 minutes.
Add salt to the santan, dividing it into two portions. Put each portion in a bowl and mix in the rice respectively, letting it rest (to absorb the coconut milk) for 5-10 minutes. Return the rice to the steamer for another 10 minutes or till cooked and soft on high heat.
Fluff the rice with a pair of chopsticks and mix both colours. Discard the pandan leaves.
Line the base of an 8" square pan (or 9-inch round pan) with a banana leaf or parchment paper and lightly grease the surface. Add the rice to the pan and compact the surface with a greased spatula. Make sure there are no holes/air bubbles and gaps in the rice, especially the sides. Return the pan to the steamer and cook the rice for another 10 minutes. (The bottom layer has to be hot when the top layer is poured in.)
Preparing the top layer
Break the eggs into a mixing bowl. Add sugar and beat lightly with a fork.
Add both sifted all-purpose and tapioca flours. Stir to mix until smooth.
Add santan, pandan juice, salt and lye water, whisk to mix. Sieve.
Stir the mixture over boiling water on low heat until it coats the back of a spoon. (Do not crank the heat up as the custard will be lumpy.) Remove the pot from the stove and mix the batter thoroughly.
Brush the compact base layer with egg white. (This will help to fuse both layers.)
Gently pour in the custard to avoid any air bubbles and cover loosely with aluminum foil. Steam for 40-50 minutes or until set. Insert a toothpick into the middle and if it comes out clean, the kuih is done.
Allow the kuih to cool to room temperature before cutting it (at least 3 hours).
When you are steaming Seri Muka at home, the entire kitchen will be perfumed with the sweet scent of pandan. This is something you will not experience if you buy a slice or two of the kuih from the Nyonya kuih seller. Food is not only about taste but more importantly, it is about the experience.
Although Malaysia has gazetted Seri Muka under its heritage food, how does this translate to the public? I feel that more must be done than just listing items.
Do you know that our neighbouring Singapore has an annual Kueh Appreciation Day (KAD)? Organised by Slow Food Singapore, it is part of the Singapore Food Festival, celebrated on 28 July (since 2015). KAD has realised that kuih is a valuable and unique part of local food heritage. Grants have been given to food writers and historians to collect and archive personal stories of traditional kuih makers and their recipes. Festivals, symposiums and events on various types of kuih receive very good media coverage in reaching the masses, who would turn up in strength to support these activities.
From my observation, the kuih's existence is gradually fading from the lives of many people (maybe Penang being an exception for now). Many Penangites are settling for sub-standard commercially-made kuih, fast forgetting the traditional tastes of yesteryear.
I am happy to note that with a global platform like YouTube, there are so many videos on kuih making. I believe that there should never be a single recipe for anything, but rather a spectrum of recipes that sums up an "authentic" portrait of one. Although YouTube is a great source of reference, there are just too many videos available to sieve through. The voices of genuine kuih makers are easily stifled by thousands of mediocre ones. Furthermore, it is not an easy platform to gain success as popularity and gimmicks often triumph over good content.
Having said that, I do hope that all of us will continue to celebrate, record and cook our lovely kuih. Make some at home with your children and like me, they will grow up with fond memories to last a lifetime.
-------------------------------------
Written and photographed by Adrian Cheah
© All rights reserved
Updated 1 July 2021