All things cendol and more
Cendol/chendul is an iced sweet dessert that contains strands of green jelly served with fresh coconut milk and fragrant gula Melaka (palm sugar) syrup. This humble-looking offering certainly has its irresistible charms. Cendol tastes even better under the sweltering tropical heat. The cool, refreshing concoction is commonly found throughout Penang. Some stalls offer additional toppings such as boiled kidney beans/red beans, pulut (steamed glutinous rice), sweet corn, sago pearls, diced jackfruit, ice cream and even durian.
Although cendol is popular in Penang as well as other states in Malaysia, it is also commonly found throughout Southeast Asia. Its origin has long been debated with various opinions as to where this popular dessert first came into being.
Java in Indonesia has strong claims with "dawe" (an Indonesian version) being first mentioned in the Kresnayana manuscript dating back to the 12th century Kediri Kingdom. Usually served as a drink, no ice is used in traditional dawet. It is also believed that the name cendol evolved from the Sundanese word "tjendol". Tjendol is listed in the 1866 "Oost-Indisch kookboek", an East Indies recipe book. The word "jendol" in Indonesian means "bulge" or "swollen", referencing the shape of the worm-like jelly.
The cendol version that we enjoy today in Penang is served chilled with ice. The dessert could have been developed when ice became readily available. Being a popular port city during the colonial era, Penang could have first obtained ice in the 1900s from British ships with refrigeration capabilities. By the early 20th century, ice would then have been a common commodity widely utilised in everyday life. It could be that cendol and other chilled desserts subsequently gained popularity.
In the CNN article by Jen Rose Smith listing "50 of the world's best desserts", cendol was among them. The writer said that the shaved-iced dessert was a Singaporean treat. She must have received many strong responses to that statement. The photograph used with the article showed a bowl of cendol with corn and pink sago pearls. This story was first published in November 2018 and republished in January 2021.
There are so many versions of cendol available throughout Southeast Asia. The version we have in Penang is commonly served only with an addition of boiled kidney beans/red beans.
I once attended a cooking class on how to make cendol. Dr Ong Jin Teong, the author of "Penang Heritage Food" and "Nyonya Heritage Kitchen" was at hand to impart his knowledge and skill. The recipe to make the cendol jelly was rather simple as it required very few ingredients – green bean flour, pandan extract (from screwpine leaves), alkaline water and water. The ingredients were mixed together and cooked over a slow fire to form a thick mixture. A cendol sieve was used to push the thick mixture through to form the strands of green jelly. Done correctly, one will be rewarded with beautiful long strands; otherwise, short stumpy ones would appear. The warm soft strands solidified immediately when they fell into the ice water below. We had a fun-filled afternoon while learning something new. The event was organised by the State Chinese (Penang) Association.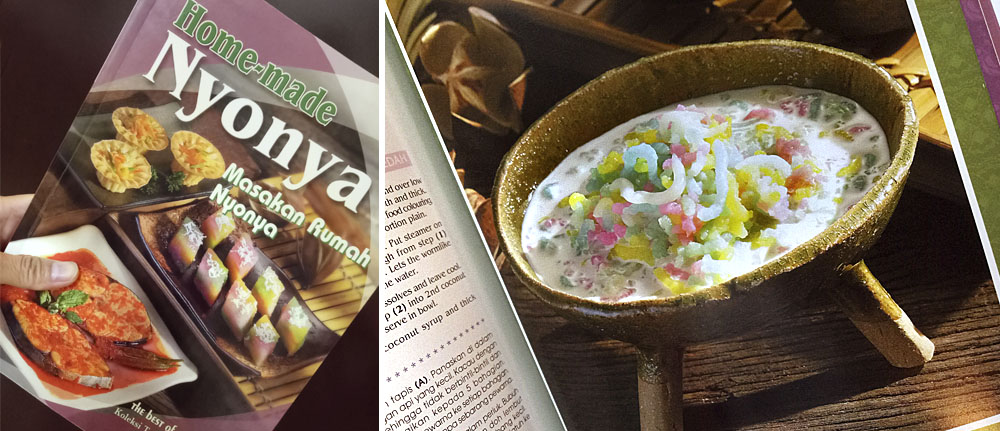 Must we be pure traditionalists and keep the colour of cendol jelly green? Or can we push the boundaries of creativity and create something new? On page 113 of Patsie Cheong's "Home-made Nyonya" recipe book, there is a beautiful photograph of her inventive rainbow cendol. She has coloured the jelly strands more than just green. The joyous offering was refreshing! I have yet to come across any stall or cafe in Penang serving this.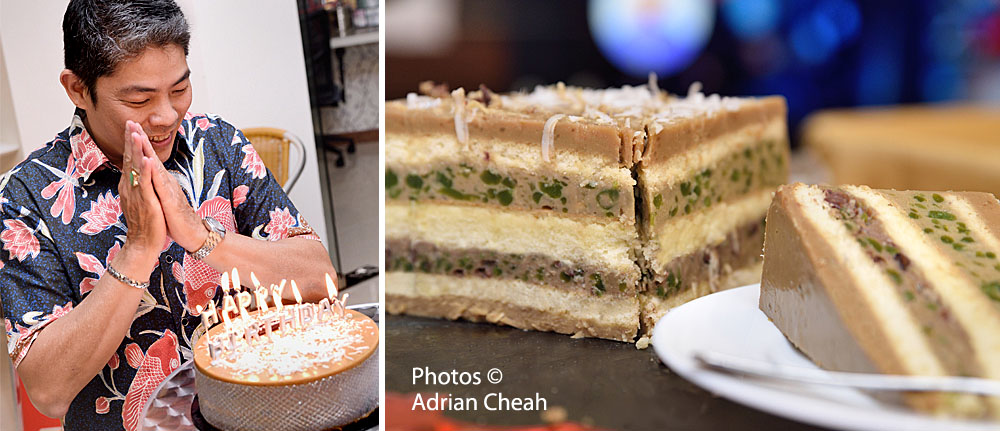 On my birthday in 2021, I ordered one of the loveliest birthday cakes ever – a sublime cendol cake. Yes, you heard me right. Cendol was no longer in liquid form but had crossed the borders into becoming something solid. It was an original creation by Pauline Foo and the cake had all the distinct flavours of cendol. She balanced the sweetness well and the beautiful cake was perfumed with aromatic pandan and gula Melaka. It was an ingenious creation and I was overjoyed with the delightful treat.
(A few years back for my 50th birthday, Pauline made another masterpiece. Her jelly cake, utilising all-natural colouring from fruit and vegetables, was a show stopper. Intricate multi-coloured flowers were painstakingly crafted into the jelly cake. It was indeed too pretty to consume. Pauline's willingness to explore and create new flavours is inspirational. Her sublime cakes are a testament to her brilliance.)
What can I learn from Patsie and Pauline who have taken cendol to the next level? Well, to begin with, their culinary prowess is evident for them to successfully create something delectable. Understanding the ingredients they use well, they are able to conjure up new offerings. But above all, their willingness to play and create is something I welcome dearly. I have tasted too many fusion dishes that have gone terribly wrong.
Now, where do you go for the best cendol in town? Well, it is quite difficult to say since taste is a rather subjective matter. Here are a few places you can try among the many before you decide on your champion.
Penang Road Famous Teochew Chendul
It was established in 1936 by founder, Tan Teik Fuang, who began selling cendol at the same location at Lebuh Keng Kwee, off Penang Road. It was later known as Penang Road Famous Teochew Chendul. In 1977, Chong Kim, one of Teik Fuang's sons, took over and further expand the business including offering franchise opportunities.
------------------------------------
42, Lebuh Keng Kwee, 10100 George Town.
Opens daily: 10:30 am – 7:00 pm

Penang Road Famous Chendul
This stall is located at Lebuh Keng Kwee, right opposite the Penang Road Teochew Chendul.
------------------------------------
25, Lebuh Keng Kwee, 10100 George Town.
Opens daily: 10:30 am – 7:00 pm
Cendol Asli Pak Haji
The stall is along Miami beach in Batu Feringghi. For convenience, cendol is served in a plastic cup with a straw. There are many ingredients you can add to your cendol.
------------------------------------
Pantai Miami, 11100 Batu Feringghi, Penang
Opens daily: 11:00 am – 7:00 pm except for Fridays and Sundays (12:00 – 4:00 pm)
Kulim Best Cendol
At this stall, you can enjoy a bowl of cendol with pulut. It is located directly opposite St. Anne's Cathedral in Bukit Mertajam,
------------------------------------
No 12, Tingkat Tenang, Taman Tenang, 14000 Bukit Mertajam, Penang
Opens daily except Mondays: 11:00 am – 5:30 pm
Hawker centres and food courts
Most hawker centres and food courts in Penang would sell cendol including New World Park Food Court, New Lane Hawker Centre, Air Itam Market Food Court, Taman Free School Food Court, Batu Lanchang Food Court, Sungai Pinang Food Court, Presgrave Street Hawker Centre, Long Beach Food Court, CF Food Court and Cecil Street Food Court. Some coffeeshops would serve them as well.
PS. Other forms of cendol include cendol ice cream, cendol jelly and cendol seri muka. Recipes are available online.
---------------------------------------
Written and photographed by Adrian Cheah © All rights reserved
22 May 2021