The elegance of Japanese cuisine at Miraku
One country that truly elevates food to an art form is Japan. When dining at Miraku you would be able to encounter such an art form as soon as you are served, so much so that you are compelled to feast with your eyes first. Here, food preparation is such a delicate craft that it is pursued with passion and executed to perfect artistry.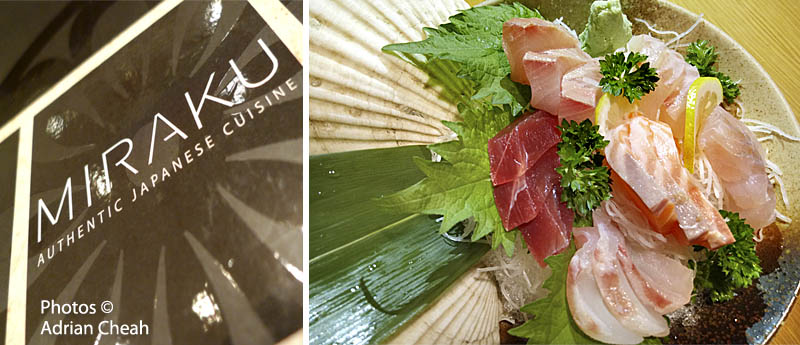 Miraku offers more than just sushi and sashimi and ramen. There is a wide variety of Japanese delights to choose from. The wonderful aspect of Japanese cooking lies in its simplicity, using uncomplicated cooking techniques to highlight the natural flavours of the ingredients. You can only enjoy superb Japanese cuisine when the freshest ingredients are being used. Before you place your order, ask the captain about their seasonal offerings. Miraku has some flown in directly from Japan.
Miraku has been one of my favourite Japanese restaurants in Penang, and my family and I have always had an enjoyable time dining here. Before starting our meals at Miraku, an Oshibori (hot wet hand towel) is always offered to each of us to wipe our hands clean before eating. Oshibori has long been part of hospitality culture in Japan and is a refreshing way to start a culinary journey.
Shortly after placing our orders, we are served an appetiser to tantalise our taste buds and whet our appetite.
During a recent visit to the restaurant, we were served Miraku Salad with salmon, crab meat, octopus and scallop with a selection of dressings. I would usually opt for the sesame dressing which harmonises well the flavours of fresh seafood and crispy iceberg lettuce. Also, remember to add succulent grilled oysters with spicy miso paste to your list of items to try at Miraku.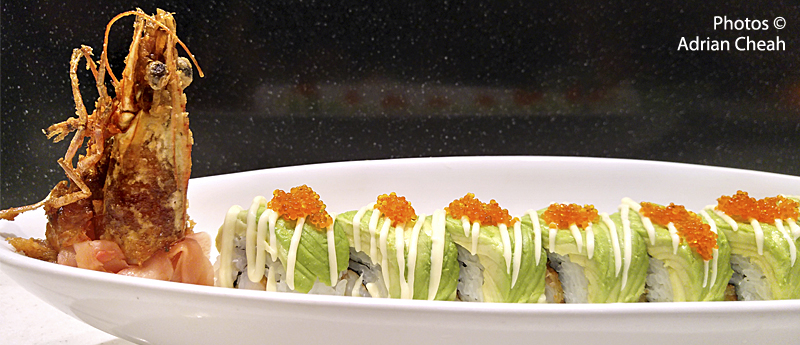 Miraku's Dragon Roll – deep-fried prawn roll sushi wrapped with avocado and topped with tobiko is among my favourites. If you are seated at the main atrium where the chef would be preparing this dish right before you, you would be amazed by his meticulous attention to detail.
Spider Roll – deep-fried soft shell crab sushi with cucumber and mayonnaise was another wonderful dish we tried.
Once at Miraku we had fresh hotate (Hokkaido scallops) and it was a real treat. The fresh scallops sashimi was sweet in taste and soft in texture with rich decadence – a tasty realm of seafood luxury.
Because of the need for the freshness of the seafood, I would usually go for seasonal items from Japan that are available. Although they are not on the main menus, the captain would be happy to run down the list. The lobster above was glazed with miso butter and grilled over a charcoal stove. The smoky flavour that accentuated the sweetness of the lobster meat made it such a scrumptious delight.
Flying fish (Tobiuo in Japanese) is a seasonal fish in Japan from Spring to Summer. This was my first time sampling this fish and it was simply fantastic! I feel lucky that although living in Penang, we were able to savour bountiful catch from the seas of Japan.
Salt-grilled Pacific Saury and grilled Cod marinated in sweet miso are two types of fish you should order. The Pacific Saury (Sanma in Japanese) was grilled whole even with intestines intact and served with grated daikon and soy sauce to intensify the flavour of the fish. I find the combination of the bitter intestine flavour with freshly grated daikon in soy sauce very interesting. The best part of the fish I enjoy most is the cut around the belly. The grilled Cod was incredibly flavorful with a delicate sweetness and perfectly crispy skin.
The grilled squid was tender and delicious. An assortment of tempura vegetables was always a welcome member to the dining table. These light crispy bites are among my daughter's favourites.
Tender cube-cut style grilled beef was also very delectable. It is not the prettiest dish, but Natto has some powerful health benefits. These gooey and sticky fermented soybeans have an acquired taste to them. Natto has however been a traditional food in Japan for thousands of years.
If after all the sashimi, sushi and grilled items you still have room for more, try the garlic fried rice or Niku Udon – thick white wheat noodles cooked in hot fish soup with thinly sliced beef. A bowl of clams in clear broth would accompany the fried rice perfectly.
Tempura style deep-fried Vanilla ice cream top with red beans is excellent to conclude a satisfying gastronomical experience.
I keep returning to Miraku because of its authentic Japanese flavours, artistic food presentation and the knowledge that I would be able to enjoy seasonal items from Japan time and again. The cosy Zen-like dining area is washed in warm wood tones and the service has always been friendly and attentive.
If you are lost and spoilt for choice, and do not know where to start ordering, it is a safe bet to try one of their set menus. It has a combination of various items for you to indulge.
---------------------------------------------------------
Miraku Japanese Restaurant
1-03, G Hotel Gurney, 168A, Persiaran Gurney, 10250 Penang
T: +604-229 8702
Opens daily for lunch and dinner
---------------------------------------------------------
Written and photographed by Adrian Cheah
© All rights reserved
Updated: 2 October 2020