How easy it is to make creative sandwiches in Penang!
Let us make some creative sandwiches celebrating Penang's diverse culinary culture. Well, there are no rules here except good food between two slices of bread, bun, mantou or even puff pastry. And being in Penang, the choices of fillings available are aplenty.
Top on my list is kaya, a delicious coconut jam made with santan (coconut milk), eggs and caramel, perfumed by daun pandan (screwpine leaves). It is best enjoyed on freshly toasted Bengali bread, easily available in Penang from your friendly neighbourhood rotiman.
Homemade kaya is the best, especially if you have Chinese Peranakan parentage. Nyonyas know how to make good kaya. The texture is never watery or smooth. It has to be thick and textured by tiny little granules. I learnt this recipe from my mum. Making a batch at home gives me the opportunity to control the level of sweetness. Sometimes, I will turn the kaya light green by adding the extract from blended pandan leaves. I always make more and refrigerate some for future use.
Kaya is also a must when enjoying pulut tai tai. During the durian season, I will add pureed quality durian flesh to the kaya; this is such a rich, decadent jam to indulge in (only, of course, if you are crazy about durians like me). You can also add liquor to kaya. Be adventurous and you might discover a new creative concoction.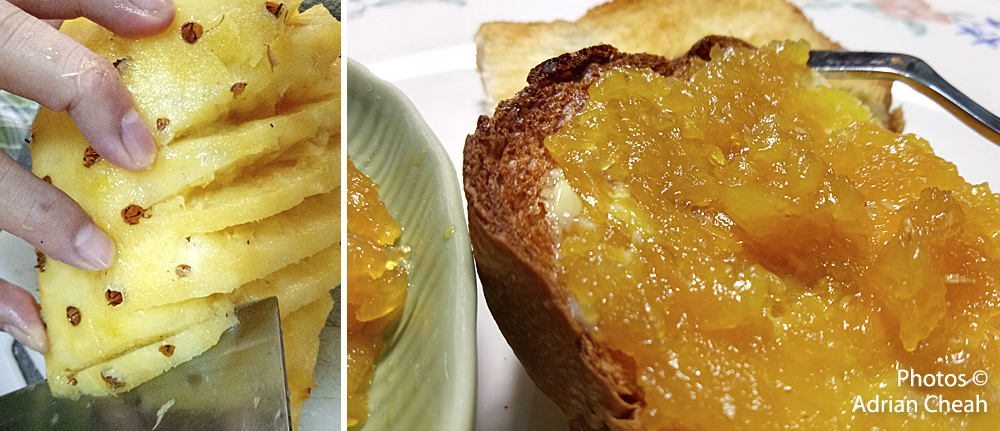 Only if you can find fully ripe pineapples, go ahead and make some delectable pineapple jam. This is important because no amount of sugar will be able to mask the sourish tinge from using unripe ones. Infuse it with aromatic spices like cinnamon, star anise and cloves. Butter the toast before spreading a generous helping of pineapple jam for a scrumptious bite.
Jiu hu char, stir-fried yam bean with shredded cuttlefish, is usually enjoyed with a dollop of sambal wrapped in a fresh lettuce leaf. You can also enjoy it in a crispy top hat shell (known locally as kuih pie tee) or better still, in a soft fluffy white mantou.
If "nge buey sambai hu" (torpedo scad stuffed with sambal) is available, you can easily make a savoury sandwich. Debone the fish, spread the spicy sambal on toast and pile up the fish flesh. Try this and you will be in for a lovely treat.
Otak-otak, Nyonya fish custard parcels, are easily available at market areas in Penang. Here, I bake two sheets of crispy puff pastry to sandwich the otak-otak. Bread would work as well. Give it a try.
Freshly grilled bak kwa, Chinese pork jerky, is heaven in a sandwich. Bak kwa wins anytime over peanut butter jelly, hands down. During the Chinese New Year season, I would receive gift parcels of bak kwa from relatives and friends. They store well in the freezer. I would pop a slice or two in the oven toaster and they are good to go. When you are in a hurry, bak kwa between two slices of bread is fast and easy.
If you have yet to try char siew (Chinese barbeque pork) in a sandwich, you must! Buy some tender char siew from your favourite chicken rice stall and make an irresistible sandwich. Select a strip with some fat for added flavour.
To make a delicious sandwich with crab meat stuffing takes a little more effort. Cook up a batch of the stuffing and spread it within two slices of bread. Beat up an egg to coat the sandwich, cover it with breadcrumbs before deep frying it till golden. It is best enjoyed with some Lea & Perrins sauce and mustard. The outside is crispy and the filling is rich and full of umami flavour. You can also substitute crab meat with diced prawns.
Another local sandwich that is simple to make is with sambal hae bee (dried prawns sambal). Butter two slices of bread, lay down thin cucumber slices and top them with sambal hae bee. You can easily buy sambal hae bee almost anywhere in Penang.
The ingredients for sambal hae bee are spice paste (shallots, dried chillies, lemongrass, turmeric and belacan (shrimp paste, toasted)), asam jawa (tamarind), sugar and salt to taste. Pound the hae bee and fry it with the spice paste until it is very, very dry. I refrain from using fresh chillies, garlic and kaffir lime leaves so that the hae bee can keep for months. The end result will look like little black ants (dark maroon in colour) in a jar. The flavours are potent and intense.
The sambal hae bee from the shops is wetter and redder in colour. It does not keep well but is convenient and easily available. It is rather versatile and can be taken with rice or used as a condiment to go with ladies' fingers or four angle beans instead of sambal belacan.
Finger-sized cucumber sandwiches are easy to make, yet delicious. Use Japanese cucumbers; they have beautiful forest green skins with long and slender bodies.
Comb the internet for recipes on how to make good Japanese egg sandwiches. The filling is creamy and bursting with a rich egg yolk flavour. Of course, always opt for a good sandwich loaf that is fresh and has the right bouncy texture.
Use an egg slicer and make a different sandwich altogether. Pack it with lettuce, top with egg slices, cheese and drizzle everything with a flavourful sesame seed dressing.
Japanese fruit sandwiches (fruit sando) are also easy to make. They are visually appealing and simply refreshing. All you need are fresh fruits, whipped cream and bread. To balance the water content of the fruits, it is ideal to use a cream with a high percentage of butterfat. This keeps the sandwiches from tasting watery. Remember to shrink wrap the sandwiches and refrigerate them overnight before trimming off the edges or cutting them up into bite sizes. Fruit sando has a history dating back over a 100 years.
Try this combination – peanut butter and crispy smoked bacon – an interesting pairing of flavours to relish.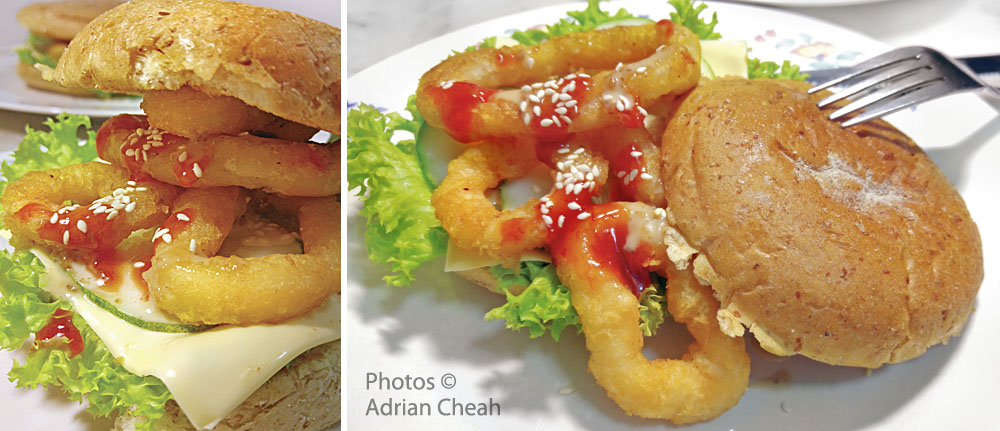 Crispy calamari rings make such appetizing sandwiches. Pacific West's "tempura natural calamari rings" go straight from the freezer to the fryer, providing convenience and less hassle. Go for a good bread to sandwich the golden rings. Continental Bakery in Nagore Road has plenty to choose from and among my favourites is their crusty loaf.
Continental Bakery also bakes fresh marbled coffee loaves daily. The bread is dense yet soft, rich with the aroma of roasted coffee. It is best eaten with butter and cheese.
Stop at your favourite fried chicken stall in Penang and buy a piece of chicken or two. Debone it and top up the sandwich with all that you love. It is so much better and surprisingly easy to make at home! Pile on the chicken flesh onto a bed of greens and drizzle your favourite dressing. Dust the fillings with freshly crushed black pepper for some heat. If you like crispy stuff, get a serving of golden crispy chicken skin too. Wash it all down with a tall glass of beer for a satisfying meal.
You can make all these sandwiches at home without breaking a sweat. Putting great flavours together between two slices of bread has never been easier. There are still plenty of delicious sandwiches you can assemble in Penang. Be creative and bring to your lips something enchanting.
---------------------------------------------------------
Written and photographed by Adrian Cheah © All rights reserved
1 April 2021