Colourful onde onde ubi keledek recipe from Madam Lily Wong
Nyonya kuih are colourful Asian sweet cakes that are popularly served for breakfast and afternoon tea and as snacks anytime of the day. The selections are many and varied, available at morning markets and food courts throughout Penang.  One such type is the explosively delicious onde onde.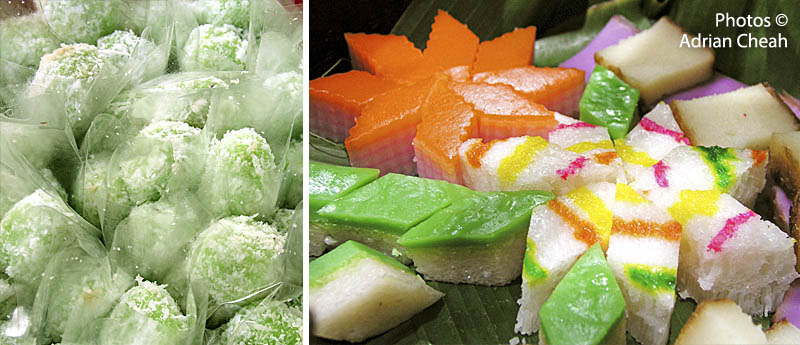 The traditional dainty petite onde onde are infused with pandan (screwpine leaf) juice and filled with gula Melaka (palm sugar), then rolled in some fresh grated coconut.
What makes onde onde unique is their explosive power. When you bite into a well-made piece, it should burst in your mouth, releasing the flavourful liquid palm sugar within. The elasticity and slightly chewy texture of the skin are key to an enjoyable bite.
Onde onde are coated with freshly grated coconut and the trick is to keep the fresh coconut from turning bad. It is actually quite simple. Just steam the freshly grated coconut with a pinch of salt and it should last longer. It is advisable to do this as soon as you get back from the market. Keep it away from the sun and store it in the fridge if you are going to use it much later.
In Java, Indonesia, "ondeh-ondeh" is traditionally called "klepon". However, here in Penang, onde onde have made it into the list of Nyonya delicacies.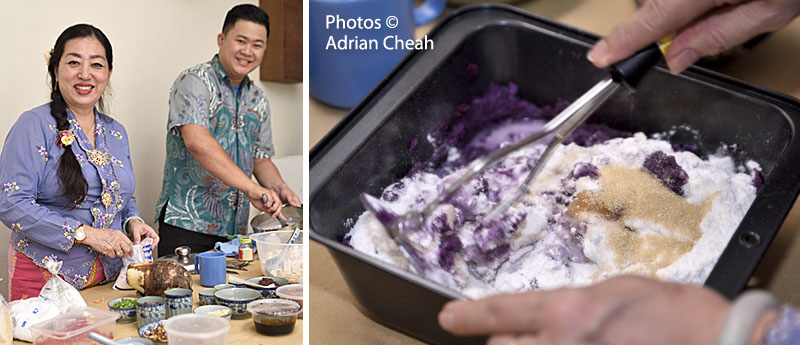 Colourful onde onde are created using different coloured sweet  potato – purple, orange and yellow. Here is the recipe shared by Madam Lily Wong. Add less sweet potatoes and more glutinous rice flour if you like the chewy texture of the skin.


Ingredients
600 g glutinous rice flour 
5 tbs rice flour (optional)
100 g purple sweet potato, steamed and mashed
100 g orange sweet potato, steamed and mashed
100 g yellow sweet potato, steamed and mashed
5 pandan (screwpine) leaves (knotted up)
150 g gula Melaka (palm sugar), cut up into small pieces
White grated coconut
Salt and sugar to taste
Method
Steam the three different types of sweet potatoes and mash them up separately. Set aside.
Mix both types of flour and divide it into three portions. Mix one portion with one type of potatoes and combine well. Sweeten the mixture with some sugar.
Knead the dough well. Take a thumb-size piece of the dough, roll it into a ball then flatten it. Place a piece of the gula Melaka in the middle and encase it well.
Prepare boiling water with the knotted pandan leaves.
Place the prepared onde onde balls into the boiling water.
When the balls rise to the surface, remove them with a strainer.
Once the balls are ready, place them in the bowl of white grated coconut. Coat them well.
Remove the prepared onde onde balls onto a serving plate.
Do the same for the other two mashed potatoes.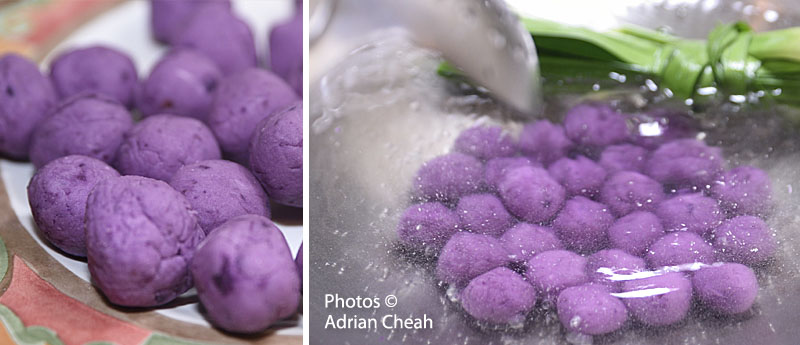 Cooking should always be fun. Just do not stop at this recipe. Put your creative cap on and experiment with different ingredients. Try creating new variants –  for example, replace the sweet potatoes with taro or gula Melaka with chocolate. Or even replace the grated coconut with grated cheddar cheese, crushed groundnuts or sesame seeds. The potential is endless. You might just invent something original that could take the world by storm.


---------------------------------------------------------
Written and photographed by Adrian Cheah 
Recipe from Lily Wong
© All rights reserved
4 March 2020


Madam Lily Wong, an accomplished cook, loves to share her recipes and techniques with everyone. She holds cooking classes to divulge secrets behind traditional Nyonya dishes, kuih and more. This onde onde ubi keledek recipe was shared by Lily at a cooking class organised by Penang Heritage Trust on 23 February 2020.