Irama Dining, the rhythm of a fresh and modern dining experience
Penang is truly a food paradise. One can find almost everything under the sun here on this tropical island including good Malay food. Dining at Irama is a game-changer for me. The strong, aromatic and distinct Malay-style cooking is combined with the rich flavours of local herbs and spices. The food presentation is masterful and the dining room is tastefully elegant.
Before we ran down the menu to place our orders, we selected some drinks. My daughter went for a cendol-in-a-glass concoction which was called Pandan Gula Melaka. It had shaved ice, coconut milk and green rice flour jelly, sweetened with palm sugar syrup. A friend had the refreshing Lemongrass Pandan Mint. It was flavoured with lemongrass and had biji selasih (basil seeds) as well as crushed mint leaves. The Chocolate Hazelnut Ice, topped with whipped cream and drizzled with a chocolate sauce, was equally delightful.
For starters, we opted for a creative version of otak-otak. Mackerel and prawns were cut into small cubes and cooked with the familiar flavours of otak-otak. Unlike the conventional version, the curry was much lighter and was served with some keropok (tapioca crackers). It was savoury and simply inventive!
For our mains, we decided to go with some curries that would go well with rice. We had the kerabu platter comprising three types of Asian salads – Kerabu Pucuk Paku Kerang, (fiddlehead fern salad with cockles), Kerabu Kacang Botol Sotong (four-angled beans salad with squids) and Kerabu Mangga (green mango salad). All the salads were scrumptious, accentuating the fresh flavours of local herbs and shoots.
My favourite dish on the table was the succulent Kurma Lamb Shank. The shank and potatoes were slow-braised in a creamy curry spiced mainly with cumin and fennel. It was really kurma-licious!
I also relished the Smoked Duck Massaman Curry. Massaman curry is a rich yet relatively mild Thai curry. Adding cured smoked duck breast to it was brilliant. 
Sotong Sumbat literally means "stuffed squid". Each squid was stuffed with glutinous rice, cooked in a mild coconut-based curry and served with a dark fenugreek seed sauce. This was the first time I sampled the dish. Hats off to the chef for another creative invention.
We ordered two types of rice to accompany the curries – Nasi Ulam and Nasi Bunga Telang. The Nasi Ulam had strong flavours of local herbs while Nasi Bunga Telang had a beautiful royal blue hue from the blue pea flower. Both the rice options were good. However, the flavours of the curries stood out better with just plain steamed white rice.
Pucuk Ubi Masak Lemak Udang was another delectable offering. Fresh tiger prawns and pucuk ubi (cassava leaves) were cooked in a turmeric-based curry, thickened with coconut cream.
The Pais Barramundi – a fish fillet marinated with turmeric, shredded coconut and chilli paste – was wrapped in banana leaf and grilled. It was perfectly paired with a spicy sambal sauce that was served on the side.
A version of the Kelantanese Ayam Percik sans the peanut sauce was an unusual surprise. Sample this dish when you are at Irama. My family, friends and I spoke very little over dinner. Our mouths were just too busy savouring all the lip-smacking curries which were gone in record-breaking time. This was a testament not only to our growling tummies but also the skilful creations of the ingenious chef.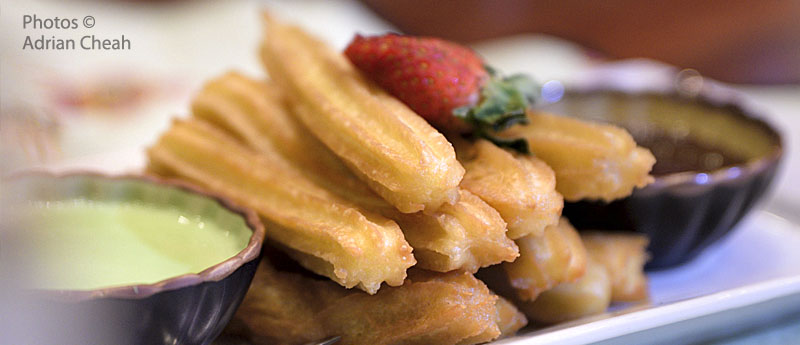 For dessert, we had churros. They were crispy on the outside and soft on the inside. The fried dough sticks were served with a duo of dips – chocolate and coconut pandan. Add this to your list of must-try items at Irama.
Serawa Pisang was a banana and pearl sago porridge creamed with the goodness of coconut milk and sweetened with gula Melaka. Bubur Sumsum was another sinfully delicious dessert. Smooth, soft rice flour custard was doused with brown sugar. Having a sweet tooth, we also had to order the chocolate lava cake! If you are afraid that the amount of sugar in the dessert could send you into a coma, talk to the staff and ask the chef to serve the gula Melaka on the side. You could then decide on the amount that goes into your dessert.
Irama is located on the second floor of the beautifully restored Chinese Chamber of Commerce building opposite the Esplanade. The dining area is elegantly decorated including a floor-to-ceiling mural of a lady in blue kebaya. The service is excellent and you do not even have to pay an arm and a leg dining here. What else can I add except: go, give this restaurant a try! Indulge and be happy!
-------------------------------------
Written and photographed by Adrian Cheah
© All rights reserved
2 February 2020
-------------------------------------
-------------------------------------
Irama Dining
2nd Floor, No. 2, Penang Street, George Town, 10200 Penang
Opens 11:00 am – 11:00 pm
T: +604 261 2292