The Craftisan, tea-inspired gelato and hand-crafted desserts
When the sweet tooth comes a-knockin', head to The Craftisan for one of its luscious dessert options. Whether it is brownies, crepe or gelato that strikes your fancy, its delicious offerings should satisfy your cravings. Hand-dripped coffee and a selection of teas complement perfectly its creative desserts.
The name of the cafe, The Craftisan, is a fusion of two words – "craft" and "artisan". It prides itself on creations that are visually appealing and beautifully crafted by passionate food artists. The use of traditional Chinese tea in creating Italian gelato caught me by surprise on my initial visit! Since then, I have been hooked on the cafe's brilliant concoctions of flavours and premium quality desserts.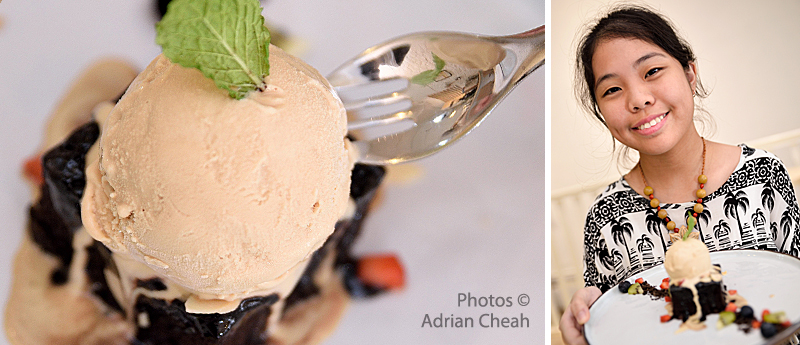 Try the warm chocolate brownie topped with a scoop of rum and raisins or with your choice of gelato (including macadamia, chocolate and pistachios among many others). My daughter loves this dessert immensely.
What is the difference between ice cream and gelato you might ask? Well, although both are made using the same ingredients – milk, sugar and cream (and sometimes, eggs) – they are not quite the same thing. Ice cream contains more fat and is churned faster to incorporate more air for a lighter, rich creamy texture. Gelato, the denser Italian treat, on the other hand, is churned more slowly and contains less air and fat, highlighting the fresh fruits and nuts it is flavoured with.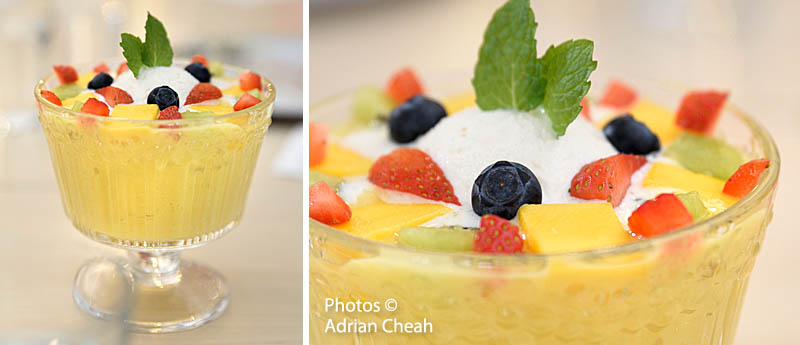 Mango Pomelo which has a thick, silky finish, is made of fresh mango puree, sago and pomelo pulp topped with chunks of mango cubes, strawberries, kiwi fruit, grapes and your choice of gelato.
Another dessert we are usually too happy to feast on is Delicias de Serradura. The word "serradura" is Portuguese for "sawdust", which refers to the texture of the crumble in the dessert. Here, your scoop of gelato should be the star. Be bold! Go for strong characters such as durian, passion fruit or tea-infused flavours. This creamy dessert is packed with textures that will titillate your senses.
If you like crepe, you will enjoy Apple Zapple Crepe. The crepe is topped with caramelised apple chunks that are spiced with cinnamon and cloves It is served with a scoop of decadent passion fruit gelato.
The Craftisan is always on the search for exciting new combinations of flavours and textures to create new masterpieces. Although the cafe had its grand opening in July 2017, it has not rested on its laurels and has constantly reviewed its menu, offering new delightful desserts time and time again.
Here are two wonderful desserts savoured during my past visits that are no longer on the menu. First, two adorable little gelato creatures bobbing out onto the surface of the glass filled with layers of crushed oreos, vanilla flavoured cream and hot fudge sauce. Second, a crispy puffed pastry encasing a warm aromatic apple filling and a scoop of gelato on the side.
If you enjoy Asian-leaning flavours such as tea-infused gelato in the comfort of your own home, 600g tubs are available for takeaway. Flavours include Jasmine, Earl Grey, Japanese Matcha, Tie Kuan Yin and occasionally exotic delights like durian and passion fruit. From time to time, new flavours are unveiled. Visit its Facebook page for more details and happenings.
The staff is always friendly and ready to help you with your orders. The tall white walls of the cafe are brilliantly matched with neutral-coloured couches and fittings. The brightly lit deco provides guests with a clean and relaxing ambience to mingle in and while the time away with family and friends.
The Craftisan is the sister cafe of Soul Cafe which is located on the ground floor. Both cafes belong to the same owner. Soul Cafe serves mostly main courses and various kinds of pasta while The Craftisan specialises in gelato-inspired desserts. Ascend a flight of stairs and treat yourself to sinfully-delicious treats.
---------------------------------------------------------
The Craftisan is no longer in operations.
(It was formerly at 1st Floor, 12, Kek Chuan Road, then relocated to Wellings Mansion, 67, Jalan Sultan Ahmad Shah, 10050 George Town, Penang before calling it a day.)
---------------------------------------------------------
Written and photographed by Adrian Cheah
© All rights reserved
18 June 2019