Half Acre Restaurant, Taiwanese flavours in Penang
When you talk about Taiwanese food, fried stinky tafu, scallion pancakes, oyster vermicelli, minced pork rice and pearl milk tea come to mind. However at Half Acre Restaurant, you will not find any of these popular Taiwanese street food. On the other hand, you would be treated to strong Taiwanese flavours that are aggressively herbal with deeply umami.
Let us talk about the location of this restaurant first. It all depends on where you are travelling from to reach Half Acre Restaurant in Balik Pulau to determine whether the distance is near or far. Only when I was using Google Maps that Saturday did I realise that it was just a 16-minute drive from my home at Tingkat Bukit Jambul. Reaching George Town city from home would have been much further. The scenic drive to Balik Pulau was such a welcoming surprise compared to the congested traffic mayhem downtown especially on weekends.
Was the dining experience at Half Acre Restaurant memorable? Was the food good? This are two basic questions I would usually ask. Yes, it was a memorable evening and yes, the food was indeed delicious.
Its signature Taiwanese roasted chicken was simply scrumptious – juicy, tender and succulent. It was well marinated and was baked in the huge clay urn-like oven with intense temperatures fuelled by wood. The chicken was served whole, hung from a metal serving stand. We had the waiter break down the chicken into smaller, more manageable sizes. The skin was crispy and the tender flesh went well with two types of seasoning powder that were served on the side. According to the owner, Alan Teoh, these seasonings comprise 21 herbs and spices. As in all Chinese cooking, the balance of Yin and Yang in a dish is of utmost importance. The grounded herbs and spices help to balance off the 'heaty' properties of the roasted chicken.
Some believe that roasting in the clay urn-like oven is just a gimmick but I beg to differ. I know that I would not be able cook this at home with a conventional oven and obtain similar results.
On the menu, there is a list of slow-cooked soups to choose from. We had the black chicken herbal soup with cordyceps flower and goji berries, served in a ceramic pot. The generous ingredients and the way the soup was allowed to develop through a slow simmering process produced such aromatic flavours. This reminds me of soups my mum would cook in a double boiler over a charcoal stove, simmering from morning, only to be enjoyed during dinner. All the ingredients would infuse into the soup and the wholesome goodness in every sip was divine.
Do add both these dishes to your list of must-try items when you are dining at Half Acre Restaurant.
We also ordered fresh clams steamed with wood ear mushrooms in Angelica wine, a simple dish with winning flavours. The broth in this dish is to me the best part (well, apart from the clams of course). This broth has gathered the essence of clams, which is concentrated umami and was simply yummy. 
I adore spicy food and the next dish titillated my taste buds. The Taiwanese style stir-fried Chinese chives had the right combination of spiciness to balance off the crunchy greens, making this dish a lip-smacking experience. 
I was happy that nearly all the dishes arrived at about the same time. The crispy soft-shell crabs had the interesting texture and aroma of salted egg yolks. The seafood claypot was packed with scallops, prawns and a variety of ingredients. 
The steamed grouper with lime sauce had a beautiful balance of spicy, sweet-sourish flavours which Penangites would appreciate. The grouper was very fresh, notably caught that very morning. The restaurant receives its supply of fresh catch from neighbouring fishing villages in Balik Pulau. We also had sautéed prawns stir-fried with lotus roots, asparagus and garden peas in XO sauce.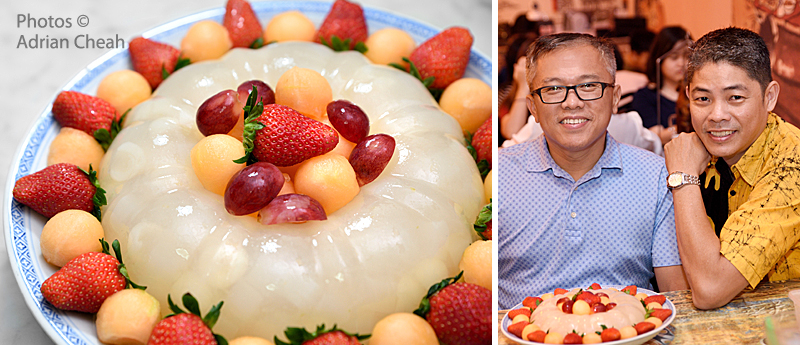 Having gone through the restaurant's menu on its Facebook page, I realised that there was nothing listed for desserts. I believe every meal should end with a good and satisfying treat. My good friend who runs an organic farm in Balik Pulau gave me a lovely winter melon. With that, I made a winter melon jelly, packed with canned longan and nata de coco. I served it with fresh Korean strawberries, grapes and sungold melon.
The staff was helpful and very attentive. I am glad we chose Half Acre Restaurant for this birthday celebration. We had a memorable evening and our children were totally satisfied with the homemade jelly.
---------------------------------------------------------
Updated 11 June 2020
Half Acre Restaurant is no longer at Lot 403, Jalan Titi Teras, MKM E, 11000 Balik Pulau, Penang. They have relocated to Straits Quay in Tanjung Tokong since September 2019, offering their signature dishes.
---------------------------------------------------------
Half Acre Restaurant
3E-G-3 & 3A Straits Quay
Jalan Seri Tanjung Pinang, Tanjung Tokong, Penang
T: +604 893 1617
Opens Monday – Friday: 11:30 am – 3:00 pm, 6:00 – 11:00 pm.
Saturday & Sunday: 11:30 am – 11:00 pm.
---------------------------------------------------------
Written and photographed by Adrian Cheah
© All rights reserved
11 June 2020