La Vie's splendid cuisine to celebrate life's treasured moments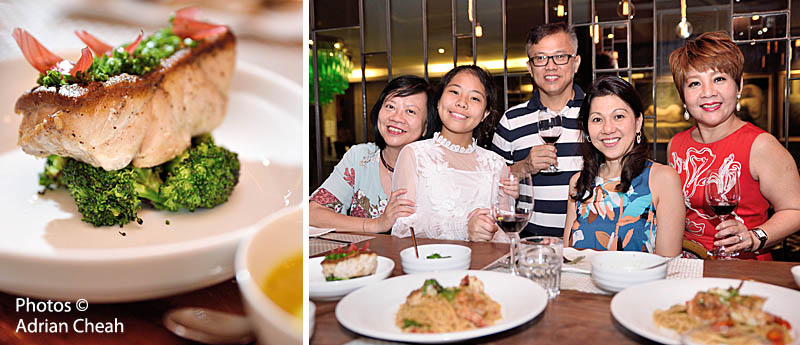 Appetisers are delicate petit morsels that tantalise our taste buds to increase our appetite. A well-planned menu would select appetisers that would coordinate and lead up to the flavours of the main dishes in a meal. In short, appetisers should give you an idea about the main course. Great appetisers put you in the mood; they get you excited about what else lies in store for you. We started our dinner at La Vie with an alluring march of four appetisers – crispy unagi, prawn salad, crab meat croquettes and clams in Thai-style sauce. Such an incredible quartet that kept us clamouring for more.
Warm char-grilled bread was served with a trio of offerings – sambal hae bee (dried shrimp sambal), salmon tartare and a savoury in-house spread. Sambal hae bee was my favourite as it brought back fun-filled childhood memories. When my mum made this, we would pack it between slices of bread and tug into it with glee.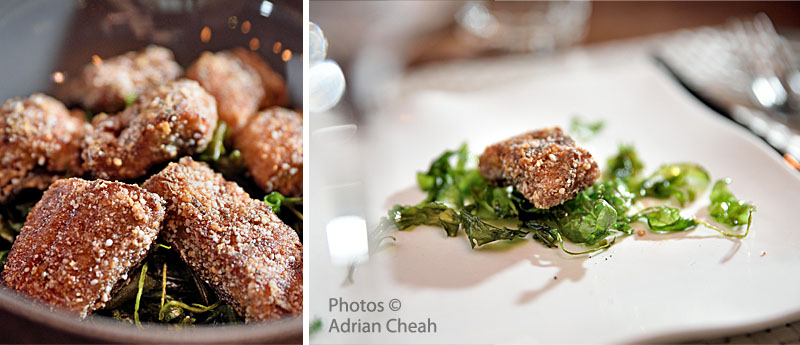 The breaded unagi was next served on crispy rocket leaves. The crunchy breaded texture on the outside stood out as a sharp contrast to the soft, buttery sensation of the fish within. The rocket leaves were so crispy and holding a leaf up to the light, its translucent cellophane-like texture shone bright green. This was such an incredible dish. Unagi had never tasted so good!
Up next was a refreshing prawn salad. The salad had a marvellous mix of garden greens, grilled prawns, wild rockets, zucchini, pomelo, beetroot and toasted cashew nuts. It was topped with a refreshing passion fruit dressing. I love passion fruit because of the highly aromatic perfumed ensemble of different hints of citrus, mango, pineapple, papaya and guava. Adding pomelo to the salad was a brilliant touch too.
Crabmeat croquettes were up next. These golden breadcrumbed delights had a soft, rich inside, packed with crab meat goodness. Simply delicious! Here is a little trivia for you. Ever wondered who created croquettes? they were created in France in 1898 by Monsieur Escoffier, the founder of classical French cuisine and were originally made with beef.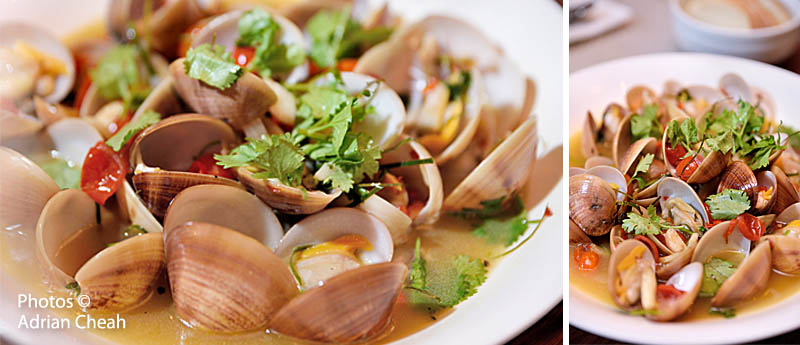 When I first arrived at the restaurant, I spoke to the manager and the chef and filled them in on my love for spicy food among other things. The clams prepared à la Thai style had intense heat that was simply lip-smacking. The spicy and sour flavours were well balanced and I was slurping up the gravy with delight. The bread was also offered on the side to enable us to soak up the power-packed clam jus.
All four appetisers were remarkable and we waited with anticipation for the arrival of the main courses.
A brilliant chef stripped away the complexity of a dish and showcased the beauty of its ingredients. Here, the organic chicken was deboned and char-grilled to perfection. On the side were freshly grated wasabi, salt and a rich velvety in-house sauce to accompany the tender, smoky chicken. Stir-fried mushrooms complemented the chicken well. The profound results obtained from such humble cooking techniques and simple seasonings were a welcomed surprise.
The chef was right to keep things uncomplicated, allowing the thick, sweet grouper fillet to be the star of this dish. A thick coconut curry sauce spiced with turmeric and Asian herbs was served on the side. This gave us the opportunity to control the sauce and enjoy the fish as we deemed fit. A side dish of baby spinach was also prepared.
Spaghetti aglio e olio with jumbo prawns was a hearty finish to the main courses. The spaghetti was al dente, the way I liked it plus preserved anchovies were used to heighten the flavours of this pasta dish. By now, we had filled ourselves to the brim but when the desserts arrived, we somehow could find some room for them. 
Crispy spring roll shells encasing a sinfully delicious pear filling were served with ice cream. Also for dessert, we had panna cotta with a raspberry sorbet that was equally divine. 
Since the dinner was to celebrate the birthday of a good friend, the house provided a complimentary petit chocolate ganache topped with a lit candle, decorated with caramelised bananas and fresh strawberries.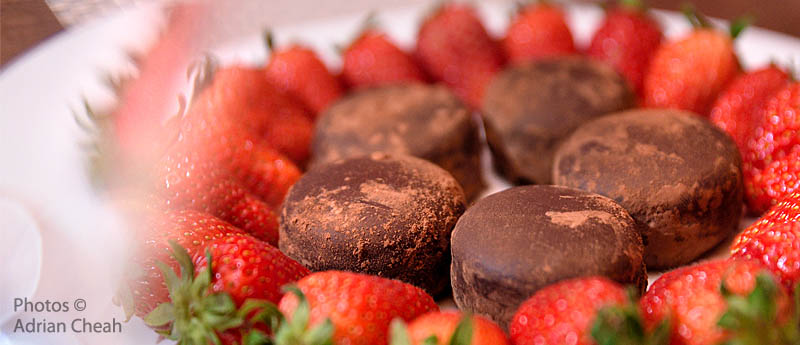 That evening I also brought along luxurious chocolate truffle macarons and lovely fresh Korean strawberries to La Vie. All were in a joyous mood as the dinner was a triumphant indulgence that has titillated all our senses. An enchanting cuisine shared among a great company of friends should be celebrated more often. Such sweet moments are precious in life.
"La Vie" is French for "Life". How befitting to find this cosy restaurant that celebrates life passionately with glorious food. Service was outstanding and a big thank you to Kevin, the manager who designed the menu for that memorable evening.
La Vie is located in the Le Dream Boutique Hotel, right in the heart of George Town.
---------------------------------------------------------
Written and photographed by Adrian Cheah 
© All rights reserved
13 April 2019
---------------------------------------------------------
La Vie Restaurant
at Le Dream Boutique Hotel
139 Jalan Pintal Tali, George Town, 10100 Penang, Malaysia
T: +6012 402 1342
Opens: 6:30 pm – 10:30 pm except for Mondays