Traditional Malay cooking at Lagenda Café in the heart of George Town
The key signature in traditional Malay cuisine is definitely the generous use of local herbs, spices and belacan (shrimp paste). Coconut milk is also added to Malay dishes to enrich them with a creamy finish. In Penang, as well as the northern states of Malaysia, Malay cooking has further integrated Thai flavours. Meats and seafood are usually marinated with a special blend of herbs and spices before being cooked. Vegetables are often stir-fried and some eaten raw always with sambal belacan. I love Malay dishes because of their strong, spicy and aromatic oomph. For an authentic Malay feast, head down to Lagenda Café.
True to its name, the café offers a host of legendary Malay cuisines as well as some Oriental and Western-fusion dishes.
I usually go straight for the main course and skip the appetisers as the main dishes are hearty and I like to keep some room for the yummy desserts. If you are in a company of four, start with gado-gado, ideal for sharing. "Gado-gado" literally means "mix-mix" in Indonesian and that is how one should enjoy this appetiser. Select what you fancy from the platter of deep-fried snacks and blanched vegetables, and mix them well with a generous helping of the spicy peanut sauce. Enjoy.
The local favourites are surely top on my recommended list. Here are three fulfilling chicken dishes I would relish – ayam percik madu tiga, belalang chicken rendang and ayam penyet Nusantara. Three brilliant ways of cooking chicken, each with its own distinct flavours.
Ayam percik madu tiga is my daughter's favourite dish at this café. The smoky flavour of the aromatic grilled chicken marinated with savoury peanut sauce has won her heart over. This dish is served with turmeric rice, jelatah (pickled vegetables), kerabu tauge (bean sprouts salad) and crackers.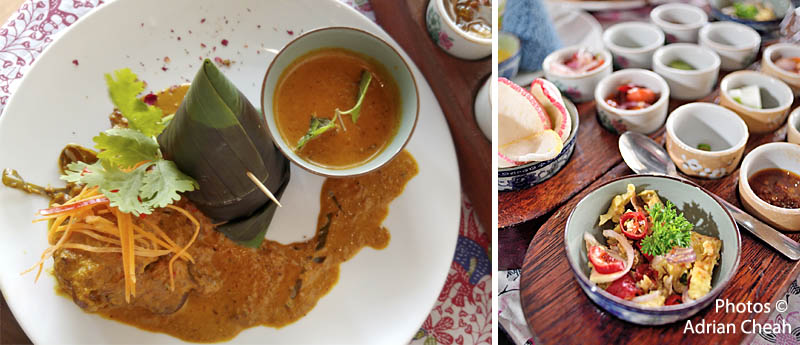 The belalang chicken rendang is also very good. The thick fragrant curry owing to the generous use of coconut milk hugely complements the tender chicken and ulam (fresh greens such as winged beans) that accompanied this dish. On the congkak board of goodies, you have something green, something spicy, something sour and something crispy – all enjoyed with a serving of warm blue rice.
If you enjoy crispy fried chicken, go for the ayam penyet Nusantara. Chicken marinated with herbs and spices is deep-fried and served with blue-coloured rice, clear soup spiced with jintan (anise) and fried shallots, crackers and a lovely congkak board of ulam.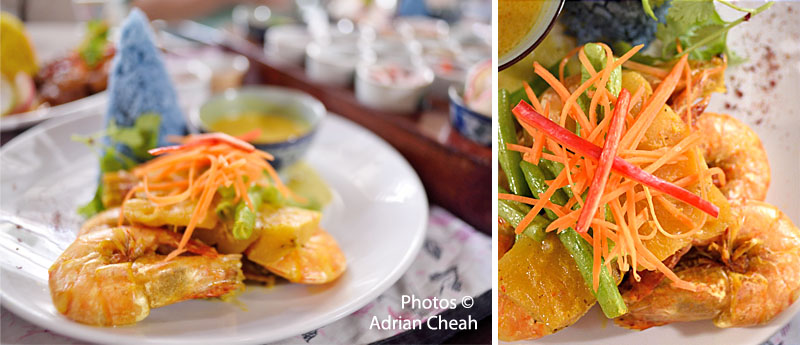 The prawn lemak with pineapple is a rice set complete with a congkak-board of condiments (such as winged beans, pickled cucumber, kerabu omelette and sambal). Rice dyed blue with butterfly-pea flowers is wrapped in banana leaf to keep it moist and warm. Beautifully presented, the star of this dish, prawns are cooked in a typical Malay masak lemak fashion of coconut milk and turmeric. The creamy curry is sweetened with ripened pineapples, adding more depth to the flavours.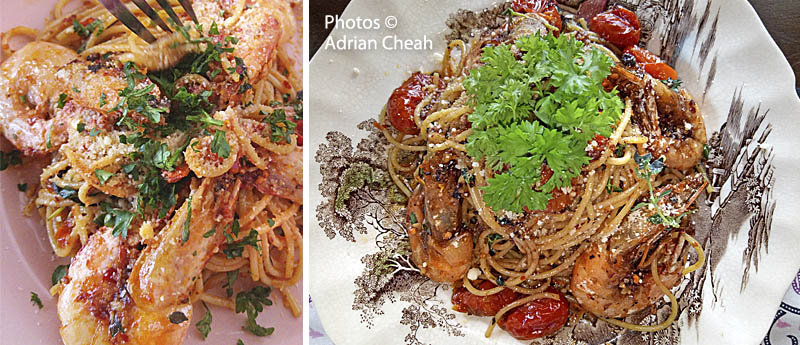 If you like fiery pasta, try the Asian prawns oglio. This spaghetti dish is stir-fried with spices and prawns and you can kick up the heat with a sprinkle of chilli flakes. Like this fusion dish, there are also others on the menu that could fancy your taste buds.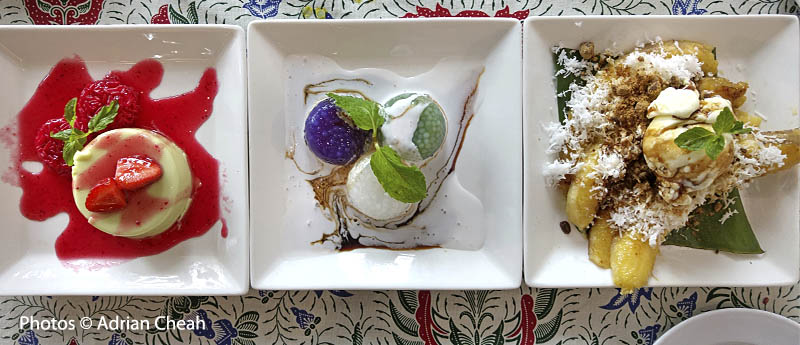 As for desserts, panna cotta seri muka is a must-try item. The pandan-flavoured custard is served with a drizzle of strawberry sauce. Please remind the waiter to serve the sauce on the side or to drizzle less if you prefer the level of sweetness to be reduced. Meanwhile on the side of this dessert are two scoops of blood-red glutinous rice.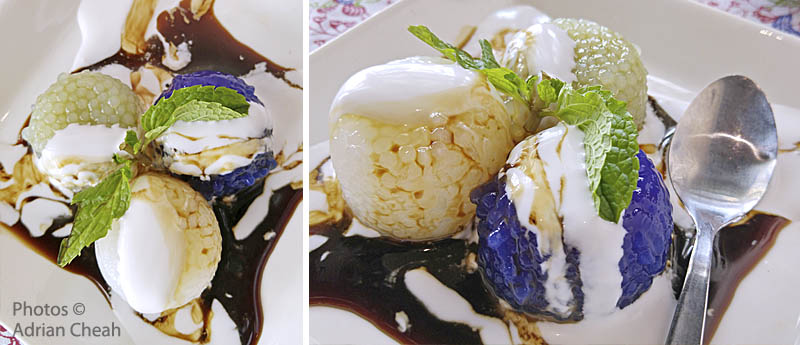 The sago do re mi (named after P. Ramlee's popular classic, Laksamana Do Re Mi) –three scoops of coloured sago pearls smothered with rich coconut cream and topped with fragrant palm sugar syrup – is a delicious treat.
The banana bakar – grilled bananas topped with freshly grated coconut, brown sugar and a scoop of vanilla ice cream – is my favourite dessert. The combination of flavours and texture is so simple yet brilliant. Relish this to complete a satisfying meal here.
Lagenda Café was first located at Lebuh Campbell in a heritage shophouse. In 2020, the cafe relocated to 2 Lebuh Carnarvon. The looming mural of Malaysia's iconic musician P. Ramlee on his saxophone serenading classic tunes is no more. However, the cafe pays homage to him. You would notice some of the menu items are named after his famous works. The warm, cosy interior with an eclectic mix of furniture and paintings makes this simply affordable café and a wonderful place to enjoy a meal or even drinks. The friendly staff have always made my visit pleasant and memorable. 
If you are touring George Town and would like to take a break and escape the tropical heat, Lagenda Café is an ideal choice. The café offers an extensive beverage list complete with fresh juices to mocktails and refreshing local delights. For a thirst-quenching experience, order the soursop with lime, ice batu campur, nutmeg juice or pandan sarabat. As you sip your drinks, take joy in P. Ramlee's melodious tunes that would effortlessly soothe your mind and soul.
---------------------------------------------------------
Written and photographed by Adrian Cheah 
© All rights reserved
Updated 31 August 2020