Inventive 4-course set dinner at Au Jardin
My family and I love to explore Penang's rich culinary tapestry and for dinner this time, we headed to Au Jardin located in an old quaint warehouse within the compound of the historical Hin Bus Depot. According to its website, the restaurant offers modern European fare. Chef Kim Hock and his team create dishes that celebrate fresh, seasonal ingredients.
We started the dinner with some bite-sized hors d'œuvre, each made of golden fried chicken with a creamy white sauce.
Next was an assortment of tomatoes with red pepper gastrique, pickled onions and cashew nut puree.
The soup of the day was tomato cappuccino, served with a dollop of Cabernet Sauvignon, topped with Parmigiano foam and basil oil. Complimentary from the chef was a small portion of slow-braised pork belly with micro herbs.
My wife opted for the pan-fried barramundi fillet served with beurre blanc (a hot emulsified butter sauce made with a reduction of vinegar, white wine and grey shallots) and preserved onions, topped with crispy fish skin. This was a dish she had enjoyed since Chef Kim Hock was with Basil, Le Bistrot at Kek Chuan Road in Penang. Chef Kim Hock and his team after closing operations at Basil relocated to Taipei. They are now back in Penang offering some and their signature dishes at Restaurant Au Jardin.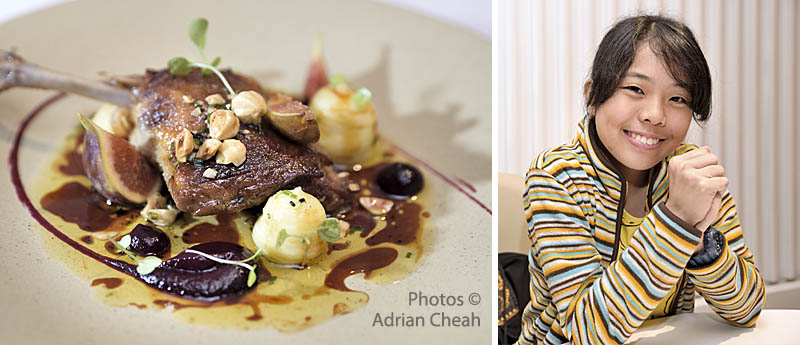 My daughter had the duck confit topped with hazelnut and black truffle dressing, beetroot, figs and jus Maison. She enjoyed this dish very much.
Before we concluded the meal with dessert, a refreshing celery sorbet was served, complimentary from the chef.
For the dessert we had the William Pear consisting of  walnut crumble, yoghurt and mascarpone with a touch of lime.
The above set dinner (entitled September 2018) was RM 168+ per person. A service charge of 10% was added to the bill as well.
---------------------------------------------------------
Written and photographed by Adrian Cheah 
© All rights reserved
15 September 2018
---------------------------------------------------------
Restaurant Au Jardin at The Warehouse: 
125, Jalan Timah, George Town, 10300 Penang, Malaysia
T: +604 218 9594