That hairy fruit called Rambutan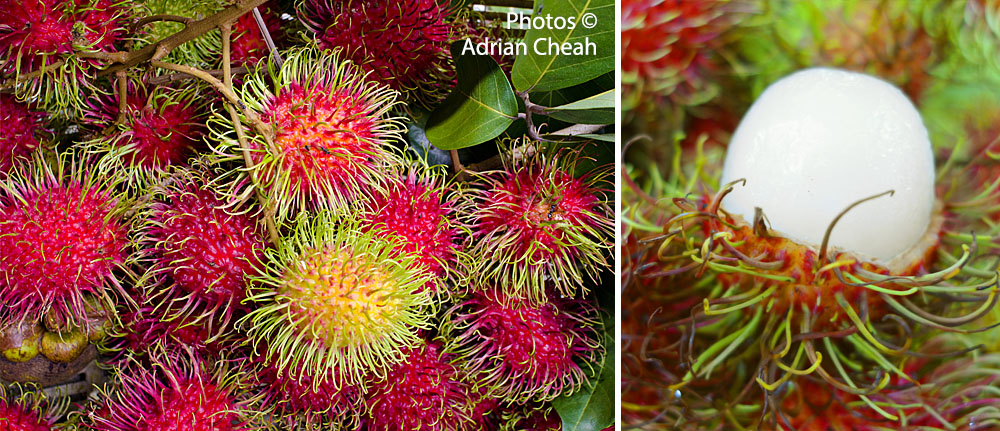 Among the vast range of fruits available in Penang, Rambutan comes a close second to Durian as a popular choice when in season. Sold along roadsides at market places and by fruit vendors, rambutans are tied up in bunches of 50 or 100 and prices vary according to size and quality.
It is quite common to find in many home in Penang, a tree or two of this popular fruit in their garden. Thus, during the rambutan season, my house will be filled with different varieties, gifts shared by relatives and close friends. I would usually peel off the skin and store the flesh in the refrigerator for a satisfying treat later. This also helps to quickly discard the hairy skin that is usually crawling with ants.
Rambutan (Nephelium lappaceum) is round to ovoid, 2 to 3 inches (5 to 8 cm) long, with red, orange or yellow peel covered with hair-like spinterns. That is where the name rambutan comes from. In Malay, "rambut" means hair. The pulp is white, translucent, aromatic and sweet, and surrounds a seed which resembles an almond. I prefer the variety where the flesh comes easily of the seed. 'Lukang' at the locals would put it. The juicy and sweetish flesh is something to relish.
Originally from Malaysia and Indonesia, rambutan is now cultivated throughout the tropics. Commercial production is primarily concentrated in Thailand, Malaysia, Indonesia, Philippines, Australia, Sri Lanka, Vietnam, Honduras and Hawaii. There are over 30 species of rambutan with edible fruits. Rambutan trees can be large, to 80 feet (24 m) in the wild, but usually do not grow to more than 45 feet (14 m) in cultivation. Rambutan may be propagated by seed and grafting.
Rambutan is adapted to the wet, humid tropics and flourishes in well drained soils with a high organic matter content. The rainfall should be fairly well distributed throughout the year, although a short dry season is tolerated and may induce flowering. A mature tree can produce over 200 pounds (91 kg) of fruit per year. The rambutan seasons in Penang occur between July to October, with a second season sometimes between November through January. As these rambutans are straight from the fruit plantations on the island and private owned trees thus they are always fresh.
Satisfying dessert available all year round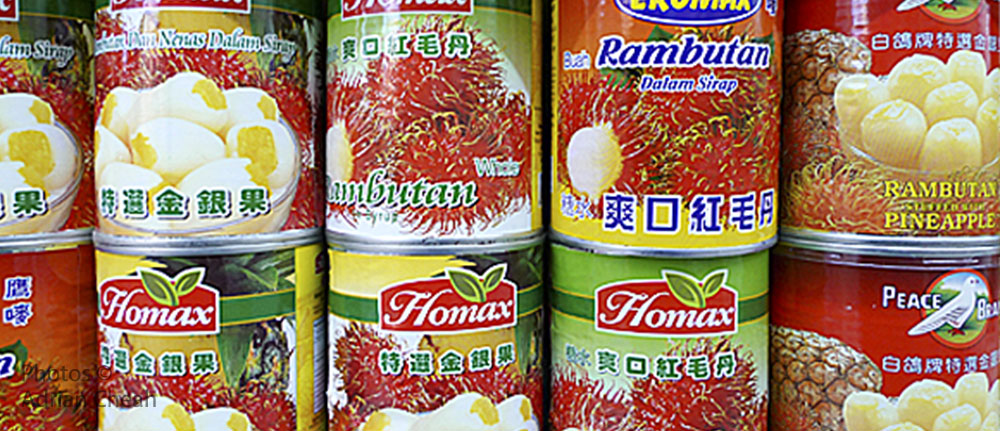 With modern technology, rambutan can now be savoured throughout the year. Canned rambutans in syrup make popular dessert after a meal. Only the flesh is used and seeds removed. Some canned rambutans are stuffed with cubed pineapple for a fresh new experience. You can eat it plain, chilled with ice cubes or add jelly and other fruits to make a delicious fruit cocktail.
Other Remedies
Not only is the fruit sinfully sweet, some locals believe that the root extract can be used to treat fever and bark extract for tongue diseases. Also a poultice of crushed leaves can be placed on the head to relieve headache. Having said that, I must confess that I have not had the privilege to see if all these remedies are really effective since I would usually reach out for the simple Panadol tablets and a glass of water.


................................................................................
Fast facts: Rambutan contains the following nutritional composition per 100 g of fruit: 14-14.5 g carbohydrate, 0.1 g fat, 0.7-0.9 g protein, 22 mg calcium, 30 mg phosphorous, 140 mg potassium, 2.5 mg iron, 0.01-0.1 mg niacin, and 31-38.6 mg vitamin C.
................................................................................
© Written and photographed by Adrian Cheah
All rights reserved