Nyonya Kuih Bangkit with a difference. Why not?
Nyonya Kuih Bangkit, one of the classic Chinese New Year cookies alongside Kuih Kapit and pineapple tarts, is well-loved by Penangites. What makes this traditional snow-white tapioca cookie good is its aromatic fragrance that welcomes you the moment you bite into the slightly crispy outer coating which then melts in the mouth to a powdery softness as it touches the saliva.
Making Kuih Bangkit is relatively easy. The dough is pressed into beautifully carved wooden moulds of various Chinese zodiac animal or floral designs. After baking, each cookie is then decorated with a red dot using a toothpick that has been dipped into red colouring. The red dot is usually applied to the eye of each moulded animal. Tender-loving care is needed when handling Kuih Bangkit as the cookies are brittle and crumble quite easily under pressure.
In February 2020, Jason Ng and I did a video filming at Lily Wong's apartment on how to make traditional Nyonya Kuih Bangkit. The recipe below is courtesy of Lily. She has perfected the recipe from years of experimentation.
Traditionally in Penang, Kuih Bangkit made by the Nyonyas has always been white. When I suggested pushing the boundaries of creativity and colour the cookies, Lily was horrified! She foresees that this would be a sacrilegious act to the hardcore traditionalist. With much persuasion, she accepted my challenge and we armed ourselves with colours from natural ingredients – daun pandan for light green, butterfly pea flower for baby blue and red dragon fruit for soft pink. I wanted a series of soft pastel shades to accompany the white ones. I had much fun working with Lily and what we made that day was beautiful. I would encourage one and all to add some colour to the Kuih Bangkit you make the next time. They are visually more eye arresting and would add to the festive cheer especially during Chinese New Year.
Try the recipe below and make a batch of coloured Kuih Bangkit.
Ingredients:
300 g tapioca flour
100 g cornflour
6 strips of pandan leaves, cut into strips of about 1-inch length
2 egg yolks
120 g castor sugar
150 ml of coconut cream (add a pinch of salt)
Method:
Fry the flour together with strips of pandan leaves over low heat till the leaves become dry and crispy for about 20 to 30 minutes. Remove the leaves and allow the flour to cool. Put the flour into an airtight container and let it rest for a day or two.

Beat the egg yolks with the sugar till light and fluffy.

Add half the coconut cream and mix well.

Add the sifted flour and knead the dough till it comes together. Leave about 25 g of the flour for the dusting of the moulds. (Use a muslin cloth, tie the flour up within a pouch.)

Add the remaining coconut cream to the dough.

Continue to knead the dough till it becomes softer.

Divide the dough and colour them accordingly.

Dust the moulds by padding with the pouch.

Press the dough into the moulds.

Use a knife to cut out excess dough.

Gently knock out the pressed dough from the moulds.

Arrange the moulded cookies on a tray and bake in a preheated oven at 160°C for 15 to 20 minutes.

Use a toothpick to make a tiny red dot on each Kuih Bangkit.
Additional notes:
When you have a dough that is too "wet", you will find difficulty in dislodging the cookies from the moulds. Add some flour and re-knead it. When you have a "dry" and crumbly dough, add some coconut cream and re-knead it.
Remember to cover the remaining dough with a damp cloth while you are busy moulding the Kuih Bangkit. This will prevent it from drying up if left exposed.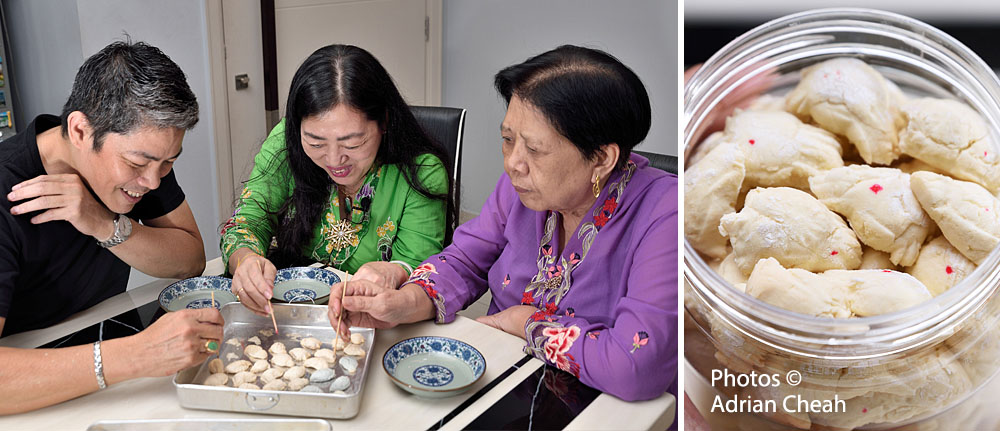 Enjoy making a batch of Kuih Bangkit with a difference.
---------------------------------------------------------
Written and photographed by Adrian Cheah 
February 2020 © All rights reserved