Nasi lemak – a parcel of Malaysian goodness
A favourite breakfast dish for most Malaysians is the Nasi Lemak – something which transcends the often-tenuous ethnic boundaries in this multi-racial country, as Malays, Indians and Chinese all love it.
Nasi Lemak is a Malay dish that originated in kampongs where coconuts were plentiful. Rice or nasi is the staple food for most Asians; cooked with santan (coconut milk) and daun pandan (Pandanus leaves), and we have rich and fragrant Nasi Lemak.
Being a true-blue Peranakan, I am quick to spot (as would most Penangites) what is lacking in a dish and what is really needed to make it great. Nowadays, it is quite rare to come across a packet of Nasi Lemak where the rice is really lemak (rich). Lemak is the Malay word that describes the creaminess of food, due to the fat in the coconut milk.
Johnny's Nasi Lemak, next to the Pulau Tikus market is one of those few places in Penang that has the rice cooked right when it comes to serving a good plate of Nasi Lemak. The rice is really lemak and fragrant, the way I like it. Johnny opens at 9:00 am and be there early to avoid disappointment. Nestled within Jin Hoe Cafe on Cantonment Road, his Nasi Lemak is accompanied with good sambal belacan that makes all the difference. Assam prawns (tamarind fried prawns), fried ikan Kuning and sliced cucumber are all that you need for a satisfying treat.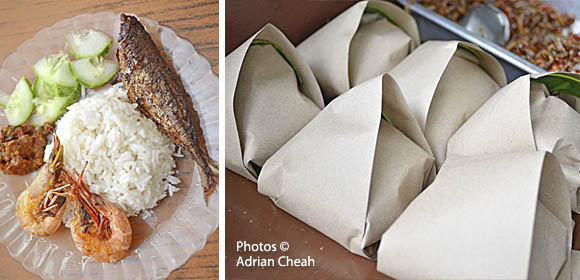 Nasi Lemak is usually served with spicy ikan bilis (anchovies), peanuts, sambal (spicy gravy), sambal prawn or fish, eggs, long beans and cucumbers. Nasi Lemak is available either pre-packed in newspaper and banana leaf or 'buffet' style. The latter allows the customer to choose the lauk (dishes) like sambal squid, fried/hard boiled egg, fried fish, vegetables, curry chicken or beef to go with the Nasi Lemak.
The astoundingly popular Ali Nasi Lemak stall located at Sri Weld Food Court in Beach Street makes brisk business from 8:30 am right up to 4:00 pm. The Nasi Lemak is prepared right there and than - steaming freshly-cooked coconut-milk enriched rice is scooped onto banana leaves, topped either with chicken, fish or shrimps, and then the savoury sambal ikan bilis is poured liberally over the whole concoction, before being folded into neat conical packets. I will usually opt for two packets as one is never enough. What I like overall about Ali's rendition of the Nasi Lemak is the moistness of his rice and the spicy sambal ikan bilis that goes with it.
Purists say that Nasi Lemak ought to be eaten in an authentic setting, Nasi Lemak should be eaten at a mamak teh tarik stall (wooden pushcart with wooden bench and tables arranged by the roadside, normally under a shady tree) and wash it down with a cup of teh tarik (literally translated to mean "Pulled Tea" – or tea that is poured in mid-air from one container to another).
Because Nasi Lemak is so popular in Penang, it is sold throughout every part of the island and Seberang Perai, be it in a fancy restaurant or the more humble mamak stall.
It is available around the clock and can be eaten at any time - breakfast, brunch, lunch, tea, dinner and supper. Scout the land and be adventurous. You might even surprise yourself with what you might discover in your next packet of Nasi Lemak.
---------------------------------------------------------
Written and photographed by Adrian Cheah 
© All rights reserved