The elegant Nyonya kebaya – wearable art that knows no seasons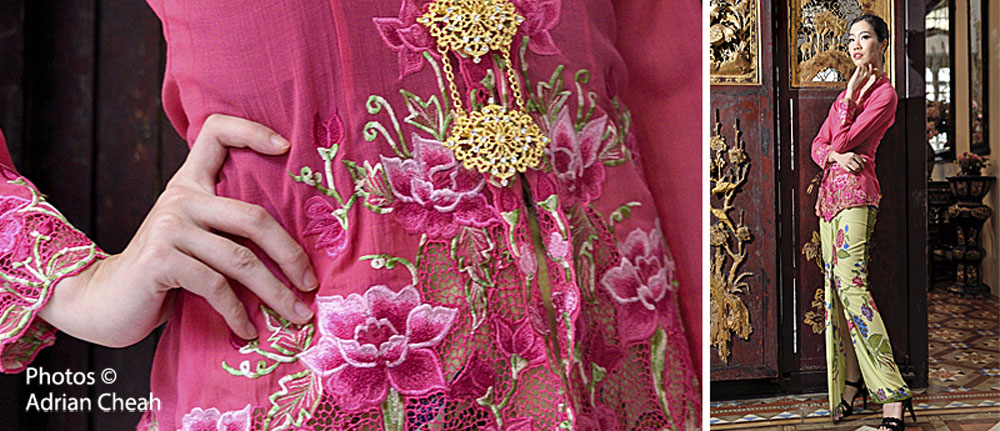 "When in Rome, do as the Romans do" is an oft-quoted maxim about the importance of adapting oneself. Whether or not this bit of wisdom was known to the early Chinese immigrants to Malaysia, some of them eventually married the local folk and adopted Malay customs while remaining quintessentially Chinese in belief and philosophy. The result of this union was the Chinese Peranakan (more commonly known as Babas and Nyonyas), a unique cultural hybrid with a cosmopolitan persona that flourished for centuries throughout Malaysia.
Little remains of the Chinese Peranakan traditions today and what is left is barely recognisable. Nevertheless, the Nyonya influence is still very much prevalent in food, like acar hu (pickled fish), jiu hu char (stir-fried yambean with shredded cuttlefish) and hong bak (braised pork belly). Other things like clothing and accessories (kebaya, kerongsang, beaded slippers and ornamental belts) are considered luxuries and worn only by a lucky few at functions and events. Most of the Chinese Peranakan in Penang today have blended into the social fabric of modern living, especially the younger generation. They are not as recognisable or as distinctive as before and the only way of identifying one is to ask!
The Nyonya factor in my family probably came from my maternal grandmother Emily Elizabeth Surin – the name most probably given to her by her guardian, the Mother Superior of Light Street Convent. It was here that she grew up, among other orphans, not knowing her roots let alone her parents.
The above left photo was taken on 7 August 1926, the wedding of my maternal grandparents (seated), Louis Michael Martin and Emily Surin. Marianne (17, in the white hat) is Grandpa's niece. Second from left is Marianne's husband, Edward. Next to him are his parents, Frederick and Adelaide Boudville. The photo on the right is of Granny and me.
As far as I could recall, Granny showed all signs of Peranakan heritage – she spoke fluent Malay, tied her hair in a bun and wore the traditional baju Kedah – a round-neck floral blouse worn with a colourful batik sarong. The buttons of her blouses were sometimes made from the Malaya-era five cent silver coins with the portrait of Queen Victoria. She loved sambal belacan as well.
In 1941, Grandpa tragically passed away right before World War II broke out. Like most Nyonya women, Granny was resourceful despite her petite stature and saw to it that all her eight children (including two adopted sons) were never left hungry during the horrific times of the Japanese Occupation. It was from Granny that Mum inherited her Peranakan traits.
Besides the food and language, another interesting feature of Nyonya culture is the baju kebaya. As each outfit is hand made with great skill using the best materials, Nyonya kebayas can be described as traditional haute couture. The intricate embroidery is equivalent to the best Venetian lacework. The pièce de résistance is a delicate needlework technique called "tebuk lubang" (literally to punch holes). This involves sewing the outlines of a floral motif on the fabric and cutting away the inside. When done correctly, the end result is a fine lace-like embroidery on the collar, lapels, cuffs and hem and the two triangular front panels which drape over the hips, known as the "lapik". The choice material used is usually kasar rubia (voile). Other materials suitable for making the kebaya blouse include muslin, silk and georgette although these look less impressive. As the kebaya top looks rather transparent, it is usually worn over a camisole.
According to Mum, a kebaya could be tailored for about RM150 back in the 1960s – a princely sum back then. Materials were available from Boon Wah in Campbell Street. Approximately 1.5 metres of cloth is sufficient to sew a kebaya.
Kebayas have not become more affordable these days, as a well-made set of kebaya blouse and sarong can set you back several thousand Ringgit, particularly those designed by the likes of Kim Kebaya, Bernard Chandran and Melinda Looi. Despite the cost, a well-made kebaya is actually an investment and if preserved well, could appreciate in value.
Imagine my surprise when, by a sheer stroke of luck in 2005, I found a tailor in KOMTAR then (relocate to Prangin Mall), who was willing to sew a kebaya for much less. Cecelia Lim from County Fair Boutique was friendly and a master seamstress. I wasted no time talking my wife into tailoring both a kebaya blouse and sarong. Possessing a fine eye for colour and detail, she chose a light powder blue chiffon georgette fabric with colourful embroidered flowers. A matching blue sarong with a gold print was selected to match. After taking her measurements, Cecelia informed us to come back in a week's time to collect the kebaya.
Upon our return to collect the beautiful blue kebaya, my wife could not resist ordering another – this time she opted for a pink-based floral design, pairing it with a vibrant red and gold sarong. On 6 July 2019, Yvonne wore the blue kebaya to a mock Peranakan wedding organised by the State Chinese (Penang) Association in conjunction with Penang World Heritage Celebration. Our daughter stood in as the radiant bride.
Since then, Cecelia and I have become good friends. She supported Little Penang Street Market that ran for eleven years until 30 July 2017. The street market, held every last Sunday of the month at Upper Penang Road, showcased local crafts and talents. When Cecelia was at the market, her colourful kebayas were always a crowd puller.
In 2018, when my niece was getting married in Australia, I had to dress my dear sister, the mother of the bride, with nothing less than a splendid outfit. Of course, I introduced her to Cecelia, who tailoured an elegant light yellow kebaya for her. It was embroidered with intricate white cranes and beautiful peonies in full bloom. The complementary black-based sarong had peacocks perched among a floral garden. My sister wore the gossamer-like garment, an intricate work of art with a set of dazzling 18-karat gold kerongsang, glittering with diamonds. She was admired by many at the wedding.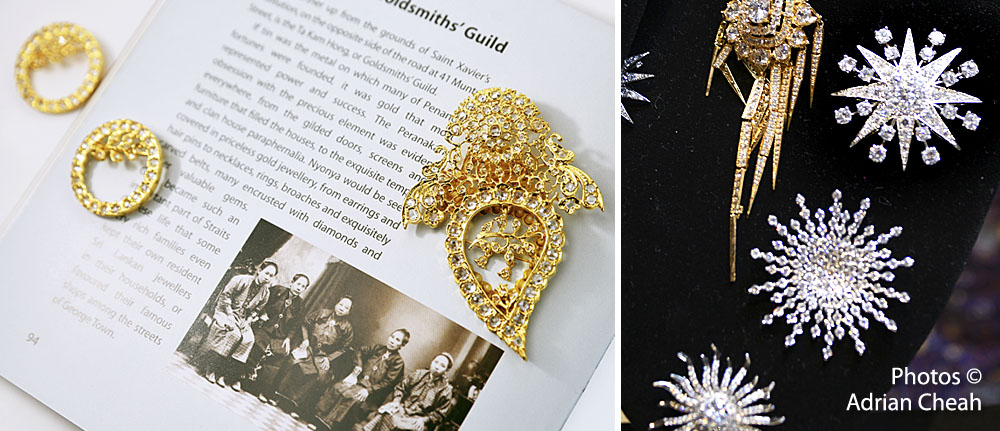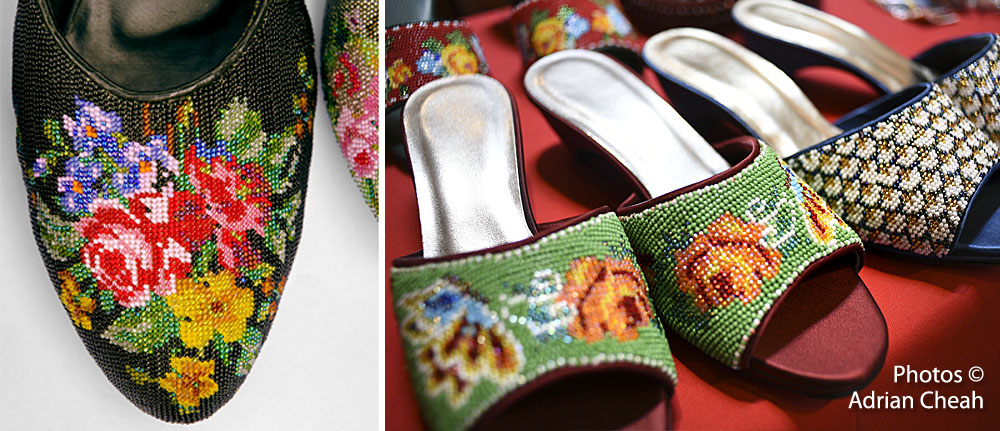 A Nyonya dame caught wearing a kebaya without the essential accessories is instantly doomed. Accessorising includes the kerongsang (ornamental brooches usually consisting of intan (diamond) set in suasa, an alloy of gold and copper), silver belt, beaded slippers, necklace, earrings, bracelets, bangles, rings, anklets and a few hairpins) in her carefully coiffed hair. Nothing is left to chance and all accessories must match to perfection.
Will the kebaya only be worn by the older generation at grand events or can the new generation embrace their cultural heritage and run with it? Will the kebaya be a thing of the past, preserved for posterity in museums and galleries or can it evolve and gain a resurgence for a brighter tomorrow? The community has to make a stand before it is too late to turn back the hands of time.
---------------------------------------------------------
Written by and photographed by Adrian Cheah
© All rights reserved
Updated 8 June 2021