Ang Pow, a packet of good tidings
A gift of money, ever so simple and practical, is convenient and would to be much appreciated by the recipient! All over the world and for as long as anyone can remember, the Chinese have been giving gifts of money during auspicious occasions, like Chinese New Year, birthdays and weddings.
Right: The God of Longevity (left) and God of Wealth, two very auspicious characters in Chinese culture, adorn two ang pow envelopes.
It should be emphasised however, that this tradition is not the same as practised in the 'west', where money is inserted into a greeting card during birthdays or in the form of gift vouchers, without much regard towards the intricacies. When money is given auspiciously, the Chinese usually insert it in red packets called ang pow which are decorated with lucky symbols, Chinese characters or deities. The Chinese regard the colour red as a protective colour, representing auspiciousness, prosperity, and with the power to exorcise evil spirits.
The illustrations used on the front of ang pow bestow blessings and good wishes of longevity, prosperity and great health. Through the years, designers have always found new ways to enhance the message of good tidings such as three or nine carps swimming amidst flowering lotuses, the mythical creatures of yin and yang (dragon and phoenix), Chinese zodiac animals depending on the year it will be used, peonies in full bloom, the three immortals (Fook, Look, Sow) and golden pineapples.
When giving money on festive or auspicious occasions, never ever put the money in a white envelope or you would face the wrath and fury of the recipient! Money wrapped in white envelopes are given when the occasion is sombre, like during funerals, when a gift of money is given to help with the funeral costs. This is called 'pak kum' or 'money for the family of the deceased'.
The first ang pow ever given
The story of ang pow dates back to the Sung Dynasty in China. A village called Chang-Chieu was at the time terrorised by a huge dragon-like demon. No one dared to defeat it, not even warriors or statesmen. However, a young orphan, armed with a super sabre inherited from his ancestors, fought the evil dragon and eventually destroyed it. The villagers were overjoyed and the elders presented the brave young lad an ang pow filled with money for his courage in saving them. Since then, the ang pow has become a part of traditional Chinese customs.
How much to give?
Amounts given in the ang pow may take advantage of the Chinese homophones. For instance, you can give a favourable amount ending with eight (8), as it sounds like fortune in Chinese, or nine (9), which sounds like longevity.
Whatever the amount is, ang pow has always been something exciting to receive.
When ang pows are given
The practice of giving ang pow may be centuries old, but it is still as popular as ever. During Chinese New Year, they are given by married adults to small children, teenagers and unmarried adults – these are the lucky ones who will continue to receive ang pow until they get hitched.
My sweet run of collecting ang pow came to a grinding halt in 1999, the day I got married. And the sad days of giving began... but there's hope yet. The birth of my baby daughter in 2003 would tip the scale back a little, so to speak.
Birthdays
It is traditional and customary to give ang pow to Chinese parents when their baby celebrates his/her first month. In return, parents distribute to well wishers gifts like yellow rice (nasi kunyit) with curry chicken, red eggs (ang nui), bean cakes (ang ku), KFC vouchers and Ayamas chicken set. These days, money is given as birthday gifts for celebrants of all ages – what better way to make them happy than to allow them to purchase whatever they want? The elderly also distribute gifts of money to the younger generation when they celebrate, for example, their 80th birthday.
Gratuity
Some Chinese sinsehs (practitioners of traditional Chinese medicine) are usually given ang pows in lieu of cash payment upfront for services rendered, like resetting dislocated joints and such. According to Sandra, my late sister, they should not accept cash upfront for their services because of they belief that if they do, unwanted ills and bad luck will befall on them.
The same applies to some Chinese mediums when their channeling services are sought. The situation may seem like a paradox, but it really isn't when you consider that ang pow (even though they contain money) are given freely, and not because of any contractual obligation, like paying for services or repaying loans.
Feng Shui
Feng Shui adherents believe that an ang pow containing gold coins tied with a red thread, can bring luck to the carrier or when placed in the North sector of the house.
Other cultures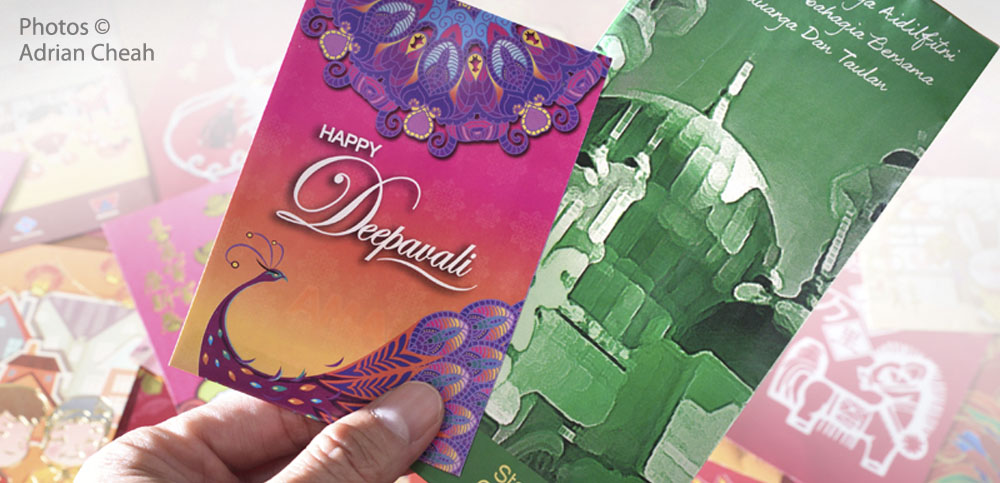 In Malaysia, the giving of ang pow has cut across cultural lines, and is no longer restricted to the Chinese only. For example, the Malays/Muslims give money concealed in a green packet the same size and shape as an ang pow, decorated with Islamic motifs to young children during Syawal. Similarly, Indians have also gotten into the act of giving cash, and tuck their legal tender into different coloured packets which are handed out to little kids during Deepavali.
Ang pow packets are usually given out free by banks, jewellers, hotels and shops to their customers. They can also be purchased from shops.
I believe that this Chinese custom of ang pow giving will always be in vogue, and never loose its charm for centuries to come. As a famous saying goes, "Money makes the world go round", and what better way than to give it well packaged and sealed with good tidings.
---------------------------------------------------------
Written and photographed by Adrian Cheah
© All rights reserved
Updated 1 February 2021